Over 605,000 posts related to plumbing
Welcome to Plbg.com (aka: PlumbingForum.com) we are the most popular plumbing information sharing, advice, DIY and educational forum on the Web. Ask any toilet, sink, faucet, pump, water quality, and plumbing related questions. Please refrain from asking where to purchase a product, business, pricing, or legal questions, for contractor referrals, or any questions not related to plumbing. Keep all posts positive and no advertising. This site is free and made possible by:
Author: Dianne Benjamin (AR)

I hired a plumber to replace my very old rusty leaking outside hydrant connected to my brick house.
Now the back plate on my new spicket is sort of secured with only one screw that is loose and some white silicon. Maybe there was not much behind for the plumber to attach to. Will this hold up to use? Is there such a thing as a larger back plate that can be placed behind this so we could put screws in the bricks? Is there any other solution?
Author: Lee (NJ)

Please send picture your situation. Send picture of the work you are concerned about. This would make it easier for everyone.
Author: packy (MA)

i don't know of any plate that you ask about. all outside faucets are not the same as to the size of the flange and the spacing of the holes so each plate would be different depending on which faucet you have.
making one out of that plastic wood (azek) and attaching it to the bricks with stainless screws is probably your best bet.
it probably means removing the faucet and extending the pipe 3/4 inch.
Author: bernabeu (SC)

yes, there is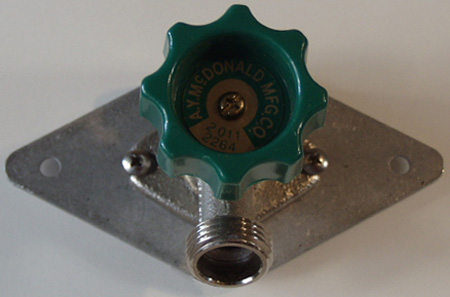 [hosebibbmountingplate.com]

(you could notch it to retrofit w/o removing spigot)

= = = = = = = = = = = = = = = = = = = = = = = = = = =

Retired U.A. Local 1 & 638 ~ Measure Twice & Cut Once



Edited 1 times.
Author: packy (MA)

well, shut my mouth and call me corrected...
Author: bernabeu (SC)

hello, corrected, I'm uncorrected

as well as incorrigible

usually I just make a 'plate' from whatever is at hand

= = = = = = = = = = = = = = = = = = = = = = = = = = =

Retired U.A. Local 1 & 638 ~ Measure Twice & Cut Once
Author: packy (MA)

yeah, if that plate is not stainless steel, what good is it. here, next to the atlantic ocean, it would be a pile of rust in 2 years..
Author: bernabeu (SC)


I'm 2 miles from the atlantic




= = = = = = = = = = = = = = = = = = = = = = = = = = =

Retired U.A. Local 1 & 638 ~ Measure Twice & Cut Once
---
Please note:
Inappropriate messages or blatant advertising will be deleted. We cannot be held responsible for bad or inadequate advice.
Plbg.com has no control over external content that may be linked to from messages posted here. Please follow external links with caution.
Plbg.com is strictly for the exchange of plumbing related advice and NOT to ask about pricing/costs, nor where to find a product (try Google), nor how to operate or promote a business, nor for ethics (law) and the like questions.
Plbg.com is also not a place to ask radiant heating (try HeatingHelp.com), electrical or even general construction type questions. We are exclusively for plumbing questions.
Search for plumbing parts on our sponsor's site:

---
Special thanks to our sponsor: