How to Show an Image on Plbg.com
---
"How do I include an image in my post or signature?"
For security reasons, we do not allow uploading of any files (including images) directly to our site. However, you can reference an external image on our plumbing forum simply by using any online photo posting sites such as Photobucket.com, imgur.com, imageshack.com, tinypic.com and others (which are all free) to show your image(s) on our forum.
If you don't already have an account at Photobucket.com (or any of the other free image sites), simply visit one of those sites and open a free account. Once you're signed in, you can upload images to your account. Then on our forum you can create a link to the picture or you can have the picture show up directly in your post here at plbg.com by completing the following the steps:
Upload the image to Photobucket

- refer to Photobucket's instructions regarding how to upload if needed

Click the image on Photobucket
On the left you'll see a box that says 'get link codes' when you hover over it
Copy the 'direct link'

- if you aren't familiar with copy & paste, simply write it down

To get it to show up in a post on this forum, paste (or type) the direct link in between [img] tags as shown below
[img] put the direct link here [/img]
Here is an example of showing an image from the Photobucket web site:

[img]http://i40.photobucket.com/albums/e231/Plumbing_Supply/pvc-ball-valve-fips_zps308a9173.jpg[/img]
The code above produces this image: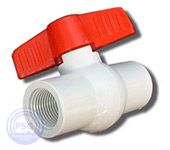 Please note: Images larger than 50k should be linked-to instead of showing the image directly in the post. The reason for linking to large images (50k or more), instead of showing them directly in posts is to help keep our forum loading fast - having several large images in a single thread can slow down the site, and we want the information to load fast for our users.
Linking a large image, is exactly the same as linking to another site, except instead of referencing other sites URL, you simply use the URL of the image.
To link to an image, all you need to do is use the following structure:

[url]http://i40.photobucket.com/albums/e231/Plumbing_Supply/delta-part-escutcheon-antique-brass-rp5883ab_zpsf42723da.jpg[/url]
We hope that you will visit or patronize our sponsor. Without them, this site could not be free.