www.PlumbingForum.com
THE Dynamic Plumbing, Kitchen and Bath, Information, Advice and Sharing Forum

Over 535,000 Posts in over 160k Threads
The most popular positive STRICTLY PLUMBING INFORMATION SHARING FORUM board on the Net. Ask any toilet, sink, faucet, pump, water quality and other plumbing related questions here. Plumbing professional and DIY tips, tricks, shortcuts, remodeling, plumbing advice forum and blog. Please refrain from asking where to purchase a product, business, pricing, contractor referrals, legal or any other non strictly plumbing related questions keeping all positive and with no advertising.
Author: sum (FL)

I have two old soft copper pipes (3/4") that comes off the ground, and I took the original fittings apart and put in a horizontal piece (new), a tee in the middle (new) etc...




I have no problem soldering the new pipes and the new fittings. I cleaned them real good and apply flux evenly.

However the two old pipes have some black stuff on it and I can't sand it away and I am not sure if it's a coating of some sort or the copper has turned black. I sanded it, apply flux, put new fittings on and it won't take solder. If you look at the 90 degree elbows, the horizontal end sucks in solder very nice and evenly, the vertical end pointing down, it won't take it.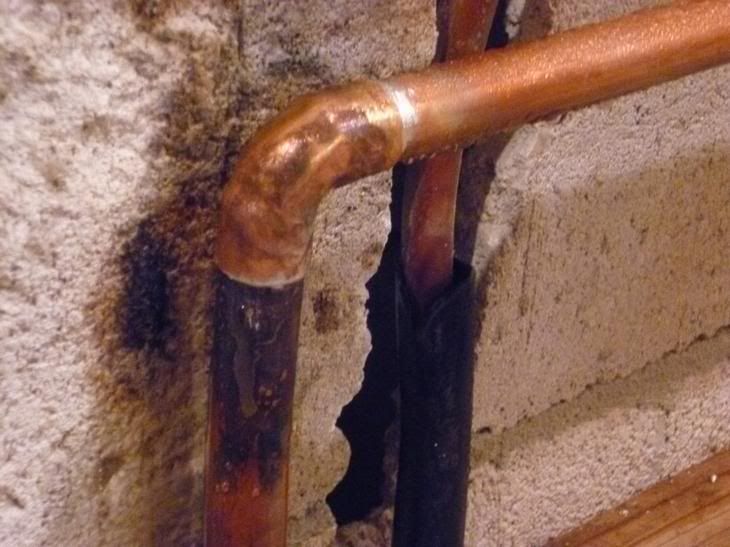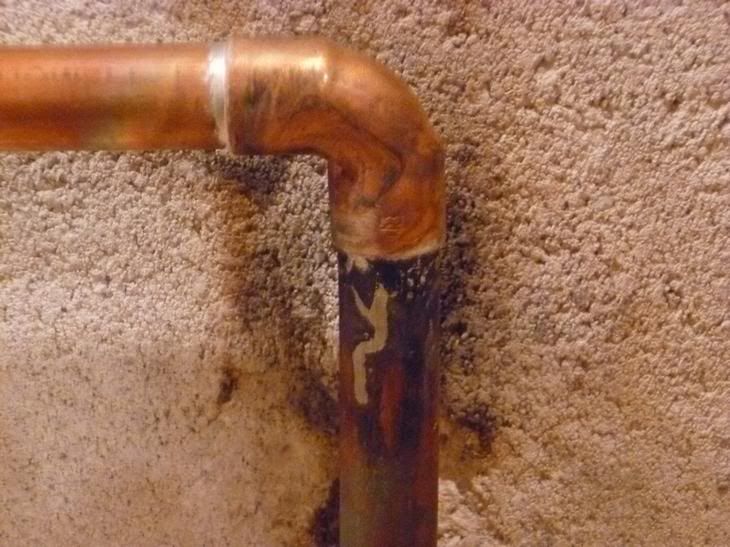 I am sure it is because of the pipe being old and black. Any idea what I can do?
Author: SMSPlumbing (PA)

Are you sure all the moisture is out of the pipes? Could be steaming out.

I would take a wire brush, cut the handle off and insert the metal stem into a drill and try cleaning it that way. Unless you have a dremel with a wire brush.
Author: sum (FL)

yeah no moisture, I suctioned the water out of the pipes to at least 12" or so below.

Applied solder to the horizontal end of the elbow, it siphoned in the solder nicely. Applied it to the vertical end of the same fitting, the solder melts and drop down. It's not taking it in at all.

Could the copper material be actually "chemically" changed over the year?
Author: SMSPlumbing (PA)

Okay..Just read some articles that may apply, or may be bogus.

Back in the 70's or so, some copper piping came from China and Korea. They were cheaper to purchase, and were cheaper in quality. Lots of impurities. With age, the pipe started to turn black. Very hard to bond to with solder. No real fix, other then cut it out. Maybe you can use sharkbite 90's or compression 90's.
Author: steve (CA)

Sum, were you using new sandpaper/cloth or used? How aggressive were you at trying to sand through the black? The black looks to be just where the original flux was and not just the pipe randomly turning black. I'd use a courser grade paper and see if you can get through and then use a finer grade.



Edited 1 times.
Author: LemonPlumber (FL)

Sum?you burned the fitting and the thicker tubing say,s heat me low FIRST.You should now understand how to heat a tubing into their fitting,s solder to run/run/run 1/2 for 1/2, 3/4 for 3/4 .Aim the flame some[yes I meant some/not Sum]. Remember start under the fitting as heat rises up.So you now will start a manifold low!always the bottom of this fitting.if wet vac.The discoloration of the thicker walled soft copper is not pretty.
Author: vic (CA)

Sum,

It sounds like you know what you are doing as far as soldering.

Without actually being there it is difficult to be sure however to me it looks as if the old copper where you did not solder doesn't appear to be black?

Is that correct or am I missing something?

"Old" copper pipe (copper pipes are over 99% pure copper), if in fact it was copper originally will stay copper. I have never heard of true copper turning "bad" as far as being unable to solder it many years later.

Assuming the copper pipes are cleaned to the point where the copper is totally clean and fresh quality flux designed for the solder is used in my experience over-heating is the number one cause of the solder not taking and to me that's what it looks like (although like I said without being there it's tough to know).

Very common is that if the solder has a very narrow melting range (check the specs on your solder) what happens a lot is that people can easily miss the melting range and go beyond it and then continue to heat assuming that they haven't reached that solder melting point yet.

Or when the solder starts to melt rather than taking the heat away many people will continue to heat the fitting and then wonder why their solder won't take. To those who aren't as experienced as Sum, remember to heat the fitting evenly and not the pipe.



Edited 2 times.
Author: sum (FL)

Lemon, I did not burn the fittings. The horizontal piece of pipe and the two 90 degree elbows are NEW. The two vertical pipes are OLD/ORIGINAL. They were black to begin with. I took some old fittings off them (took me a while).

Like I said, I had no trouble whatsoever soldering the new fitting on the new pipe. The SAME fitting, on the vertical end, where the old pipe penetrates into, will not take solder. Both of them. No steam coming out, no water in pipes, I applied flux evenly to both fitting and pipe, and I heat it the same way every time.

Something is different about those two black colored pipes that is making them not take solder. I will try again tomorrow with a coaser grade of sand paper and see.
Author: sum (FL)

vic, I do not think the temperature was the issue. I heated the fitting and if you look at the picture, I applied solder to one end of that same elbow where it touches the new pipe, the solder flows in nice and quick. I moved the solder to the same elbow where it connects to the black colored pipe, does not take it.

Is it possible it's black because it was originally overheated to the point it's tempered? Will that make it not take solder?
Author: steve_g (CA)

Cut off the black part & use a coupling.
Author: vic (CA)

Sum,

I have seen a lot of overheating however I can't say that "for sure" that over heating to very high temperatures can't harm or destroy some of the properties of copper.

If no plumbing expert can answer your specific question here I suggest that you contact the Copper Development Association. Here is their contact page:

[www.copper.org]

If you do contact them I hope you'll let us know the outcome.
Author: hj (AZ)

No, whatever that coating is, it is preventing the solder from adhering to it. You need a more agressive cleaning process, possibly even applying some muriatic acid. Be careful with ANY abrasive wheel because that could remove some copper, which would make it too "small" to give the tight clearance required for a good joint, and you would be in worse shape than you are now. You could also try scraping it with a knife blade. As a last resort, just cut the copper lower an use a coupling. As far as fluxing goes, if you are using a "water soluble" flux, it is VERY easy to overheat and "burn" it.



Edited 2 times.
Author: hj (AZ)

There is "good" copper under that coating. When you DO get it clean, apply flux to the copper tubing and put a coating of solder on it, wiping it smooth while it is hot. Once you do that, you know you will get a good joint when the fitting is soldered on to it.
Author: hj (AZ)

I doubt that those joints were originally "silver soldered", since you probably do not have a torch hot enough to have taken them apart, but that is one thing that would have discolored the copper, taken a long time to remove, and would NOT solder again.
Author: jfplumr (NY)

In the late 60's and 70's some people used a new product that was introduced. It went by the name of bronzite and other trade names. It was actually aluminum tubing with a VERY thin copper coating. If what you have is bronzite or a similar product, you will need to shorten your risers and VERY cautiously clean the copper coating without removing it. Then you can sweat normally but DO NOT overheat as you can burn the copper coating right off. Some bronzite and similar products still exist. A small strip mall that I service has a great deal of it installed and is still in good shape. I hope this helps and I would be interested to know if in fact that is bronzite you are dealing with.
Author: hj (AZ)

Before that there was "Bundyweld" which was copper plated steel, but this is neither of them.
Author: LemonPlumber (FL)

You cleaned the tubing reused bright?On old leaded solder to solder failure you might,as lead to unleaded tinned really does not work.After you pull off the old, wipe the to be reused tubing when hot with a cloth of cotton to clear old solder.Then use sand clothe to make it bright.copper works because, when clean[ it does shine just right].You may have only failed as old lead joints work at heat low and slow. The newer are much hotter as you know.The black is a thing you should never see, is it from fouling or residue ?it could be.Sum if you do not have open mesh sand cloth.Buy some and learn with along piece to buff!!Solder copper for new only, when the bright copper sheen can be seen!sorry hope you get it fixed.Buff the blackened copper if it shined it is fixed.If pits are in it then you are nixed.Stamp your feet or curse it you must.but stop when something does not look like it is something you would trust!!!
Author: sum (FL)

OK mystery solved.

I was using the normal sandcloth and the black stuff did not come off. After I used a coarse aluminum oxide sand paper and really put in extra elbow grease I was able to get through the black stuff to the metal. I cleaned both pipes really good and now it took solder.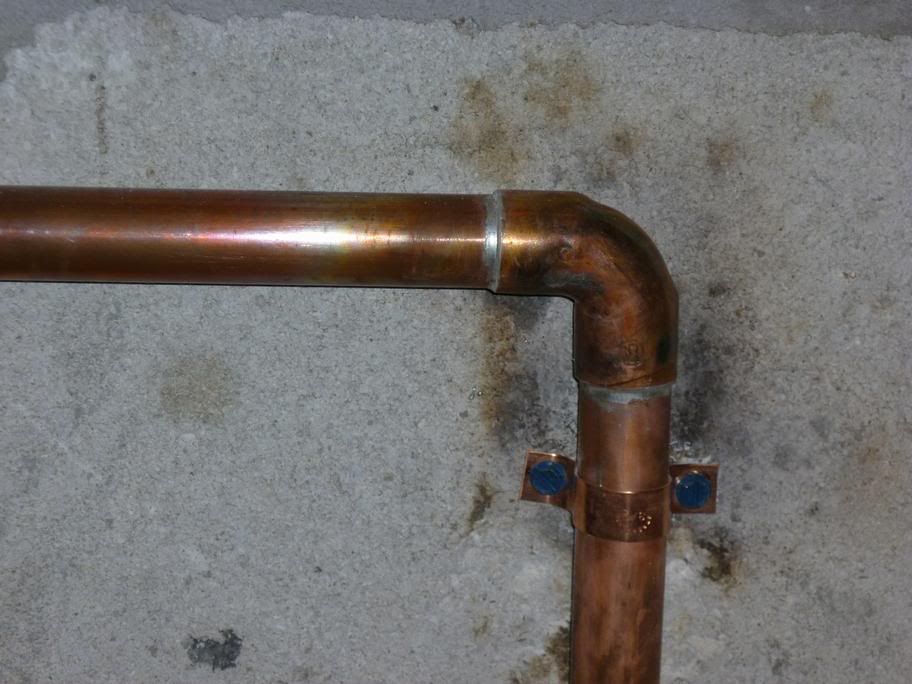 Works and no leak.

Thanks to everyone who commented. Learn something new every day.



Edited 2 times.
Author: sum (FL)

By the way a few weeks ago I asked about how to feed a pipe through a series of holes in the stud, today I tried it and was able to do it without making any extra joints. I know you all said the hammer arrestor can face any direction, I decided to still do it upright.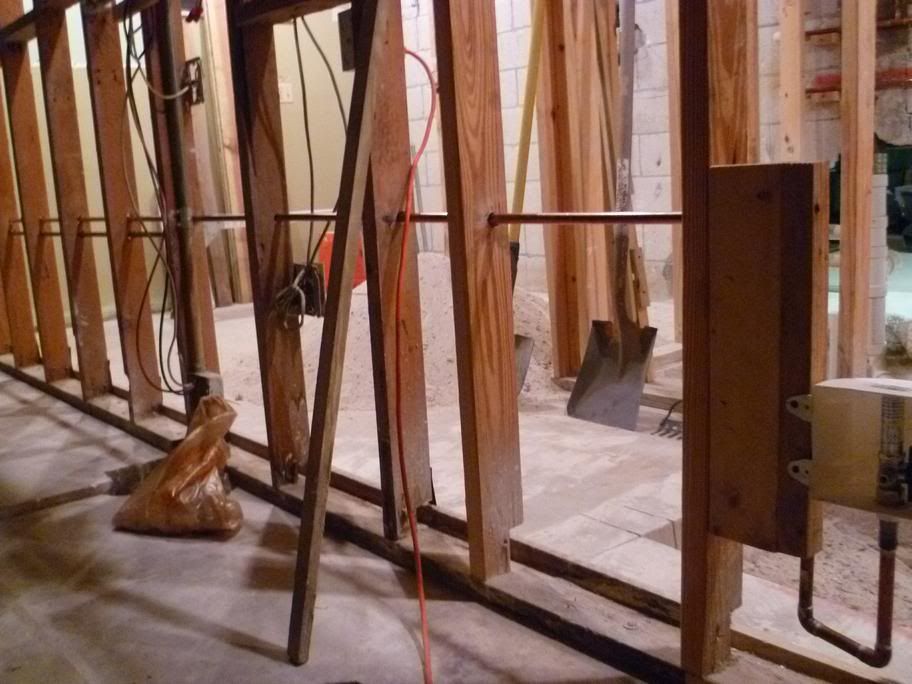 In the middle of these two horizontal pipes I branched off to feed the bar sink of my kitchen island. I have the 2" DWV, the hot and cold supplies and a 1/2" PVC electrical conduit going under the slab.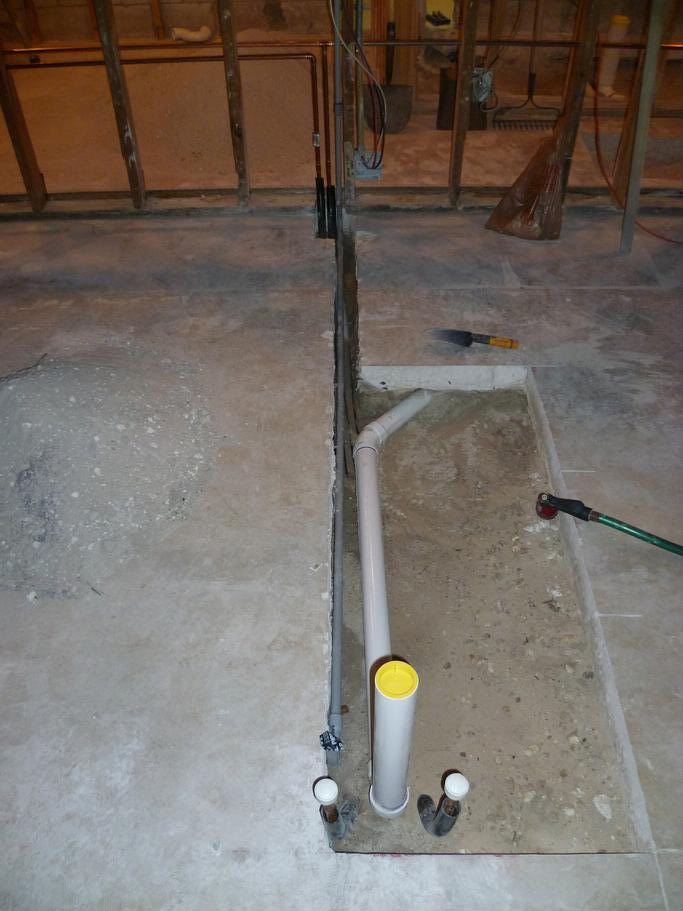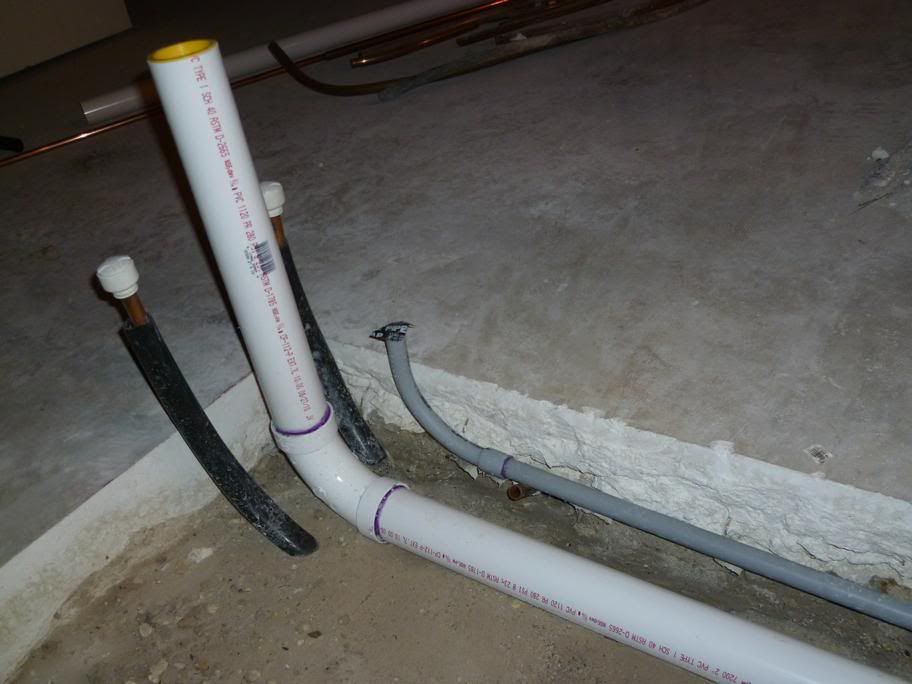 Hopefully it's not too congested.



Edited 1 times.
Author: LemonPlumber (FL)

Extend the electrical tubing before it is poured and make soft copper 90,s before poured/if bored.
Author: sum (FL)

what do you mean "make soft copper 90" lemon?
Author: vic (CA)

Sum, I'm thrilled that it all worked out with your copper pipe and soldering.

What I really appreciate about you is that you investigate and follow up so much.

You not only learn here but you also end up teaching many a thing or two.

Thanks so much for sharing your results rather than just asking and then not giving back to us all.

Vic
"senior citizen" (I turned 65 today)
Author: dlh (TX)

happy b-day vic and thanks for the great forum

- - - - - - -

PLUMBERS "Protecting The Health Of The Nation"
Author: LemonPlumber (FL)

VIC HBD.
Author: LemonPlumber (FL)

where the tubing rises in the same photo as the electrical tubing.no not allow it to rest against the old cement when poured.bend it so it is more self ashore.tubing should stand alone,space or stake or anchor above.The rehab looked great.
Author: hj (AZ)

quote; Vic
"senior citizen" (I turned 65 today)

Youngster, I turned 76 last month.
Author: sum (FL)

thanks vic, happy 65 to you!

I doubt anyone learns anything from me, except the "how NOT to..." LOL.



Edited 1 times.
Author: Nevada Plumber (NV)

You have contributed stuff to this forum.

I found all those photos you posted of the tunnel under your house very interesting.
Author: PlumberManDan (IA)

Sum, I have been following your posts almost daily, you have contributed greatly. To see a homeowner perform the quality of work you do is really a blessing. Would you like a job as a plumber somewhere a LOT colder?


PlumbCat TM 2003


Plumbermandan
Author: hj (AZ)

Do you want to hire someone who takes forever to do the job? That house will be ready for its second remodel by the time he finishes the first one, LOL.
Author: LemonPlumber (FL)

Sum you are keeping me on the edge of my seat!
Author: LemonPlumber (FL)

76 HJ now if you where a jarhead your posts I have a fixed.Seal, green beret?It is how, what you say.God bless all our veterans on this oncoming day.
Author: PlumerDan (CA)

hi sum,good work. im getting in here late because i my computer was sick.any way,i have a few things i,d like to suggest,for your job to come out better. are you going to put any type of isolators on those pipes going through the studs? next i would take those straps of where they go into the concrete and at least put some 10mil pipe wrap on them.have fun and get er done...
Author: hj (AZ)

Not a veteran. I was in a "critical profession" during the draft and therefore exempt/deferrred.
Author: sum (FL)

"are you going to put any type of isolators on those pipes going through the studs"

By "isolators" do you mean pipe wrap or pipe sleeve?

Will the pipe vibrate against the wood studs it passes through?