Over 696,600 strictly plumbing related posts
Plumbing education, information, advice, help and suggestions are provided by some of the most experienced plumbers who wish to "give back" to society. Since 1996 we have been the best online (strictly) PLUMBING advice site. If you have questions about plumbing, toilets, sinks, faucets, drains, sewers, water filters, venting, water heating, showers, pumps, and other strictly PLUMBING related issues then you've come to the right place. Please refrain from asking or discussing legal questions, or pricing, or where to purchase products, or any business issues, or for contractor referrals, or any other questions or issues not specifically related to plumbing. Keep all posts positive and absolutely no advertising. Our site is completely free, without ads or pop-ups and we don't tract you. We absolutely do not sell your personal information. We are made possible by:
Author: jsherwoo (CA)

Hi there,
I'm laying out a bathroom sewer, I have a few wyes connecting sewer branches as well as vent branches.
I know that the slope of the run needs to be 1/4"/ft.
My question is, does the branch of the wye need to be turned up (22, 45, 60) and then rolled in the direction of the next fixture (then raising 1/4"/ft)? Like this...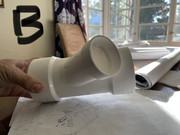 [postimg.cc]


Or does the branch wye just need to continue the same 1/4"/ft, essentially keeping the branches of the wye at the same elevation? Like this...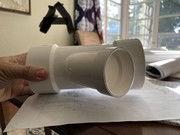 [postimg.cc]

Also, would the answer be different for a wye that is connecting a vent to a sewer vs a sewer to sewer?

A plumber friend told me I need to have the branch roll up, but I have been unable to find anything in the CA plumber code that specifies that. And my searching of the internet has not given me anything definitive either.

I'm asking because I don't have a whole lot of vertical room between where the sewer exits the building and where the top of the finished floor will be, so every vertical inch counts!

Here's what I'm trying to achieve...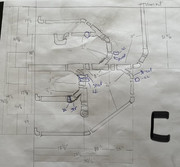 [postimg.cc]



Edited 5 times.
Author: steve (CA)

Simplify the piping. Use what I'm guessing is a sink, for wet venting the toilet. The drain and vent for the sink needs to be all 2" for venting the toilet.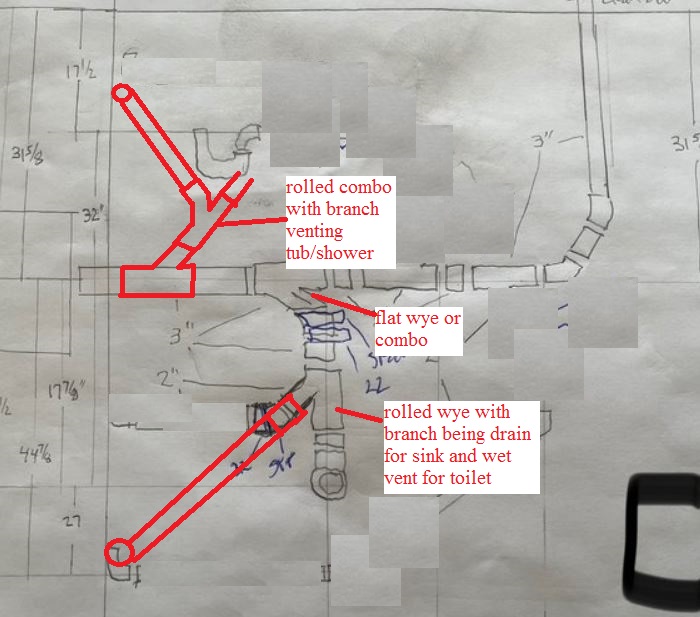 Author: jsherwoo (CA)

Oh cool. Thank you!!! Wet vent!!!
Yes, you are correct, that is a sink.

I'm inferring from your drawing that a wye needs to be rolled when it's a vent branch (wet or dry), but not when it's connecting two drains???



Edited 1 times.
Author: steve (CA)

correct

Rolling refers to the fitting being rotated enough, that the bottom opening of the branch is at or above the centerline of the run.



Edited 1 times.
Author: packy (MA)

two things..

there is nothing in my code that says you have roll anything up. if you have the room, its nice to roll.

the wet vent for the toilet needs to be 2 inch and continue 2 inch to its tie in point.
Author: steve (CA)

905.2 states if the vent connection is to a horizontal drain pipe, the vent connection invert shall be above the centerline of the horizontal drain pipe.
Author: packy (MA)

as you may know, MA code is unique to the known world. that may very well be in our code but i don't remember seeing it ??
Author: sum (FL)

steve, is that the case (rolling up the branch to a vent connection) even with a wet vent?

I was always operating with the assumption (may be a bad assumption) for a dry vent connection, the vent must be "vertical" and in this case it's typically considered "vertical enough" if the branch is rolled higher then the centerline of the horizontal drain. But if it's a wet vent that is getting rinsed often the rolling up is preferred but not required. I think it was explained to me once that this is because in the event of a blockage downstream, the water rises inside the pipe and there is a chance debris in the line can float up the vent branch, and once the blockage is cleared, a dry vent may still have that debris stuck there where a wet vent will clear due it being rinsed whenever a fixture is used.

Just curious to know what the code says and if that changes from state to state or IPC vs UPC etc...
---
Please note:
Inappropriate messages or blatant advertising will be deleted. We cannot be held responsible for bad or inadequate advice.
Plbg.com has no control over external content that may be linked to from messages posted here. Please follow external links with caution.
Plbg.com is strictly for the exchange of plumbing related advice and NOT to ask about pricing/costs, nor where to find a product (try Google), nor how to operate or promote a business, nor for ethics (law) and the like questions.
Plbg.com is also not a place to ask radiant heating (try HeatingHelp.com), electrical or even general construction type questions. We are exclusively for plumbing questions.
Search for plumbing parts on our sponsor's site:

---
Special thanks to our sponsor: