Over 696,600 strictly plumbing related posts
Plumbing education, information, advice, help and suggestions are provided by some of the most experienced plumbers who wish to "give back" to society. Since 1996 we have been the best online (strictly) PLUMBING advice site. If you have questions about plumbing, toilets, sinks, faucets, drains, sewers, water filters, venting, water heating, showers, pumps, and other strictly PLUMBING related issues then you've come to the right place. Please refrain from asking or discussing legal questions, or pricing, or where to purchase products, or any business issues, or for contractor referrals, or any other questions or issues not specifically related to plumbing. Keep all posts positive and absolutely no advertising. Our site is completely free, without ads or pop-ups and we don't tract you. We absolutely do not sell your personal information. We are made possible by:
Author: sum (FL)

I am getting ready to complete the last few loose ends of my garden & fish pond.

I would like some advice on some plumbing concerns.

(1) I ran 1-1/2" SCH40 PVC pipes for both the suction and return lines. On the return side while testing the pump I used two Fernco PROFLEX connectors to connect some of the lines. It's not meant to be permanent, just temporarily so if I need to make changes I can easily fix/repair each section. I know Fernco connectors are meant for non-pressure drain applications, but I put a 1/2HP pump on it and it held. I wonder if I should leave it, or cement a real coupling instead. I can easily cement a real coupling it just won't be as easy to take apart for future modifications.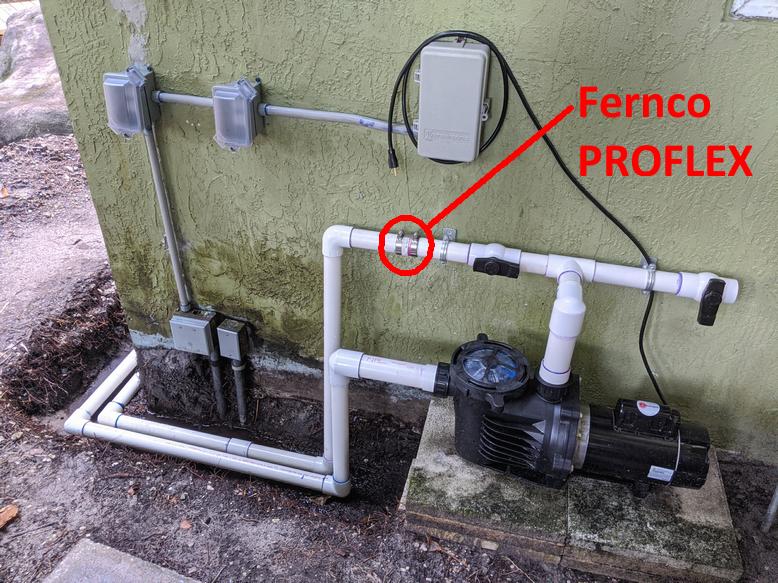 (2) Second question is at the end of the suction line where the line is typically submerged, I will be attaching a swing check valve and a basket strainer. The check valve is necessary to keep the pipe line full of water to make it easy to prime the pump, and the basket strainer helps keep leaves debris etc...out of the line.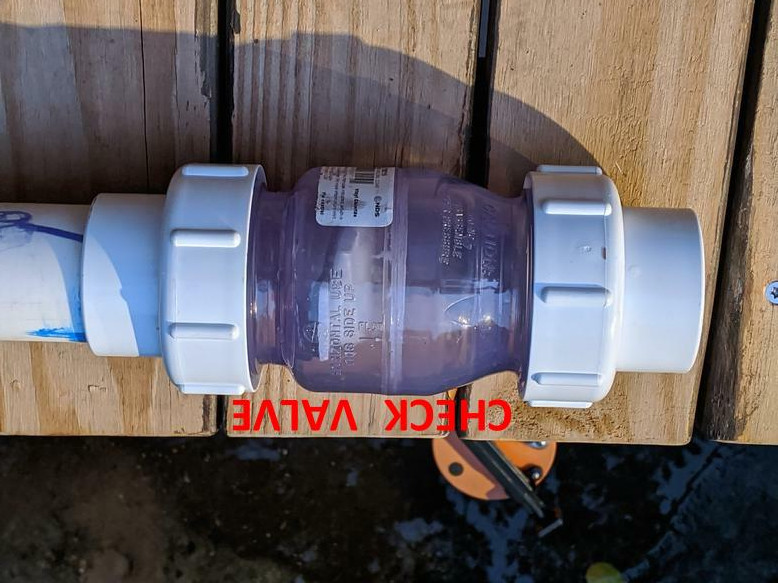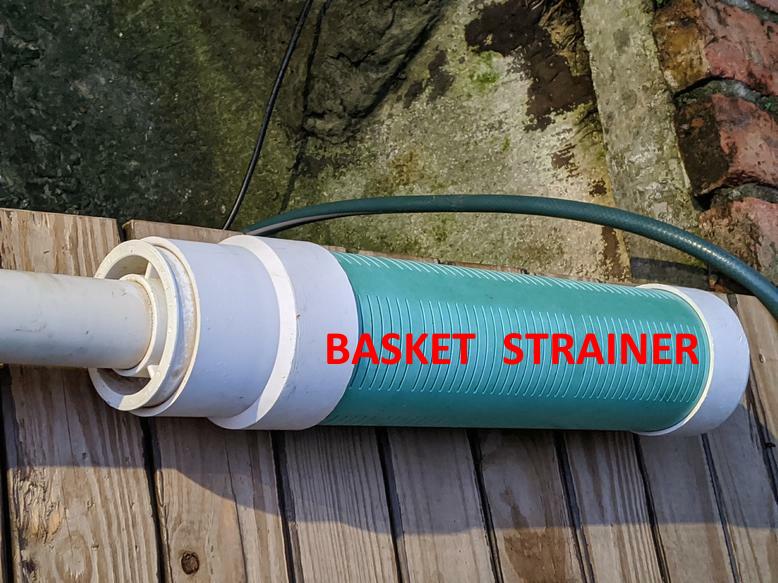 This is how I plan to connect them. The check valve has unions on the ends. My question is in the event the check valve fails, I can disconnect the unions and take it out of the water. Now do I need the exact same brand/model of the check valve to replace it, or if I buy another brand that is same size with union ends, will a different check valve connect to the already cemented half unions?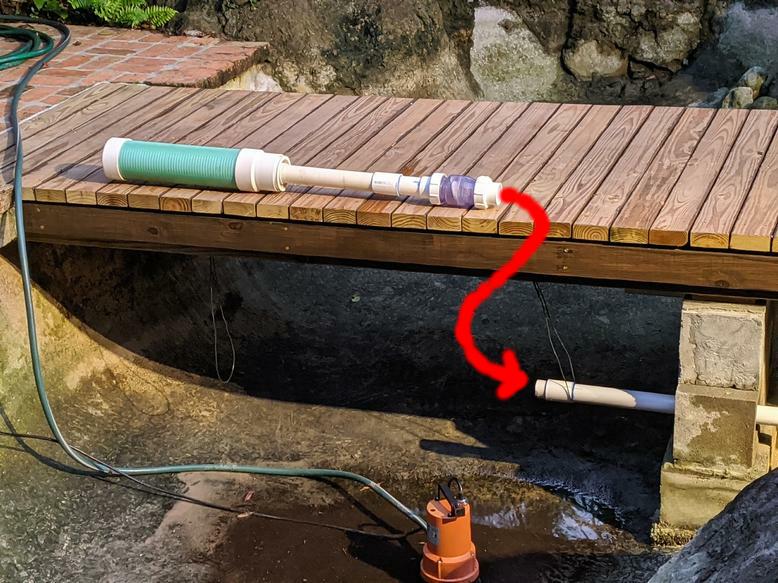 (3) Since both the suction and return lines have to exit the pond by getting higher, then run back below grade until they get to the pump, the "profile" of these lines has a hump (inverted U). This makes it difficult to prime the line for the pump. For this reason, on the suction side I added a TEE with a up pointing branch like this.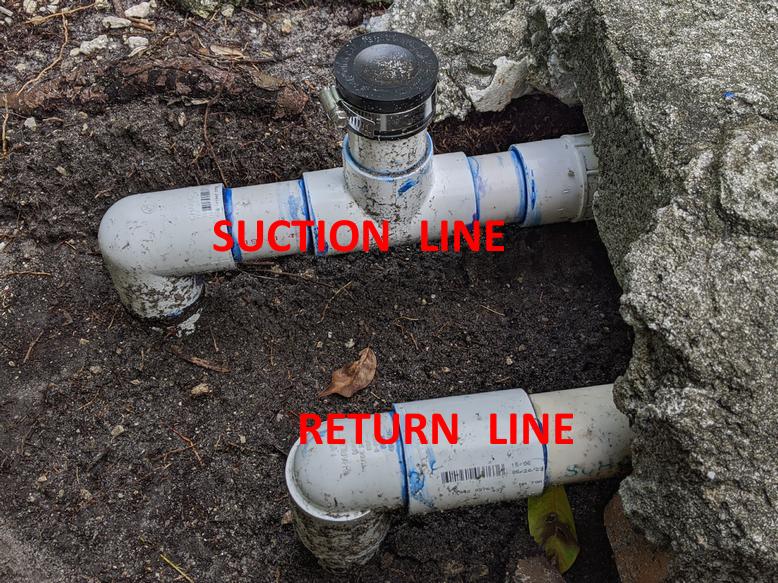 This allows me to add water into the line to fill the downstream side of the suction line. Right now I have a Fernco rubber cap over it. Can you think of a fitting that I can use there to allow periodic access to add water? Obviously I can cement on a 1-1/2" male adapter, then put on a threaded cap with pipe dope. But each time I need to open it the pipe dope can get messy. Another option I thought about is to put on a ball valve and have it in the closed position, if I need to add water, open it. Or I can leave it as a rubber cap. Ideas?



Edited 1 times.
Author: packy (MA)

i wouldn't be concerned about a sheilded coupling. they are rated for about 5PSI but will hold more than that.

also... a check valve is a check valve.

as for the priming tee, you'll probably get half a dozen different opinions. i'd use some sort of threaded valve. the size would be dependent on how much water you have to add when a prime is needed. (cups full or buckets full)
Author: sum (FL)

Packy, thank you. I'll leave the Fernco then. If it leaks I can see it and cement a coupling easy enough.

So if the brand X check valve fails, I can unthread the union nuts on each end and go buy a brand Y check valve with unions, and the male threads of brand Y check valve should thread nicely with the existing brand X union nuts and seal properly? My concern is if I need to drain the pond to replace a failed check valve if it involves primer/cement of the line.

I take a garden hose and fill the line takes a while more than a bucket, 20' of of 1-1/2" pipe in each direction.
Author: Don411 (IN)

Sum, I would replace the Fernco with a union. Unions are used in swimming pool plumbing because they hold pressure, and are easily disconnected if the system needs to be disassembled for servicing.
Author: packy (MA)

sum, i doubt very much that brand x union ends are compatible with brand y..
they do this on purpose.
Author: sum (FL)

Don, I don't think I can use a union there, a regular pressure coupling is fine but a union has such a large diameter nut it will require a outward shift of all piping and pump to accommodate a large union nut plus the clearance required to secure a strap wrench around it. Right now the outlet piping is secured by two metal standoff brackets mounted on the wall. The inlet and outlet of the pump are unions too.
Author: sum (FL)

packy they probably do this on purpose as you said...wouldn't it be nice if all union nuts are interchangeable so I can replace a check valve or a ball valve as long as they have union connections, similar to how we can pretty much interchange most metal nut and ferrule for angle valve especially if the ferrule is strangling the copper tight?

Anyway suction side is now complete.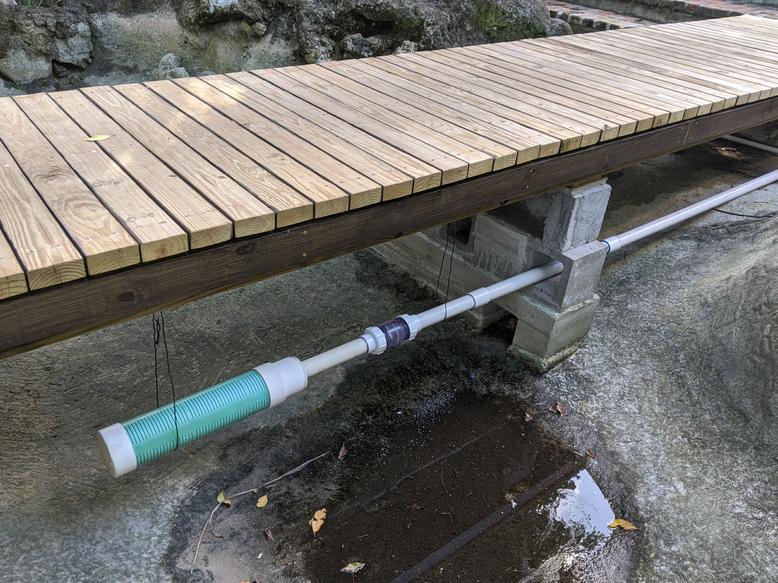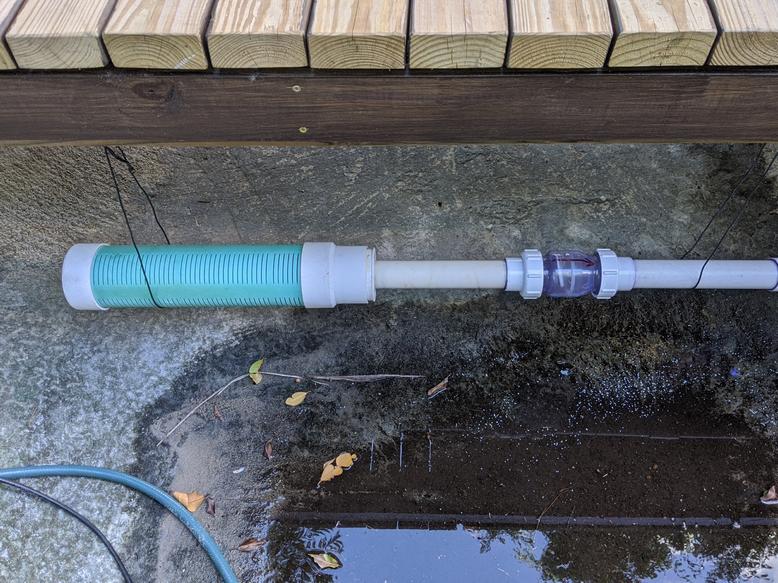 Author: packy (MA)

sum, even the black unions that we use on gas piping are not all the same.

now, be a good mechanic and use some proper hangers..

these look great

[www.plasticsmag.com]



Edited 1 times.
Author: bernabeu (SC)

@ packy


ALL 'dart' brand unions are/were interchangeable regardless of 'age' even if the body or 'ring' appeared different.


(same size to size of course)

==============================================

"Measure Twice & Cut Once" - Retired U.A. Local 1 & 638
Author: packy (MA)

bern.. same size union and same company of manufacturer and chances are they will fit.

same size union with one made in US, one made in mexico and one made in china. chances of them interchanging are about the same as winning powerball.
Author: bernabeu (SC)

nope

mfgrs OTHR than 'dart' routinely chang(ed) the thread pattern of the rings over the years

but

a new 'dart' half will fit an old 'dart' half already in place GUARRANTEED (at least until 2004 when i stopped)

other brands not so much



this issue comes into play when working on steam traps in large industrial 'plants' - if all the 'traps' are piped the same it is a simple matter to R & R for maintenance on the bench with virtually no down time other than the swap out for the bench serviced one as all the unions have been nevr-seezes - trap down time = < 5 minutes - heated area or stem fwd equipment down time = (hopefully) 0

==============================================

"Measure Twice & Cut Once" - Retired U.A. Local 1 & 638



Edited 1 times.
---
Please note:
Inappropriate messages or blatant advertising will be deleted. We cannot be held responsible for bad or inadequate advice.
Plbg.com has no control over external content that may be linked to from messages posted here. Please follow external links with caution.
Plbg.com is strictly for the exchange of plumbing related advice and NOT to ask about pricing/costs, nor where to find a product (try Google), nor how to operate or promote a business, nor for ethics (law) and the like questions.
Plbg.com is also not a place to ask radiant heating (try HeatingHelp.com), electrical or even general construction type questions. We are exclusively for plumbing questions.
Search for plumbing parts on our sponsor's site:

---
Special thanks to our sponsor: