Over 696,600 strictly plumbing related posts
Plumbing education, information, advice, help and suggestions are provided by some of the most experienced plumbers who wish to "give back" to society. Since 1996 we have been the best online (strictly) PLUMBING advice site. If you have questions about plumbing, toilets, sinks, faucets, drains, sewers, water filters, venting, water heating, showers, pumps, and other strictly PLUMBING related issues then you've come to the right place. Please refrain from asking or discussing legal questions, or pricing, or where to purchase products, or any business issues, or for contractor referrals, or any other questions or issues not specifically related to plumbing. Keep all posts positive and absolutely no advertising. Our site is completely free, without ads or pop-ups and we don't tract you. We absolutely do not sell your personal information. We are made possible by:
Author: CapableThoStumped (IA)

I'm fairly competent, but also feeling rather stumped. Hoping for some direction and clarity here.


Landscape: Using a tankless heater with internal recirculation pump. The house (multi-baths across multi-floors) has a dedicated recirculation line, and the recirc pump runs at at scheduled times throughout the day (to align with family showers, doing dishes, etc.).


Issue: We've noticed when the recirc pump finishes its run cycle and shuts off, we experience water hammer. Can't access the pipes in the walls directly to brace them better against the studs without tearing down the drywall. Would like to try other options like a water hammer arrestor first.

* Please note we're planning to also add stub hammer arresters at the various fixtures as a good general practice, but that won't necessarily help us address the hammer caused by the recirc pump inside the water heater.


QUESTION: Knowing that arresters work best when placed nearest to the offending fixture, it's unclear to me where is best to place the water hammer arrestor in our setup (basic diagram [not to scale] attached).

I know I'm overthinking this and keep second guessing myself, so welcome input from others on best path forward (or advise if perhaps another expansion tank on the HOT water line would be better here... OR maybe even add both an arrestor and an additional ET??).


Thanks in advance for any direction.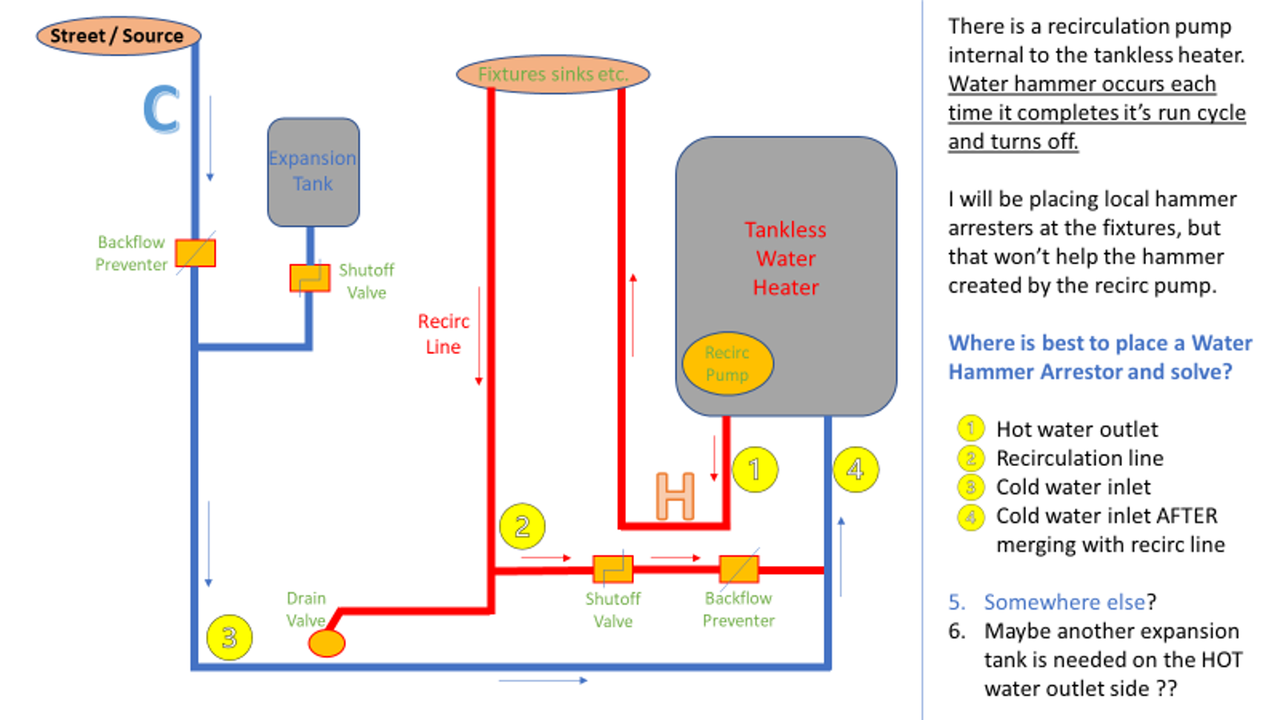 Edited 1 times.
Author: bernabeu (SC)

4

==============================================

"Measure Twice & Cut Once" - Retired U.A. Local 1 & 638
Author: packy (MA)

its not the pump causing this it is the check valve.

do you know if you have a spring loaded check valve built into the pump or a stand alone swing check?
Author: CapableThoStumped (IA)

@pachy: I do. It's a spring valve. Specifically the WATTS Maxi-Flo LF600 Lead Free Cast Copper Silicon Alloy Spring Loaded Silent Check Valve



Edited 1 times.
Author: CapableThoStumped (IA)

Thank you, @bernabeu. I have been leaning toward location 4, as well.

It's a shame that section provides the shortest run of the set, but I can find solutions for that. While it wouldn't be the very best location and wouldn't be AS good as 4, would location 3 still work if I pull it closer to the merge point there on the right?

Basically, I'm considering replacing the elbow on the bottom right instead with a Tee so I can attach the arrester. It's just passed the backflow preventer off the recirc line so less ideal.



Edited 2 times.
Author: packy (MA)

just for an experiment...

shut the cold water supplying the heater.

open a couple of faucets to let air into the hot side only.

drain out some water from the hot piping.

close the faucets and turn the water on.

you should have a small cushion of air at each faucet that will act like a hammer arrestor.

run the recirc to see what happens.
Author: CapableThoStumped (IA)
Quote
Packy (MA)

you should have a small cushion of air at each faucet that will act like a hammer arrestor.

run the recirc to see what happens.

Thank you, Packy. This is a fine idea and I will give it a try. Appreciate the recommendation!



Edited 1 times.
---
Please note:
Inappropriate messages or blatant advertising will be deleted. We cannot be held responsible for bad or inadequate advice.
Plbg.com has no control over external content that may be linked to from messages posted here. Please follow external links with caution.
Plbg.com is strictly for the exchange of plumbing related advice and NOT to ask about pricing/costs, nor where to find a product (try Google), nor how to operate or promote a business, nor for ethics (law) and the like questions.
Plbg.com is also not a place to ask radiant heating (try HeatingHelp.com), electrical or even general construction type questions. We are exclusively for plumbing questions.
Search for plumbing parts on our sponsor's site:

---
Special thanks to our sponsor: