Over 692,000 strictly plumbing related posts
Plumbing advice, answers, information, help and suggestions are provided here by experienced plumbers who wish to "give back" to others. Since 1996 we have been the best online (strictly) PLUMBING forum. If you have questions and are looking for answers or wish to discuss anything about toilets, sinks, faucets, drainage, water filters, venting, water heating, showers, pumps, and other exclusively PLUMBING related issues then you've come to the right place. Please refrain from asking or discussing legal questions, or pricing, or where to purchase products, or any business issues, or for contractor referrals, or any other questions or issues not specifically related to plumbing. Keep all posts positive and absolutely no advertising. Our site is completely free, without ads or pop-ups and we don't tract you. We absolutely do not sell your personal information. We are made possible by:
Author: cbonfield1182 (MA)

I am replacing a leaking valve for the hose on my rear patio. I have connected all the pieces when I came to a problem with my last connection.

The existing copper pipe within the wall cavity is smaller than 1" but larger than 3/4". The pipe is not squeezed out of shape, the 1" fitting slides easily over the pipe, and the 3/4" fitting is too tight to fit. It's not even close, there is no way to force it on, it is measurably too small.

Now I'm stuck. I need the hose for my vegetable garden, but I can't connect the pipes. Any help would be greatly appreciated.

I have looked online for an hour to try to determine if there's a 7/8" size, but it doesn't appear to exist. My house is 180 years old, but the copper piping and valve I am replacing are unlikely to be that old.

Anyone have any advice? Thank you!!

3/4":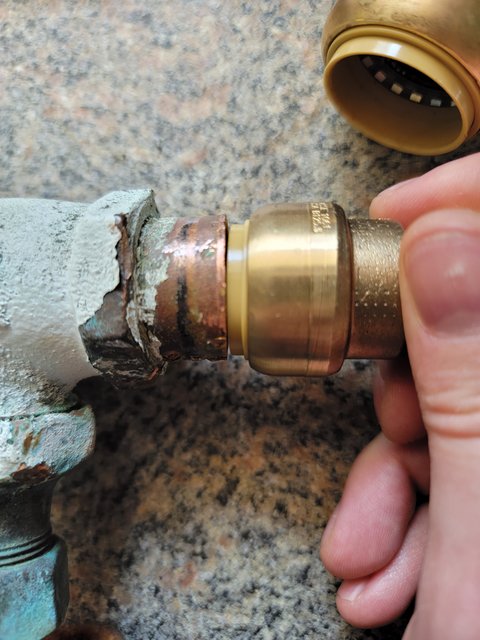 Author: Don411 (IN)

Looks like that copper is a 3/4" fitting designed to fit on the outside of 3/4" pipe. I'll bet if you got a piece of 3/4" copper it would slide into that copper piece nicely. You should be able to solder a short piece of 3/4" copper pipe into that fitting and then the sharkbite would go on the other end of that pipe.
Author: hj (AZ)

That looks like a piece of threaded pipe. If so, unscrew it from the fitting and then use a threaded copper adapter.

I basse that on at least two things.
1. There has NEVER been a sweat solder valve with a hexagon around the opening, and
2. I think I can see a vestige of the thread at the face of the valve.



Edited 1 times.
Author: bernabeu (SC)

ditto

==============================================

"Measure Twice & Cut Once" - Retired U.A. Local 1 & 638
Author: packy (MA)

yeah. unscrew the pipe from the shut off and screw in one of these.
use teflon tape and pipe dope on the male threads going into the valve.

[www.sharkbite.com]
Author: cbonfield1182 (MA)

Thanks for the help. You are totally correct.

But now I've got myself in another problem. I already cut out the leaky valve, and now I need to connect 1/2" pipe to the remaining 3/4" pipe that is too thick (the threaded pipe you noted). I don't suppose there's an adapter for that transition?

Thanks
Author: sum (FL)

That's not a copper pipe so it does not mate to copper pipes of nominal dimensions.

I wonder if this is a copper or brass nipple that you have cut off.

If it's a stub of a nipple, then it should be IPS sized instead of CTS (Copper Tubing Size). There are adapters that can connect to it, but not going to find those at local big box stores. For example Ford Meter Box makes a compression coupling connecting an IPS pipe to a CTS pipe, but I think you need more length of that piece to use those adapters.

Best approach is to put a plumbers wrench on the pipe and unscrew it, then thread back on a Sharkbites with a male threaded connection.



Edited 2 times.
---
Please note:
Inappropriate messages or blatant advertising will be deleted. We cannot be held responsible for bad or inadequate advice.
Plbg.com has no control over external content that may be linked to from messages posted here. Please follow external links with caution.
Plbg.com is strictly for the exchange of plumbing related advice and NOT to ask about pricing/costs, nor where to find a product (try Google), nor how to operate or promote a business, nor for ethics (law) and the like questions.
Plbg.com is also not a place to ask radiant heating (try HeatingHelp.com), electrical or even general construction type questions. We are exclusively for plumbing questions.
Search for plumbing parts on our sponsor's site:

---
Special thanks to our sponsor: