Over 692,000 strictly plumbing related posts
Plumbing advice, answers, information, help and suggestions are provided here by experienced plumbers who wish to "give back" to others. Since 1996 we have been the best online (strictly) PLUMBING forum. If you have questions and are looking for answers or wish to discuss anything about toilets, sinks, faucets, drainage, water filters, venting, water heating, showers, pumps, and other exclusively PLUMBING related issues then you've come to the right place. Please refrain from asking or discussing legal questions, or pricing, or where to purchase products, or any business issues, or for contractor referrals, or any other questions or issues not specifically related to plumbing. Keep all posts positive and absolutely no advertising. Our site is completely free, without ads or pop-ups and we don't tract you. We absolutely do not sell your personal information. We are made possible by:
Author: BoredatHome (SC)

Im a newbie and never removed a old 70s style. Please overlook my lack of experience. Can someone tell me how to remove this?

Thank you.






Edited 1 times.
Author: hj (AZ)

Crescent wrench on the two flats and unscrew it. The Valvet cartridge will be inside it.
Author: BoredatHome (SC)

I can't get a crescent wrench on the flats. The flats are down inside the other piece. (I forget the name) I've tried to unscrew that piece as some other post has said but it dont unscrew or atleast I don't think it does.
Author: Lorensr (CA)

Spray WD40 or Aerocroil on it and let it soak, then spray again let it set overnight then find a tool that will allow you to access the flats remove by turning clockwise or counterclockwise. You need to contact the manufacturer to get disassembly instructions,Try Grohee, Moen, Delta, Price Pfister Others will suggest a manufacturer.
Author: BoredatHome (SC)

It's a kohler. House was built in 70s. That's my problem, finding something that will grab the flats, fit in the space available, and be strong enough to unscrew it. All I can find is needle nose pliers and done busted one pair . Is there not a tool that was made to do this? Currently it's soaking in PB blaster.
Author: steve (CA)

You need to unscrew the escutcheon. Complete kits with stems, handles and escutcheons are available.
Author: BoredatHome (SC)

Thanks everybody yall was right. Unscrew the escutcheon.

I've installed both hot and cold stems but now when I turn on the hot water I get hot water squirting out from around the stem and the screw in cap on the cold water side. It only does it with the hot water.



Edited 1 times.
Author: steve (CA)

Did you use Kohler stems or aftermarket parts? Is the black rubber o-ring on the stem?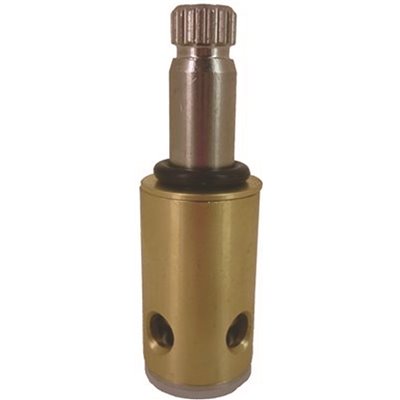 ---
Please note:
Inappropriate messages or blatant advertising will be deleted. We cannot be held responsible for bad or inadequate advice.
Plbg.com has no control over external content that may be linked to from messages posted here. Please follow external links with caution.
Plbg.com is strictly for the exchange of plumbing related advice and NOT to ask about pricing/costs, nor where to find a product (try Google), nor how to operate or promote a business, nor for ethics (law) and the like questions.
Plbg.com is also not a place to ask radiant heating (try HeatingHelp.com), electrical or even general construction type questions. We are exclusively for plumbing questions.
Search for plumbing parts on our sponsor's site:

---
Special thanks to our sponsor: