Over 692,000 strictly plumbing related posts
Plumbing advice, answers, information, help and suggestions are provided here by experienced plumbers who wish to "give back" to others. Since 1996 we have been the best online (strictly) PLUMBING forum. If you have questions and are looking for answers or wish to discuss anything about toilets, sinks, faucets, drainage, water filters, venting, water heating, showers, pumps, and other exclusively PLUMBING related issues then you've come to the right place. Please refrain from asking or discussing legal questions, or pricing, or where to purchase products, or any business issues, or for contractor referrals, or any other questions or issues not specifically related to plumbing. Keep all posts positive and absolutely no advertising. Our site is completely free, without ads or pop-ups and we don't tract you. We absolutely do not sell your personal information. We are made possible by:
Author: Dom14 (OH)

Hello -

We recently completed a master bath remodel project. Part of that project involved running a separate hot and cold supply line for the walk in shower. Additionally, we opted to add a recirculation pump and dedicated return loop line to reduce the time to get hot water for the shower. The issue we are having is that unless the recirculation pump is running, the water temp in the shower is only getting up to 95F at max hot. The hot water in the rest of the house is 125F at max hot with the pump off. A bit of research shows that this might need a check valve(s)? Appreciate any insight on this issue.

Images of the system included in the link below. Happy to provide additional images or info.

[ibb.co]



Edited 1 times.
Author: Tom130 (IL)

You need a check valve on the return line. The pump should also be on the return line.



Edited 1 times.
Author: Dom14 (OH)

Where should the check valve be installed? And can you explain what is currently occurring to cause the issue?
Author: Dom14 (OH)

What is the advantage of moving the pump to the inlet? If the pump is moved, where should the check valve be placed?
Author: Curly (CA)

I'm 99 % sure that is the wrong pump. That pumps looks like the one Watts sells (made by Grundfos) that use a manifold under the farthest sink etc. when you do not have a dedicated return line.

They installed the pump in correct location if you did not have a return line, but you have a return line.

You have 2 water heaters hooked up in parallel. From my understanding all the sections of piping between the 2 heaters etc. have to be equal lengths for it to work correctly. I do not know what adding the recir line did to the balance of things.

Somebody with more knowledge in this area may chime in.

When I install 2 water heater I do them in series.

Did they also install the manifold that came with the pump? (it is the kit) Hope not.

That pump may work if moved to the return line but that pump is not designed for that location.

My guess is that your plumber is inexperienced.
Author: Dom14 (OH)

Thanks for the reply. Unfortunately, they did install the manifold under one of my vanity sinks. I added a picture to the link in my post. Do you have any recommendations on the best solution?
Author: Tom130 (IL)

When you open a hot faucet cold water is flowing through the return line and mixing with the hot water. If it were me, I would remove the manifold under the sink and move the pump to the return line and add a check valve. Just installing the check valve might solve your problem.
Author: bernabeu (SC)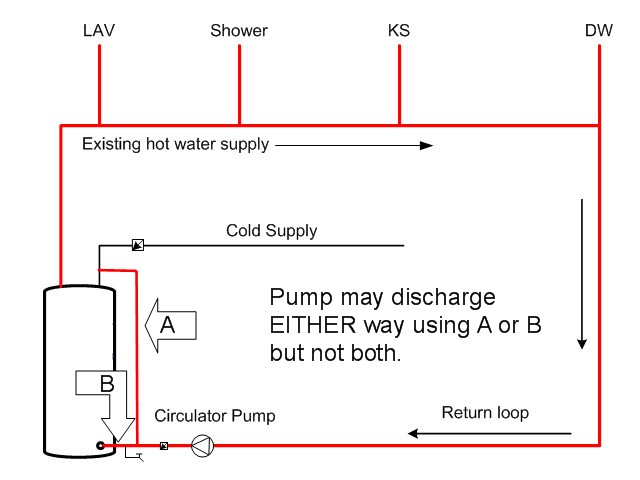 ==============================================

"Measure Twice & Cut Once" - Retired U.A. Local 1 & 638
Author: packy (MA)

curly, i believe the second water heater is dedicated for shower only as is the recirc line. ??
Author: hj (AZ)

YOu are trying to combine two different systems. EITHER, you have a connection to the hot water system at the far end and a pump on the return connected to the water heater, OR you have a system the utilizes the cold water pipe for the return which requires that manifold valve. Now, we would need a drawing of the entire system to determine if the circulation line is correct and the pump is installed correctly. ANY pump will work correctly IF IT IS INSTALLED PROPERLY.
---
Please note:
Inappropriate messages or blatant advertising will be deleted. We cannot be held responsible for bad or inadequate advice.
Plbg.com has no control over external content that may be linked to from messages posted here. Please follow external links with caution.
Plbg.com is strictly for the exchange of plumbing related advice and NOT to ask about pricing/costs, nor where to find a product (try Google), nor how to operate or promote a business, nor for ethics (law) and the like questions.
Plbg.com is also not a place to ask radiant heating (try HeatingHelp.com), electrical or even general construction type questions. We are exclusively for plumbing questions.
Search for plumbing parts on our sponsor's site:

---
Special thanks to our sponsor: