Over 692,000 strictly plumbing related posts
Plumbing advice, answers, information, help and suggestions are provided here by experienced plumbers who wish to "give back" to others. Since 1996 we have been the best online (strictly) PLUMBING forum. If you have questions and are looking for answers or wish to discuss anything about toilets, sinks, faucets, drainage, water filters, venting, water heating, showers, pumps, and other exclusively PLUMBING related issues then you've come to the right place. Please refrain from asking or discussing legal questions, or pricing, or where to purchase products, or any business issues, or for contractor referrals, or any other questions or issues not specifically related to plumbing. Keep all posts positive and absolutely no advertising. Our site is completely free, without ads or pop-ups and we don't tract you. We absolutely do not sell your personal information. We are made possible by:
Author: Lee (NJ)

Hi Guys : hopefully you can help me out.

I need to replace the cast iron. I am in the stage of getting organized and set up to do the job. I am going to replace the cast iron with PVC Schedule 40.

I am having difficulty finding the Long Sweep 90 Street Elbow 4 inch. I gone and have looked in a few home centers.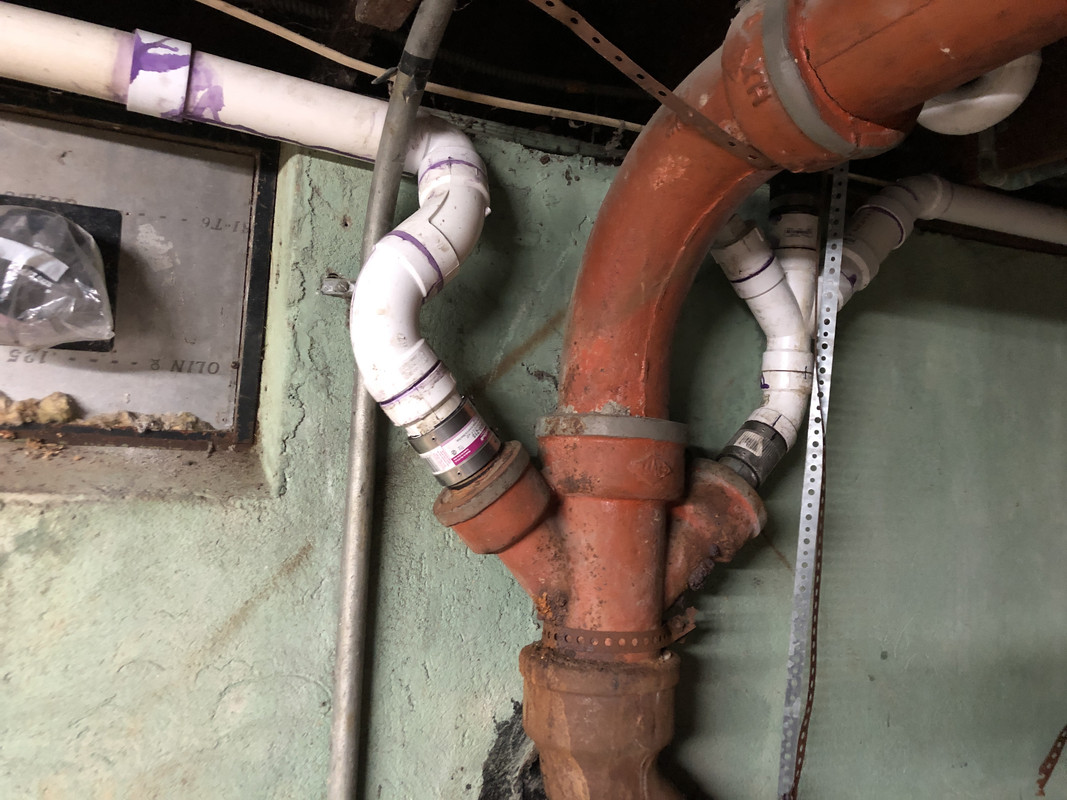 Edited 2 times.
Author: bernabeu (SC)

as our sponsor does not carry this item:

[www.warrenpipe.com]


or, perhaps, your local big box store could 'special order' an item they do not 'stock'

==============================================

"Measure Twice & Cut Once" - Retired U.A. Local 1 & 638



Edited 1 times.
Author: steve (CA)

I did a Google search and found a lot of sellers of that fitting. Charlotte # PVC 309 1200 and Nibco # 48072LT4 are two popular manufacturers.
Author: Tom130 (IL)

It looks to me like you don't need a long sweep there.
Author: Lorensr (CA)

Why do you say that. He is replacing a long sweep.
Author: Lee (NJ)

Thank you very much !
Author: bsipps (PA)

I agree with Tom it's not necessary for a long sweep in the change of direction fro horizontal to vertical

At the same time why not just us a combo of 2 street( slip) 45's

Also doesn't have to be street that ci turn is way bigger than a pvc turn



Edited 1 times.
Author: packy (MA)

get a couple of cleanouts in there as well.
Author: Lee (NJ)

I am really grateful for everyone's help. You gave me some things to think about.



Edited 1 times.
Author: Don411 (IN)

The PVC was installed to meet up with the existing cast iron fittings...with that gone, I would start with a clean sheet of paper and clean up that spaghetti factory of pipes coming into the main. For example, that one on the left that makes a lazy S around the window could come straight across and tie into the main line up a little higher. PVC is easy to work with, I would take this oppty to reconfigure...and as Packy says add a couple of cleanouts.

Maybe one of the pros here can give some advice on how to configure this busy intersection better?



Edited 1 times.
Author: sum (FL)

I think that S shaped piping to the left was done that way to clear the top of the window, and also go around that other vertical conduit (looks like an EMT or rigid conduit), and have to tie into the CI double wye at a lower point. I kept looking at that and could not come up with a different configuration. The new PVC tie in point can be higher or lower but wouldn't negate the need for making that "S". Even if that vertical conduit can be relocated it's a big challenge.

Installing cleanouts is also interesting. Assuming this is a full height basement, that means the elbow and double Y under it are at or above eye level. Would a plumber use a snake into a CO this high? The machine sits on the basement floor the snake has to coil up and back down into the cleanout? I have only seen snake being fed at knee height or lower.



Edited 2 times.
Author: Lee (NJ)

You Guys are really teaching me a lot. I have a lot to think about. I appreciate your input.
---
Please note:
Inappropriate messages or blatant advertising will be deleted. We cannot be held responsible for bad or inadequate advice.
Plbg.com has no control over external content that may be linked to from messages posted here. Please follow external links with caution.
Plbg.com is strictly for the exchange of plumbing related advice and NOT to ask about pricing/costs, nor where to find a product (try Google), nor how to operate or promote a business, nor for ethics (law) and the like questions.
Plbg.com is also not a place to ask radiant heating (try HeatingHelp.com), electrical or even general construction type questions. We are exclusively for plumbing questions.
Search for plumbing parts on our sponsor's site:

---
Special thanks to our sponsor: