Over 692,000 strictly plumbing related posts
Plumbing advice, answers, information, help and suggestions are provided here by experienced plumbers who wish to "give back" to others. Since 1996 we have been the best online (strictly) PLUMBING forum. If you have questions and are looking for answers or wish to discuss anything about toilets, sinks, faucets, drainage, water filters, venting, water heating, showers, pumps, and other exclusively PLUMBING related issues then you've come to the right place. Please refrain from asking or discussing legal questions, or pricing, or where to purchase products, or any business issues, or for contractor referrals, or any other questions or issues not specifically related to plumbing. Keep all posts positive and absolutely no advertising. Our site is completely free, without ads or pop-ups and we don't tract you. We absolutely do not sell your personal information. We are made possible by:
Author: sum (FL)

I am curious to find out if anyone has used flexible PVC tubing under water. This is for a water feature in a pond.

This is an overall picture of my fish pond, before I demolished the rotted wood bridge and drained the entire pond.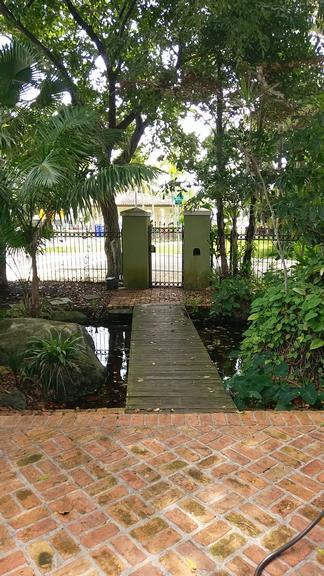 There are some PVC pipes that runs submerged. One PVC pipe for the intake, and it runs to a pump above ground, then the water runs back into the pond under the bridge and up a large concrete boulder and make a little waterfall.

In the picture below you can see at the bottom two pipes. The 1.5" PVC pipe is the intake line and the 3/4" line is the return line. I have disconnected all the rest of the pipes so I can do a thorough cleaning of the pond without stepping on pipes. But you can see on the upper left of the picture there is another 3/4" line.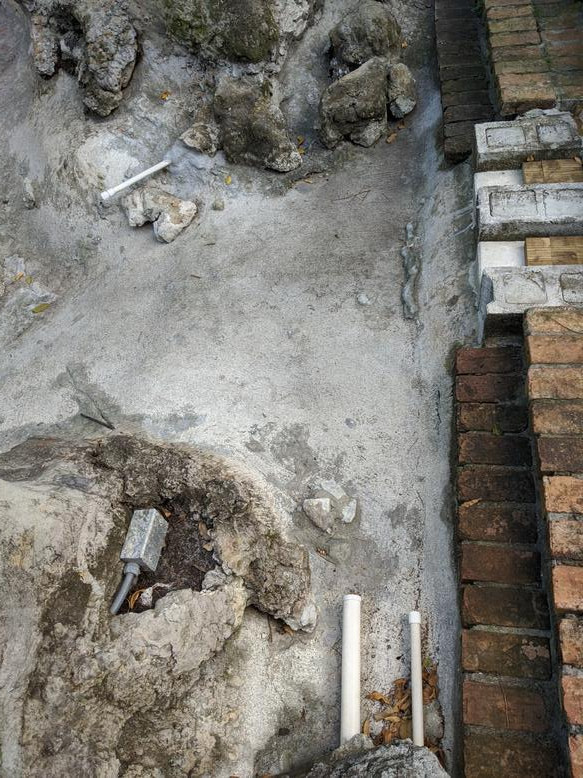 The two 3/4" PVC will need to be connected so that the water returning to the pond will be sent up the inside of the concrete boulder to make a waterfall feature.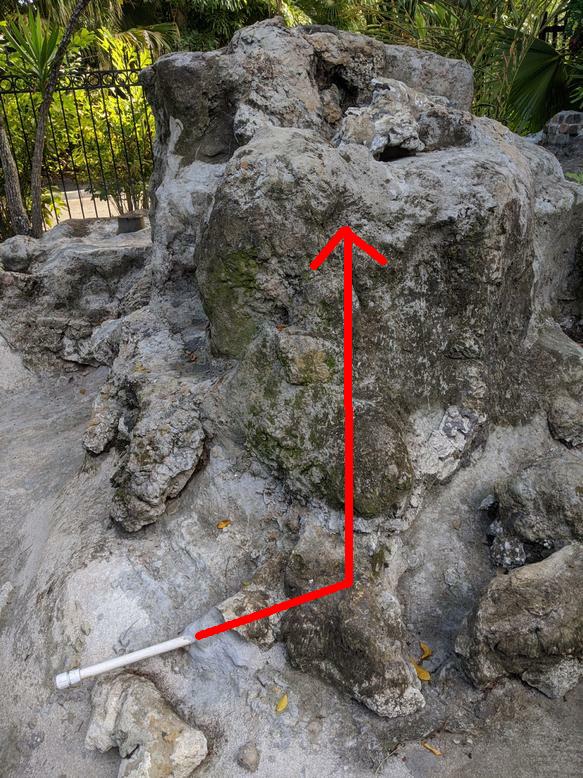 I am trying to find the best way to connect the two PVC lines. Normally it is a trivia thing, but last year I hired a tree service company to come trim trees and they allowed the tree branches to fall from 40 feet above onto the wood bridge, not only that, some branches dropped directly into the pond and landed on the PVC pipe and cracked the intake line. There is no way to fix it without draining the pond, which is one of the reasons I have the pond drained this time.

This time around, I will run most of the pipes under the bridge, so the chance of a tree branch landing on the pipe should be greatly reduced.

The below line in blue/red is how I am planning to make the run.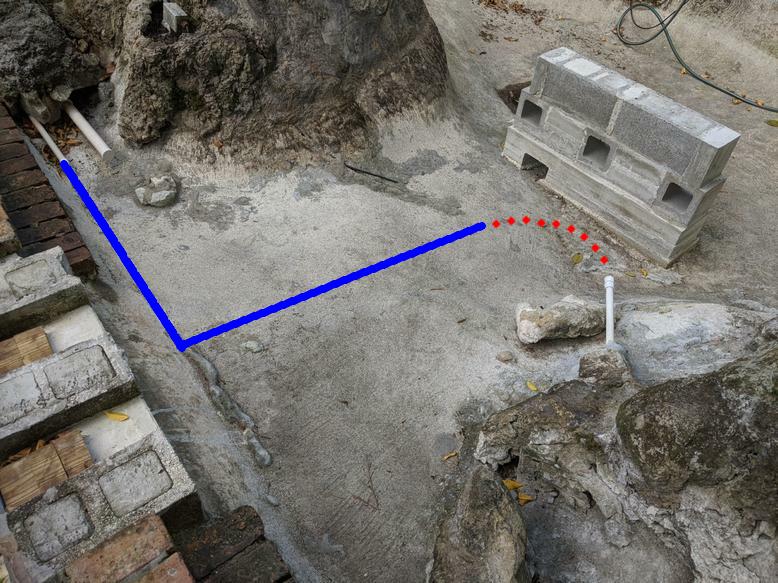 In blue will be just normal SCH40 PVC pipes, but the red dotted line I am thinking about using FLEXIBLE PVC lines. Reason is if I have another tree branch crashing on it, it will not break that pipe. and the gentle sweep curve will be better than doing a 90 plus a 45 elbows.

Is FLEX PVC a good application is this case? It will be under water so it will not be exposed to UV.
Author: vic (CA)

In my previous home where I create/built an approx 10k gallon pond I used sch 40 spa flex quite a bit. I'm not aware of ever having any issue in having the flexible pvc in the pond for over 10 years. I do want to mention that I don't believe it is UV protected so I can't speak for it or any pvc piping being in the sun for many years.
Author: sum (FL)

vic thanks for the info. I think flex in this case is better for potential impact damages (tree branches, being stepped on etc...) and I doubt UV is an issue because my pond is never that clear and most of the tubing will be tucked under the bridge. Worse case I can always slide a sleeve over the exposed section.

Does the flex PVC work with standard SCH40 PVC fittings the same way as regular SCH40 pipes?
Author: steve (CA)

Yes, the spaflex has same OD as sch40 and uses same fittings.
Author: vic (CA)

Yup, just as Steve says sch 40 pvc spa flex fits all sch 40 pvc fittings.

Side note: I have also used spa flex a lot for short risers for sprinklers as well as sprinkler lines where a potential car or heavy weight might push/weigh down on the piping.

I've always used purple primer (to those that don't know ... a number of years ago Sum's son did testing and reporting on his results of using pvc primer) as well as I've always used Christy's Red Hot Blue glue and have never had a leak with it on spa flex.
Author: Don411 (IN)

Spa Flex is great and use the same primers/solvents that would use for SCH 40. I would think that Spa Flex is great for in-water applications, but we had termites eat ours on our in-ground pool on LI. We are getting ready to install a p[ool here in IN and will be plumbing all with SCH40, no spa flex
Author: sum (FL)

Don, I heard about termites with flex PVC tubing. My will be submerged in water so hopefully it will be OK.

I am wondering if termites will attack other plastic pipes such as PEX. I have PEX tubing in my crawlspace not buried in soil but strapped to the underside of floor joists. I hope if subterranean termites as they go to attack the wood floor joists if they will pass over the PEX tubing or they will eat that up too?
Author: Don411 (IN)

Sum, from what I have read it's the chemicals that mfrs add to the spa flex to make it flexible that are what attract the termites. We replaced the spa flex on our pool with 1 1/2" black poly pipe like what is used for irrigation, and had no issues with that either. Normal SCH 40 PVC and pex are not affected by termite damage, or least I haven't been able to find any reports of any. I checked last year before I used pex in my crawlspace too.

You should be fine using the spa flex in the pond area. In fact, looking again at your photos, I would just use one run to connect those 3/4 lines, that would give you a more direct path and relieve some of that turn where you show the spa flex now. Granted the piping wouldn't be as shielded by the bridge, but assuming you hire a different tree trimmer next time it shouldn't be an issue.
---
Please note:
Inappropriate messages or blatant advertising will be deleted. We cannot be held responsible for bad or inadequate advice.
Plbg.com has no control over external content that may be linked to from messages posted here. Please follow external links with caution.
Plbg.com is strictly for the exchange of plumbing related advice and NOT to ask about pricing/costs, nor where to find a product (try Google), nor how to operate or promote a business, nor for ethics (law) and the like questions.
Plbg.com is also not a place to ask radiant heating (try HeatingHelp.com), electrical or even general construction type questions. We are exclusively for plumbing questions.
Search for plumbing parts on our sponsor's site:

---
Special thanks to our sponsor: