Over 692,000 strictly plumbing related posts
Plumbing advice, answers, information, help and suggestions are provided here by experienced plumbers who wish to "give back" to others. Since 1996 we have been the best online (strictly) PLUMBING forum. If you have questions and are looking for answers or wish to discuss anything about toilets, sinks, faucets, drainage, water filters, venting, water heating, showers, pumps, and other exclusively PLUMBING related issues then you've come to the right place. Please refrain from asking or discussing legal questions, or pricing, or where to purchase products, or any business issues, or for contractor referrals, or any other questions or issues not specifically related to plumbing. Keep all posts positive and absolutely no advertising. Our site is completely free, without ads or pop-ups and we don't tract you. We absolutely do not sell your personal information. We are made possible by:
Author: Sync (FL)

Hello
Would you be able to tell me the name of this rubber or where I can purchase it?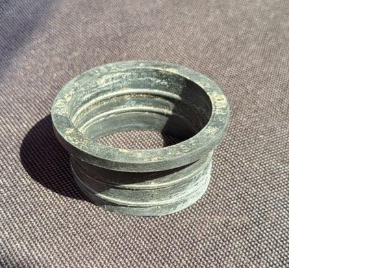 Under the sinck by the wall, I found it. This image is NOT where I found it. However, this image shows where it was installed under the sinck.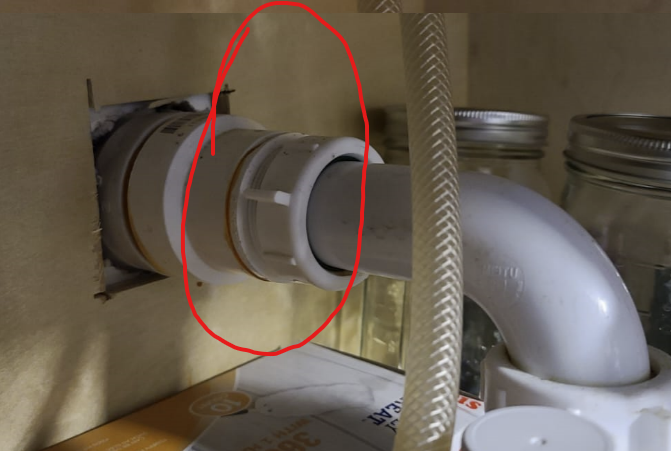 Thank you for your help
Author: bsipps (PA)

Yes the rubber is a push gasket

The piece that is circled is a slip trap adapter

I see no reason for any push gasket, seems to be just trash
Author: packy (MA)

if there was a 2 inch cast iron hub facing out of the wall that at one time may have had a galvanized nipple leaded into it and someone removed the lead and oakum along with the galvanized nipple to replace it with plastic, i could see a use for a push gasket.
Author: NoHub (MA)

This fitting will get you out of a jam, just cut out everything that's 1 1/2" and leave the hub there, glues rite over the hub. The fitting is called a ( Jones Stephens P22100 ).



Edited 2 times.
Author: Curly (CA)

Did not know that fitting existed. Good to know. Thanks for the information.

Looks like it is what poster "agentzed (ME)" could use......to solve his cracked hub.
Author: sum (FL)

Never seen this fitting before.

So it fits over a hub in a repair situation?

Looking at it the first thing that came to mind was how does one deal with the raised lettering and the 45 degree marks around the outside of the original hub if they need to be sanded off first so I Googled this fitting and amongst the specifications it says "raised lettering actually improve chemical bonds". Good to know.
Author: bernabeu (SC)

yes, but only at the point where the raised letters make contact and create pressure

the area of the joint AROUND/ADJACENT the lettering is no better than a 'slip fit' NON tapered repair coupling, perhaps worse, BECAUSE of the raised lettering

==============================================

"Measure Twice & Cut Once" - Retired U.A. Local 1 & 638
---
Please note:
Inappropriate messages or blatant advertising will be deleted. We cannot be held responsible for bad or inadequate advice.
Plbg.com has no control over external content that may be linked to from messages posted here. Please follow external links with caution.
Plbg.com is strictly for the exchange of plumbing related advice and NOT to ask about pricing/costs, nor where to find a product (try Google), nor how to operate or promote a business, nor for ethics (law) and the like questions.
Plbg.com is also not a place to ask radiant heating (try HeatingHelp.com), electrical or even general construction type questions. We are exclusively for plumbing questions.
Search for plumbing parts on our sponsor's site:

---
Special thanks to our sponsor: