Over 692,000 strictly plumbing related posts
Plumbing advice, answers, information, help and suggestions are provided here by experienced plumbers who wish to "give back" to others. Since 1996 we have been the best online (strictly) PLUMBING forum. If you have questions and are looking for answers or wish to discuss anything about toilets, sinks, faucets, drainage, water filters, venting, water heating, showers, pumps, and other exclusively PLUMBING related issues then you've come to the right place. Please refrain from asking or discussing legal questions, or pricing, or where to purchase products, or any business issues, or for contractor referrals, or any other questions or issues not specifically related to plumbing. Keep all posts positive and absolutely no advertising. Our site is completely free, without ads or pop-ups and we don't tract you. We absolutely do not sell your personal information. We are made possible by:
Author: sum (FL)

I was in my yard trying to dig a post hole for an interior fence. I am glad I wasn't going at it on the digging because I met resistance that felt funny. Turned out I was trying to make a hole right where there is an interchange of 1.5" and 2" PVC pipes for the pool and spa.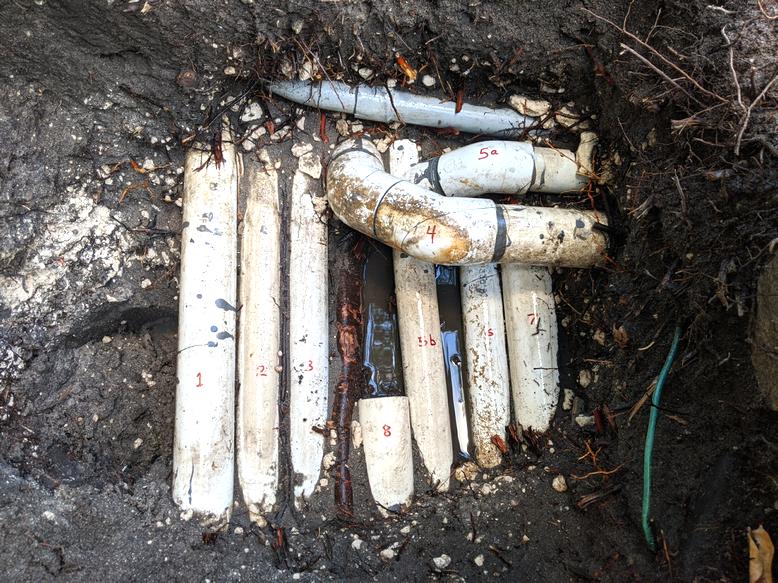 These pipes are so tight together I think they must have been in a bundle when they laid them into the ground. In addition, tree roots are running alongside them, above, below and sideways.

It got me thinking, what if I accidentally broke one and have to make a repair? For example, let's say the three pipes on the left side I broke the middle one. How would you even try to repair it? I cannot even insert a putty knife between these pipes, so how would you cut a section off, and what do you do when you do not even have room to fit in a coupling, let alone a larger slip coupling in this case? Is the only option to dig a longer trench until there is enough length of these pipes to allow some flex?

I don't have a broken line now this is just hypothetical but it was a very close call with the post hole digger.
Author: bernabeu (SC)

You dig out enough to get some slack

or

you run new piping.


? Do you see now the concept of good or best practice as opposed to mere code compliance ?

==============================================

"Measure Twice & Cut Once" - Retired U.A. Local 1 & 638
Author: Don411 (IN)

Not to mention the electrical conduit that crosses the plumbing in the top of the pic.... If you break one of the PVC plumbing pipes make sure to re-label them, I see they are all numbered.



Edited 1 times.
Author: packy (MA)

if sum wasn't trying to dig a hole for a fencepost then it wouldn't mean a damn thing..
Author: sum (FL)

No they were not numbered. These labels were added by me two days ago. I have the old pool & spa plans submitted to the city in 1992 and these pipes are NOT where the plans indicated so somebody at some point changed the layout.

I want to know which line is the suction from the cleaner, which is the suction to the spa, which is the return to the spa etc...so I labeled them for my benefits.
Author: hj (AZ)

You mean he should have been driving "T" posts into the ground.
Author: packy (MA)

no.. i meant that left undisturbed, the pipes would have been fine.
---
Please note:
Inappropriate messages or blatant advertising will be deleted. We cannot be held responsible for bad or inadequate advice.
Plbg.com has no control over external content that may be linked to from messages posted here. Please follow external links with caution.
Plbg.com is strictly for the exchange of plumbing related advice and NOT to ask about pricing/costs, nor where to find a product (try Google), nor how to operate or promote a business, nor for ethics (law) and the like questions.
Plbg.com is also not a place to ask radiant heating (try HeatingHelp.com), electrical or even general construction type questions. We are exclusively for plumbing questions.
Search for plumbing parts on our sponsor's site:

---
Special thanks to our sponsor: