Over 687,000 strictly plumbing related posts
Welcome to Plbg.com the PlumbingForum.com. We are the best online (strictly) PLUMBING advice, help, dyi, educational, and informational plumbing forum. Questions and discussions about toilets, sinks, faucets, drainage, venting, water heating, showers, pumps, and other exclusively PLUMBING related issues. Please refrain from asking or discussing legal questions, pricing, where to purchase a product, or any business issues, or for contractor referrals, or any other questions or issues not specifically related to plumbing. Keep all posts positive and absolutely no advertising. Our site is completely free, without ads or pop-ups. We do not sell your information. We are made possible by:
Author: sum (FL)

I have always read that when using PEX tubing, specifically the crimp ring version (not the cold expansion PEX A fittings), due to the restriction of the crimp fittings, that one should not run PEX on the outlet of a shower/tub valve to the tub spout. Reason being the restriction is such that there may be enough back pressure to cause water to come out of the shower.

However, I came across some valves, for example this MOEN U361X, which is NOT a mixing valve but a multi port diverter valve. It has all the inlets and outlets in 1/2" crimp PEX connections.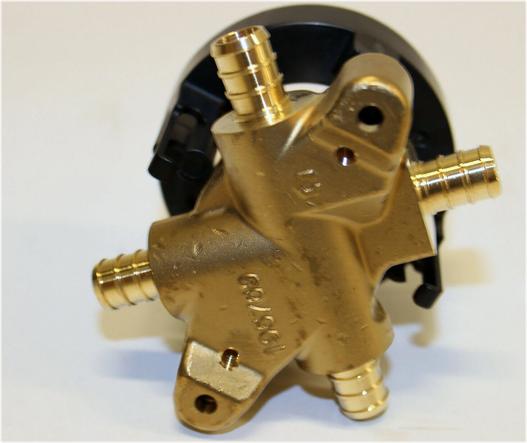 Here are my questions.

(1) The inlet is a 1/2" crimp PEX connection. So the mixed water is already restricted coming in. Yet it has a three port outlet capable of supporting three devices independently or at the same time. I am having a hard time imagining how it can have enough volume to have a hand shower, a rain shower head and an overhead wall shower head all going at the same time.

(2) The specifications/instructions showed how to install for 2 or 3 devices. It is installed on top of the mixing valve so no tub spout. Can a tub spout be used in this case? Can someone take a side outlet, and run it across, down and back over to run a tub spout? Or can someone install this below the mixing valve and turn this diverter upside down to go down to a tub spout?

I am not planning on using it, I am just curious when I saw this.



Edited 1 times.
Author: packy (MA)

funny but all the installation instructions of find are for a different valve body. 1/2 FIPS with the opening reamed out so 1/2 copper fits inside.

this is a good question for moen engineers.
Author: hj (AZ)

It is a transfer valve so all the instructions about full size piping do not apply. It shuts off ALL the openings not being used, so back pressure is not a problem.
Author: bernabeu (SC)

hj is correct

(gasp ... choke ... gaaaaa ... )


apparently it is used as part of / along with Moen's 'new' M-Core 'mixer valve'


[www.bing.com]

and see the video [www.amazon.com]

- - - -

Retired U.A. Local 1 & 638
"Measure Twice & Cut Once"
Author: hj (AZ)

Gee, I hope you survuved that episode. Hopefully, it will be the last one, since I do not think you could survive two of them.
Author: bernabeu (SC)

...... glad to be of amusing service ......




- - - -

Retired U.A. Local 1 & 638
"Measure Twice & Cut Once"
---
Please note:
Inappropriate messages or blatant advertising will be deleted. We cannot be held responsible for bad or inadequate advice.
Plbg.com has no control over external content that may be linked to from messages posted here. Please follow external links with caution.
Plbg.com is strictly for the exchange of plumbing related advice and NOT to ask about pricing/costs, nor where to find a product (try Google), nor how to operate or promote a business, nor for ethics (law) and the like questions.
Plbg.com is also not a place to ask radiant heating (try HeatingHelp.com), electrical or even general construction type questions. We are exclusively for plumbing questions.
Search for plumbing parts on our sponsor's site:

---
Special thanks to our sponsor: