Over 687,000 strictly plumbing related posts
Welcome to Plbg.com the PlumbingForum.com. We are the best online (strictly) PLUMBING advice, help, dyi, educational, and informational plumbing forum. Questions and discussions about toilets, sinks, faucets, drainage, venting, water heating, showers, pumps, and other exclusively PLUMBING related issues. Please refrain from asking or discussing legal questions, pricing, where to purchase a product, or any business issues, or for contractor referrals, or any other questions or issues not specifically related to plumbing. Keep all posts positive and absolutely no advertising. Our site is completely free, without ads or pop-ups. We do not sell your information. We are made possible by:
Author: John Endopax (PA)

I inherited a Honeywell D05T Compact Design Pressure Regulating Valve, and I want to decrease the whole house pressure that I measured to be 90+ psi at an outside bib. Unlike the bell-shaped valves with exposed adjusting screw and locknut by Watts and a host of other manufacturers, this valve is capped with a black plastic cylinder that prevents access to the locknut (see photo link below). There is an opening in the top of the cylinder providing exposure of the adjusting screw.
This valve's Installation Instructions does not even show or identify this cap in exploded view. Do I need to take a wrench to the faceted portion of the cap's base that might be threaded onto the metal body--I have not budged it trying this--or does the cap need to be removed in a diffeent manner?
Thanks in advance for your time and assistance. John

[www.google.com]
Author: bernabeu (SC)

a question wrapped in an enigma

(previous guess removed)


NEW INFO:

my 'guess' was wrong

the honeywell valve is discontinued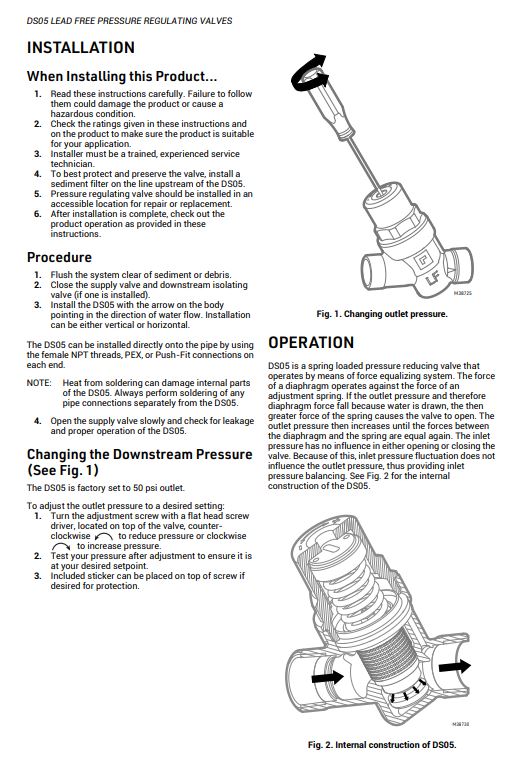 - - - -

Retired U.A. Local 1 & 638
"Measure Twice & Cut Once"



Edited 1 times.
Author: John Endopax (PA)

Hi,
Even though I was able to simply turn the adjusting screw through the opening in the top and successfully decrease my whole house pressure right after my original post, I appreciate your looking for and finding this information. The DS05 in your post is incredibly even shorter than the D05T I have, but for those homeowners who have either valve, your sheet properly directs one to turn the access screw without accessing and loosening a locknut.
Appreciate your input.



Edited 1 times.
Author: bernabeu (SC)

glad to be of help

- - - -

Retired U.A. Local 1 & 638
"Measure Twice & Cut Once"
---
Please note:
Inappropriate messages or blatant advertising will be deleted. We cannot be held responsible for bad or inadequate advice.
Plbg.com has no control over external content that may be linked to from messages posted here. Please follow external links with caution.
Plbg.com is strictly for the exchange of plumbing related advice and NOT to ask about pricing/costs, nor where to find a product (try Google), nor how to operate or promote a business, nor for ethics (law) and the like questions.
Plbg.com is also not a place to ask radiant heating (try HeatingHelp.com), electrical or even general construction type questions. We are exclusively for plumbing questions.
Search for plumbing parts on our sponsor's site:

---
Special thanks to our sponsor: