Over 692,000 strictly plumbing related posts
Plumbing advice, answers, information, help and suggestions are provided here by experienced plumbers who wish to "give back" to others. Since 1996 we have been the best online (strictly) PLUMBING forum. If you have questions and are looking for answers or wish to discuss anything about toilets, sinks, faucets, drainage, water filters, venting, water heating, showers, pumps, and other exclusively PLUMBING related issues then you've come to the right place. Please refrain from asking or discussing legal questions, or pricing, or where to purchase products, or any business issues, or for contractor referrals, or any other questions or issues not specifically related to plumbing. Keep all posts positive and absolutely no advertising. Our site is completely free, without ads or pop-ups and we don't tract you. We absolutely do not sell your personal information. We are made possible by:
Author: DaMama (MD)

Our new build 2 story home is now 8 years old. We have a 75 gallon hot water heater (gas) with TACO 006-B4-1PNP hot water recirculator (w/digital timer). It has been WONDERFUL! I may write a sonnet! Sadly, it seems a grain from the sands of time has intruded upon my bliss and I need help finding it!

1st noticed hot water in an upstairs shower starts out hot and within a few minutes begins to cool to the point the mixing valve is turned all the way to hot and the water is lukewarm. Launched a full scale investigation and discovered the following:

Digial display on face plate of TACO pump is so faded it is unreadable, but the pump is definitely working. I turned it off one night and the next morning waited 3 minutes for hot(ish) water from an upstairs tap. I turned it back on that night and got hot(ish) water from the same upstairs tap immediately the next morning.

Hot water tank is not throwing any error codes and hot water taps in basement, kitchen, and downstairs powder room are fine.

Upstairs: After "much turn this on with this on...now turn this off but keep this on and turn that on..."

Hot tap(single) of MY sink is warm, not hot, but turns COLD when any other hot tap in that bathroom (HIS sink(single), bathtub(single), and shower(mixer valve)) is opened.

As long as MY sink hot tap is open and cold water is coming out, the other taps are immediately as hot as they should be and stay that way until MY sink hot tap is closed. Then the other taps lose heat and go to warm.

When the other hot taps are closed, MY sink hot tap immediately goes from COLD to warm.

I will absolutely call a plumber, but I want to get some troubleshooting ideas first so I know what to ask for!
Author: steve (CA)

Shut off either the hot or cold angle stop under the sink and see if the shower hot water is hot. Sounds like the sink faucet is allowing cold water to enter the hot water supply piping.
Author: DaMama (MD)

Sadly, no change with either hot or cold undersink angle valve closed. While I was down there I noticed the dedicated return line for the recirc system starts under this sink.
Author: bernabeu (SC)

back check valve assembly

==============================================

"Measure Twice & Cut Once" - Retired U.A. Local 1 & 638
Author: DaMama (MD)

Is the back check valve assembly something I can test as a layman?
Author: bernabeu (SC)

if, repeat IF, you have this under your sink it needs replacement

[www.amazon.com]

==============================================

"Measure Twice & Cut Once" - Retired U.A. Local 1 & 638
Author: DaMama (MD)

Unfortunately, we do not have that device. Thank you for linking that, though. I was able to learn more about how the various ways these systems are designed. Our Taco 006-b4-1 is a plug and pump controlled by a timer/aquastat located next to the water heater. The dedicated return line doesn't have a sensor at the furthest point.
Author: bernabeu (SC)

there is a check valve either built into the pump or in the piping near the pump

these checks 'often' fail with time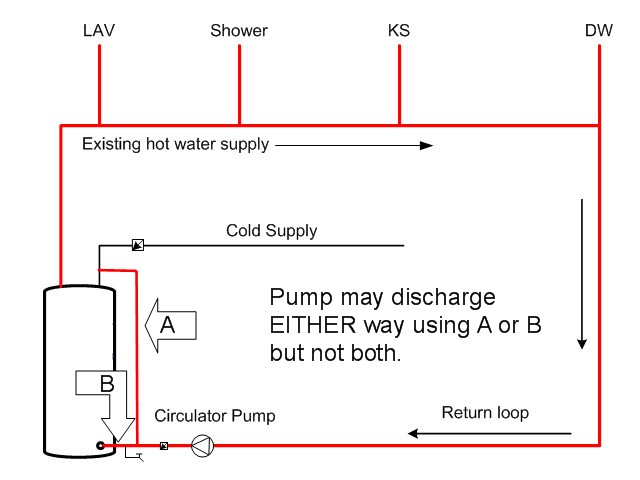 (the rectangular box with the diaganal arrow pointing into the left bottom corner)

==============================================

"Measure Twice & Cut Once" - Retired U.A. Local 1 & 638
---
Please note:
Inappropriate messages or blatant advertising will be deleted. We cannot be held responsible for bad or inadequate advice.
Plbg.com has no control over external content that may be linked to from messages posted here. Please follow external links with caution.
Plbg.com is strictly for the exchange of plumbing related advice and NOT to ask about pricing/costs, nor where to find a product (try Google), nor how to operate or promote a business, nor for ethics (law) and the like questions.
Plbg.com is also not a place to ask radiant heating (try HeatingHelp.com), electrical or even general construction type questions. We are exclusively for plumbing questions.
Search for plumbing parts on our sponsor's site:

---
Special thanks to our sponsor: