Over 696,600 strictly plumbing related posts
Plumbing education, information, advice, help and suggestions are provided by some of the most experienced plumbers who wish to "give back" to society. Since 1996 we have been the best online (strictly) PLUMBING advice site. If you have questions about plumbing, toilets, sinks, faucets, drains, sewers, water filters, venting, water heating, showers, pumps, and other strictly PLUMBING related issues then you've come to the right place. Please refrain from asking or discussing legal questions, or pricing, or where to purchase products, or any business issues, or for contractor referrals, or any other questions or issues not specifically related to plumbing. Keep all posts positive and absolutely no advertising. Our site is completely free, without ads or pop-ups and we don't tract you. We absolutely do not sell your personal information. We are made possible by:
Author: L1682 (AZ)

Hi all, just looking for some direction. My tiled shower drain flange is out of plumb by about 3/16 to 1/4" on a torpedo level. I have an Oatey flange bolts to that, with the shower liner in between the two pieces, pretty standard. It has bothered me for years with the uneven shower tiles around the drain area so I have decided to fix it. I have a large walk in snail shower and the liner runs up the four walls by about 6 inches, SO, obviously, I do not want to demo all the deck mud, and remove and reshape the pan unless I have to. The question I have for an install expert is this; Would it be better to cut the liner, cut the pipe and re-plumb the pipe level, then patch the liner etc, or- can I simply shim the Oatey drain flange up to level on the low side with stainless washers, then replace the small amount of deck in lieu of the large liner patch option? My thought is that the bottom of the Oatey drain is below the lip of the flange inside the drain and IF any water were to ever get around the drain, it would simply run under the shimmed gap of the flange and into the drain. There will be about 2 to 2 1/2 inches of deck mud that goes over the flange at the point of the drain. My other thought was that I could silicone the shimmed gap under the flange, then replace the deck mud. I know the right way to fix this would be to remove the entire liner of the shower, and fix the pipe, then re-form/ shape a new pan, but the walk in shower is massive and I was looking for other suitable options. I wish someone made an adjustable angle flange rather than simply adjustable up and down for height, Any ideas would be greatly appreciated and thank you for any information.
Author: steve (CA)

You can install a new drain trim, level it above the existing tile with mortar and then overlay the floor tile with new tile, that meets the height of the new trim. Get a new trim with the same screw spacing as your existing drain.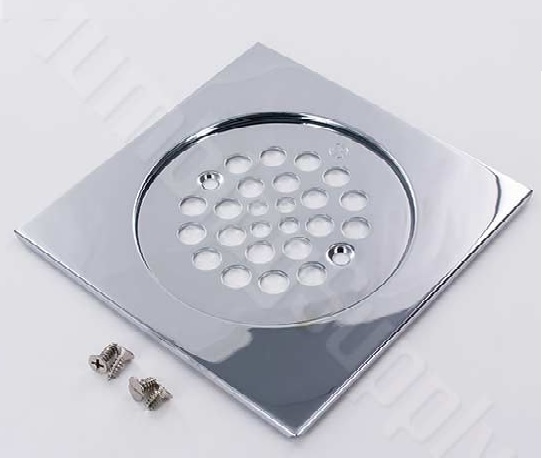 Author: bsipps (PA)

Seems like you already know the correct answer the whole floor must be ripped up with a new trap and liner, preguage and tile floor installed… if you want it done correctly and last for years to come
---
Please note:
Inappropriate messages or blatant advertising will be deleted. We cannot be held responsible for bad or inadequate advice.
Plbg.com has no control over external content that may be linked to from messages posted here. Please follow external links with caution.
Plbg.com is strictly for the exchange of plumbing related advice and NOT to ask about pricing/costs, nor where to find a product (try Google), nor how to operate or promote a business, nor for ethics (law) and the like questions.
Plbg.com is also not a place to ask radiant heating (try HeatingHelp.com), electrical or even general construction type questions. We are exclusively for plumbing questions.
Search for plumbing parts on our sponsor's site:

---
Special thanks to our sponsor: