Over 687,000 strictly plumbing related posts
Welcome to Plbg.com the PlumbingForum.com. We are the best online (strictly) PLUMBING advice, help, dyi, educational, and informational plumbing forum. Questions and discussions about toilets, sinks, faucets, drainage, venting, water heating, showers, pumps, and other exclusively PLUMBING related issues. Please refrain from asking or discussing legal questions, pricing, where to purchase a product, or any business issues, or for contractor referrals, or any other questions or issues not specifically related to plumbing. Keep all posts positive and absolutely no advertising. Our site is completely free, without ads or pop-ups. We do not sell your information. We are made possible by:
Author: dshenmdyn (CA)

Hi,

I have a strange problem and can't find a resolution. Would appreciate the help from experts here.

I have a shower (just overhead shower without tub outlet) that hasn't been used for years on the second floor of the house. Everything was ok last time (years ago) when it was used. I tried to use it again the other day and found that there is absolute no water coming out. There is no sound when turning on the handle. Nothing. The other faucets and toilets in the same bathroom all work normally.

I ordered a replacement cartridge (Moen 1222) and replaced the old one with it. Still no water.

When I had the old cartridge removed and before putting in the new one, I actually tried to turn on the main water shutoff value to the house and water did come out from the valve body (without the cartridge installed). It seems with good pressure and volume. However, after I put the new cartridge in and tried again, there is no water. Nothing at all.

By the way, I removed the shower head and just left just the open pipe and nothing come out of the pipe. So I don't think the shower head is the issue.

I am totally puzzled and don't have clue what might be the problem.

Your help is greatly appreciated.
Author: bernabeu (SC)

turn water off

remove cartridge

remove shower head

'back' blow INTO shower head 'arm' and see if the valve body itself is clear of 'debris'





report back

- - - -

Retired U.A. Local 1 & 638
"Measure Twice & Cut Once"
Author: dshenmdyn (CA)

Reporting back the latest:

I shut off the water to the house, took out the cartridge, removed the shower head.
Using a hand pump (a pump to inflate air mattress), I tried to blow air into the shower arm pipe.
I can clearly feel resistance. Air did not blow through freely, if at all.

Looking into the valve body with flash light, I can see 3 openings: two on either side and one on the bottom.
(Since the valve body has 4 sides that are connected to pipes like a cross shape, I was expecting to feel/see 4 internal opening. To my surprise, I could only see 3. )
I assume the two on either sides are for cold and hot incoming water.
I assume the bottom opening is the common outlet for water to go to both the tub and the overhead.

Using a pick, I can not feel any obvious blockage at the immediate opening.
Using a spool of weed trimer string (those plastic string with some rigidity) I tried to probe from the overhead shower pipe opening. It went in pretty far (~2-3 feet) as I expect the string goes over the overhead shower arch and then descent toward the valve.
I can also extend the string from the bottom opening inside the valve body for about 10 inch.
In either case, since I don't know the exact routing, I could not navigate the string all the way to reach the other end.

What could be the blockage that prevent air from blowing from the overhead shower toward the valve?
How could that be resolved?
Obviously, I would like to avoid having to knock out the the shower enclosure to get access to the valve body behind the wall to replace the whole thing.

Updated to say that I have confirmed the valve body does NOT have the two screw shut off for hot/cold water. As mentioned earlier, I confirmed water could reach the cartridge because water poured out with the cartridge removed and water supply to the house turned on.



Edited 3 times.
Author: bernabeu (SC)

... now you need to back-blow using an actual compressor ...

you need to connect the compressor in such a manner that you can give the piping a good 'shot' of air in an attempt to blow out whatever is obstructing the flow

or a 'kinetic water ram'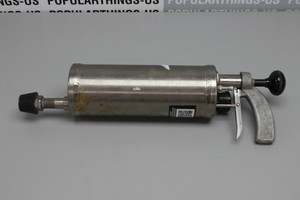 or

you may need to back-flush with water: [youtu.be]


or

hire an actual plumber to come on site

- - - -

Retired U.A. Local 1 & 638
"Measure Twice & Cut Once"



Edited 2 times.
Author: Curly (CA)

On some older Grohe 2 handle tub/shower valve they have a very small orifice in the shower outlet on the the valve body that would clog 100% with hard water deposits.

I've tried air, water etc. and no luck.

So I take the shower head off, turn shower arm facing up, remove tub spout, replace with a long nipple and elbow pointing into a bucket, pour hydrochloric acid (Sizzle brand) into shower arm with funnel, eventuality it eats it way thru the hard water deposit and comes out the long nipple into a bucket. Flush with water, put everything back together and good to go.

I'm not suggesting you do this. This is just what I have done and what works for me. Saved my customers from having to open up the wall and replace valve.

If you decide to do this BE VERY CAREFUL.

If you think this is above your pay grade find a plumber who has done it. Most likely one with some gray hair.

A LOT can go wrong very quickly if you are not careful. Each job is different and requires different steps to be CAREFUL.

Good luck.
Author: dshenmdyn (CA)

I threaded a thin plastic tube (about 5/32 inch I.D.) from the shower arm pipe back down. It went in about 30 inches. I was able to suck out about 10-20 ml of water using a syringe connected to the tube. I then pushed in 20 ml of white vinegar and let it sit for 3 hours. During the wait, I occasionally use the syringe to suck/push the vinegar through the tube which I left in to agitate it and hoped it will help it to dissolve any mineral deposit that may have caused the block. The vinegar turned blue/green color probably from reacting with the copper pipe. Worrying that it may cause other unintended damage, I sucked out all the vinegar and pushed in clear water to rinse.

Still no water.

The only thing left is to buy/rent an air compressor to try blowing back from the shower arm pipe opening. Not holding my hope high, though.
Author: packy (MA)

you can get a 1/2 inch female by3/4 hose swivel fitting.
screw it onto the shower arm and hook your garden hose to it.

[www.google.com]
Author: bernabeu (SC)

ditto

- - - -

Retired U.A. Local 1 & 638
"Measure Twice & Cut Once"
Author: dshenmdyn (CA)

Finally got an air compressor and tried to blow back without success.

Asked a plumber to diagnose and he agreed that it was blocked and the valve needs to be replaced.

Will report back after the job is done.
Author: dshenmdyn (CA)

Plumber replaced the valve and everything is working now.

Unfortunately I could not identify the exact root cause.

Upon removal, the old valve indeed was confirmed to be blocked - water/blowing air doesn't travel between the bottom and top (where normally water should be re-directed from bottom tub pipe through the molded-in internal channel up to the shower pipe).

With just the old valve holding in my hand, it was much easier to probe with a weed trimer string.

The string can enter from the port located on either the tub side or the shower side and thread into the molded-in internal channel then stop. I suspect that's where it was blocked.

But after a few tries, it mystically went pass that spot and reached all the way to the opposite site. I didn't see any debris, rock or anything falling out though. So I am left without knowing exactly what blocked it in the first place.



Edited 1 times.
---
Please note:
Inappropriate messages or blatant advertising will be deleted. We cannot be held responsible for bad or inadequate advice.
Plbg.com has no control over external content that may be linked to from messages posted here. Please follow external links with caution.
Plbg.com is strictly for the exchange of plumbing related advice and NOT to ask about pricing/costs, nor where to find a product (try Google), nor how to operate or promote a business, nor for ethics (law) and the like questions.
Plbg.com is also not a place to ask radiant heating (try HeatingHelp.com), electrical or even general construction type questions. We are exclusively for plumbing questions.
Search for plumbing parts on our sponsor's site:

---
Special thanks to our sponsor: