Over 687,000 strictly plumbing related posts
Welcome to Plbg.com the PlumbingForum.com. We are the best online (strictly) PLUMBING advice, help, dyi, educational, and informational plumbing forum. Questions and discussions about toilets, sinks, faucets, drainage, venting, water heating, showers, pumps, and other exclusively PLUMBING related issues. Please refrain from asking or discussing legal questions, pricing, where to purchase a product, or any business issues, or for contractor referrals, or any other questions or issues not specifically related to plumbing. Keep all posts positive and absolutely no advertising. Our site is completely free, without ads or pop-ups. We do not sell your information. We are made possible by:
Author: jblanche (WI)

If there's an informed audience on plumbing devices anywhere, it's here.

So, what can you tell me? Specifically looking for a name, manufacturer, or any documentation. Have seen this in a couple of other places but haven't seen any definitive explanation.

Thanks.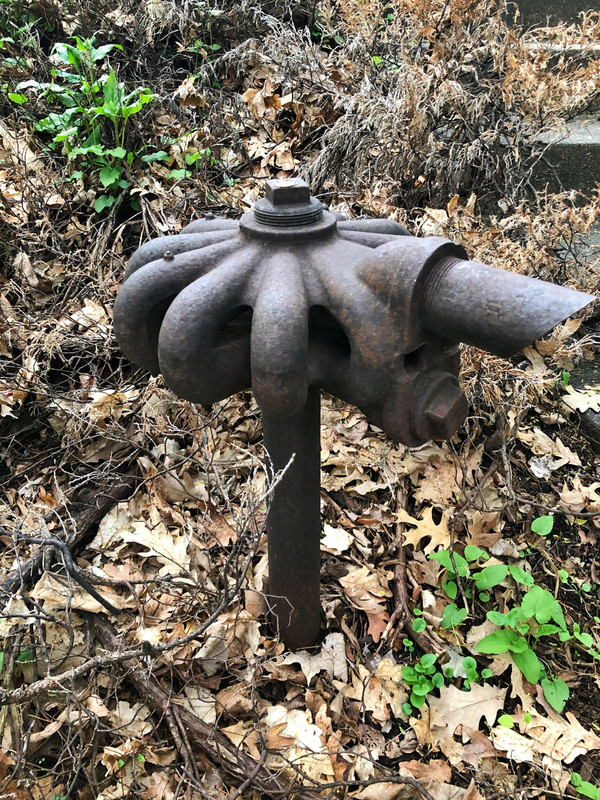 Source credit: Reddit: whatisthisthing

*******************************
Links to the State of Wisconsin Plumbing Code:
[docs.legis.wisconsin.gov]
*******************************
I am not a plumber.
*******************************
Author: steve (CA)

Hmmm. Going to make some popcorn and stay tuned in on this one.
Author: DaveMill (CA)

Careful, the part with all the arms launches at your head and wraps around your face. Most health insurance won't cover it.

Author: sum (FL)

Some sort of a yard hydrant connected to a well? Don't know..
Author: hj (AZ)

It might be helpful to see the bottom of the device. Might be several plugged outlets.
Author: bsipps (PA)

Doesn't look like it's meant to carry potable water judging by the material it's made from my guess is a steam vent or possibly oil
Author: jblanche (WI)

I tried searching for various vents. The Google image search finds only the source photo. Nothing else remotely resembles this thing.

I noticed it appears to have 3 studs with nuts on the tops of 3 of the elliptical tubes, at about 90-degree intervals.

Are the elliptical cast formations actually tubular? In terms of oil, I wondered if the pipe was concentric, so the top tapping would be for a fill pipe, and the elliptical tubes are cast to meet the outer concentric pipe, with the bias-cut nipple serving as the air vent connected to those tubes. And the bottom tapped hole, a cleanout?

Maybe on one of my visits to Minneapolis, I will see if I can track this down. It appears to be located next to a carriage walk on a front yard with some relief. So it might be an appropriate place for a buried tank. I am not sure if the neighborhood is small enough to do a drive-by survey. Would be nice to get a patent # or any cast text or stampings.

*******************************
Links to the State of Wisconsin Plumbing Code:
[docs.legis.wisconsin.gov]
*******************************
I am not a plumber.
*******************************
Author: Sauktim (WI)

Looks kinda damp in the area, artesian well went?
Author: steve_g (CA)

Can you post the link to Reddit:whatisthisthing? I'm curious if they got anywhere with it.
---
Please note:
Inappropriate messages or blatant advertising will be deleted. We cannot be held responsible for bad or inadequate advice.
Plbg.com has no control over external content that may be linked to from messages posted here. Please follow external links with caution.
Plbg.com is strictly for the exchange of plumbing related advice and NOT to ask about pricing/costs, nor where to find a product (try Google), nor how to operate or promote a business, nor for ethics (law) and the like questions.
Plbg.com is also not a place to ask radiant heating (try HeatingHelp.com), electrical or even general construction type questions. We are exclusively for plumbing questions.
Search for plumbing parts on our sponsor's site:

---
Special thanks to our sponsor: