Over 675,000 strictly plumbing related posts
Welcome to Plbg.com and PlumbingForum.com. The best online (strictly) PLUMBING advice, help, dyi, and informational plumbing forum. Questions and discussions about toilets, sinks, faucets, drainage, venting, water heating, showers, pumps, water quality, and other exclusively PLUMBING related issues. Please refrain from asking where to purchase a product, or business, pricing, or legal questions, or for contractor referrals, or any questions not related to plumbing. Keep all posts positive and absolutely no advertising. Our site is completely free, without ads or pop-ups. We do not sell your information. We are made possible by:
Author: Terry b (TN)

My clothes washing machine drain pipe overflowed water when the machine was emptying, so I augered the pipe over 15 feet and I even had a plumber do the same while he was there for something else. But when I poured water into the standpipe to check it before using the machine again, the water came up to the top and stood there. So I augered it again and the same thing happened when I checked it again.

Then I noticed that if I simply put the 'snake' straight down the pipe with my hand until I reached the P-trap, the water level went down, if not all the way to the P-trap then at least close. This was despite the fact that there was no resistance and nothing on the snake when I pulled it out. Yet when I poured water down the pipe again, it still rose back up and stood. So I was baffled by that.

And then I noticed that the water level was stopping at the place in the standpipe where a pipe branches off at an upward angle towards the A/C unit. And so I poured more water down the pipe and somehow the water level didn't rise, it started going up the inclined pipe towards the A/C unit, which seemed to defy physics. I again pushed the snake down the pipe by hand with no resistance just to the P-trap and the water went down right away to at least close to the P-trap. So I am completely confused.

I would really appreciate any thoughts on this. I am still afraid to use the washing machine until I can add water to the drain pipe without the water level coming up, which is how I had checked it before when I had problems in the past without this strange result.

Thanks for any advice or information!
Author: NP16 (OR)

makes no sense. either your drain is clogged or it isn't.

My own test is to take the washer supply hose and stick it into the standpipe.
turn ON at full speed. if the drain can't keep up with that well then time to cable the drain or replace the drain.



Edited 1 times.
Author: Terry b (TN)

Thanks
The plumber came back out today and augered it three times and the water finally went down when poured into the standpipe, but he said the problems will continue because the p trap is copper and probably corroded, (it is underneath the floor in cement slab). So it took about eight snake attempts overall despite being a new problem.
He said maybe it is pieces of metal closing the pipe. So I might have to have the p-trap replaced, which would mean drilling into the slab beneath my floor.

I don't know if baking soda and vinegar would help with something like that, or some enzyme-based declogger?
Author: bernabeu (SC)

there are NO 'quick fixes'


you need to 'camera' the line to determine EXACTLY what the issue is

- - - -

Retired U.A. Local 1 & 638
"Measure Twice & Cut Once"
Author: packy (MA)

i started plumbing in the 60's. in all my years i have never seen a copper trap corroded. (not even a little bit corroded).
you probably have some cast iron under the floor that is causing the problem.
a little drain cleaner poured down the drain every once in a while should help.
stay away from the strong sulfuric acid type cleaners. they are very dangerous to use.
Author: packy (MA)

will a camera get thru a trap under the floor ?
i know how difficult a snake is to maneuver thru a trap .
Author: NP16 (OR)

It might be easier to abandon this piping in the slab.
come out of the wall to the exterior of the home with a new 2" plastic pie. then run a new drain to the building sewer.
If this is not an option you can save on costs by having a laborer or yourself do the concrete cutting and demo -wear safety glasses whenever operating a jack hammer !
then bring back the plumber to install a new 2" plastic drain, 2" trap, 2" stand pipe. Reconnect to existing vent or install AAV.
Author: bernabeu (SC)

@ packy


a 'borescope' type camera will at least show the trap itself and 'may' make the turn

they are avbailable in 36" length with a 'built in' light


an example: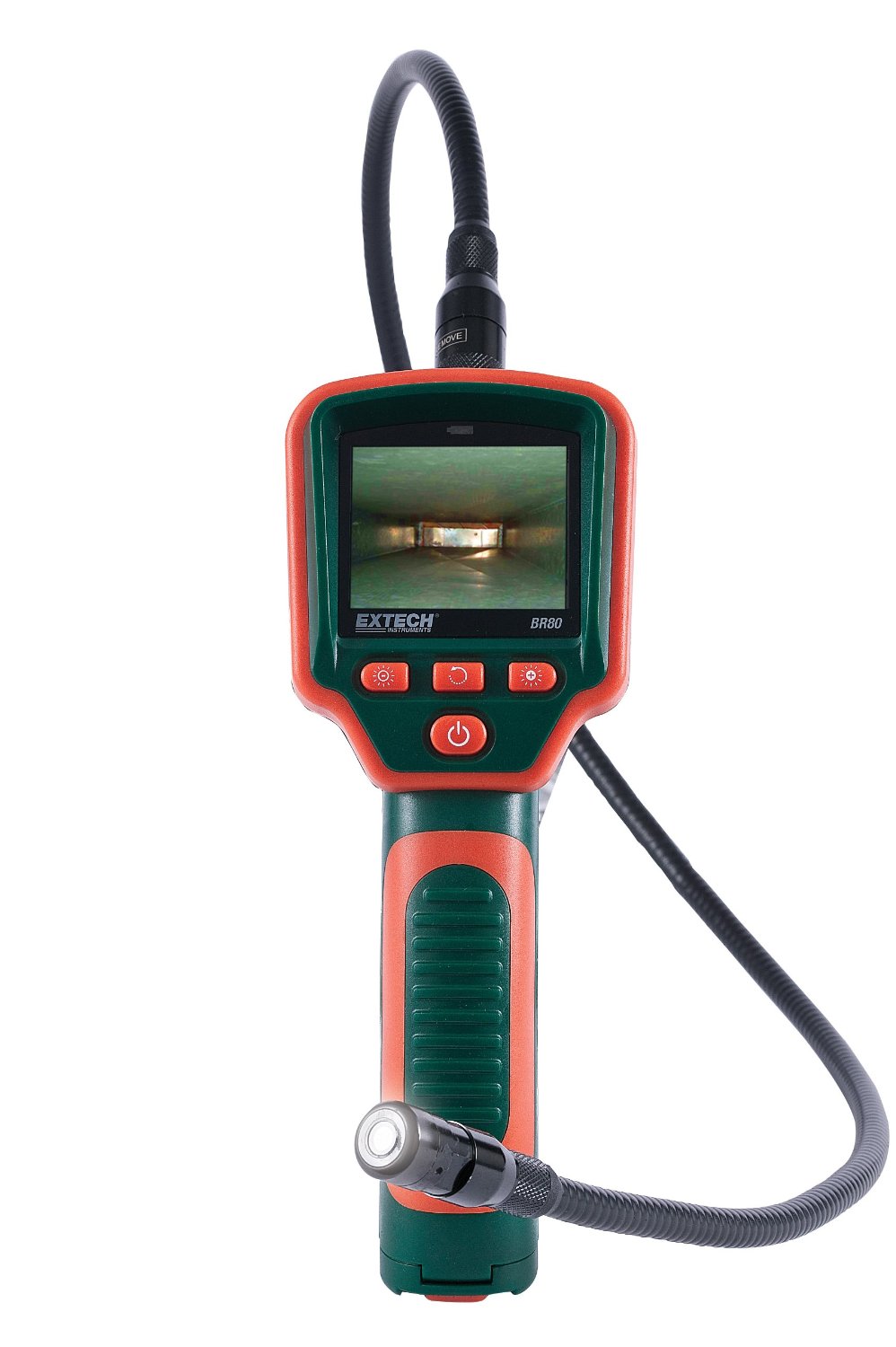 - - - -

Retired U.A. Local 1 & 638
"Measure Twice & Cut Once"
Author: Terry b (TN)

@ Packy
Thanks a lot

Is there a brand that you would recommend?
Perhaps one of the enzyme-based?
That might be better than the baking soda and vinegar?



Edited 1 times.
Author: Terry b (TN)

To Bernabeu

Thanks, I hadn't thought of that.
Perhaps I could rent one from Lowe's or Home Depot?
Author: LI Guy (IN)

You can get a camera that connects to your smart phone for $36. Not sure why repair guys, not only plumbers, don't carry these on the truck so they can quote a job, instead of "it might be this or that"




- - - - - - -

Not a plumber by trade but a fierce DIYer



Edited 1 times.
---
Please note:
Inappropriate messages or blatant advertising will be deleted. We cannot be held responsible for bad or inadequate advice.
Plbg.com has no control over external content that may be linked to from messages posted here. Please follow external links with caution.
Plbg.com is strictly for the exchange of plumbing related advice and NOT to ask about pricing/costs, nor where to find a product (try Google), nor how to operate or promote a business, nor for ethics (law) and the like questions.
Plbg.com is also not a place to ask radiant heating (try HeatingHelp.com), electrical or even general construction type questions. We are exclusively for plumbing questions.
Search for plumbing parts on our sponsor's site:

---
Special thanks to our sponsor: