Over 675,000 strictly plumbing related posts
Welcome to Plbg.com and PlumbingForum.com. The best online (strictly) PLUMBING advice, help, dyi, and informational plumbing forum. Questions and discussions about toilets, sinks, faucets, drainage, venting, water heating, showers, pumps, water quality, and other exclusively PLUMBING related issues. Please refrain from asking where to purchase a product, or business, pricing, or legal questions, or for contractor referrals, or any questions not related to plumbing. Keep all posts positive and absolutely no advertising. Our site is completely free, without ads or pop-ups. We do not sell your information. We are made possible by:
Author: sum (FL)

I am taking apart a series of old brass/copper fittings and I see a 1/2" brass close nipple threaded very tight into the 1/2" FIP end of a 1/2" FIP X 3/4" MIP brass fitting. The close nipple does not have a hex shaped middle section to put a wrench on. I know I can put a plumber's wrench on the nipple to back it out, but most likely would chew up the threads. Is there a way to remove it without destroying it?
Author: Mr tee (MT)

Screw on a 3/4 x /2 reducing coupling so the nipple cannot expand then use an EZout.
Author: bernabeu (SC)

internal pipe wrench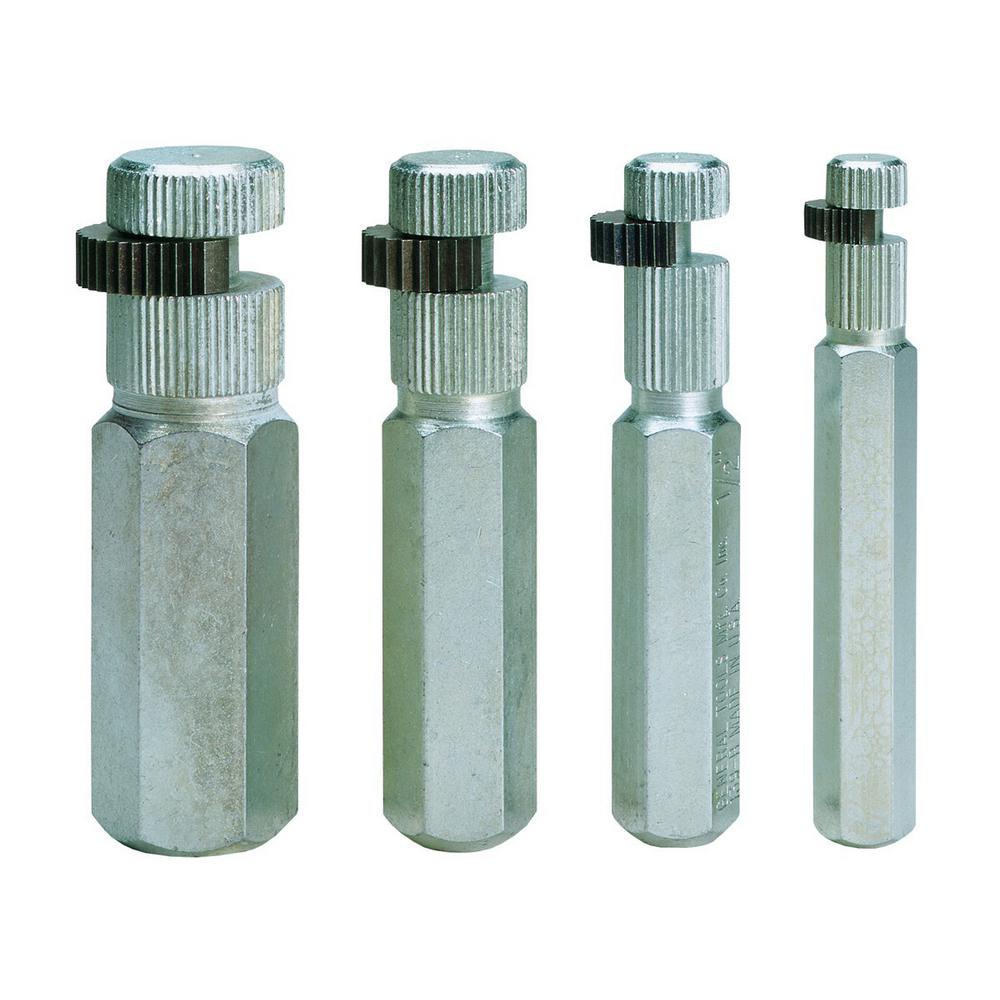 the central (black) piece swivels and 'cam locks' onto the pipe (no springs - very easy to use)

- - - -

Retired U.A. Local 1 & 638
"Measure Twice & Cut Once"
Author: packy (MA)

sum, it'll cost you more to buy the items mentioned than to just destroy the nipple and replace it.
unless of course you want to invest in new tools.
Author: bernabeu (SC)

ONE wrench for 1/2 IPS is under $6.00

and, of course, is actually ...................... wait ......................... wait for it ............................. REUSABLE




- - - -

Retired U.A. Local 1 & 638
"Measure Twice & Cut Once"
Author: sum (FL)

Packy, absolutely, I didn't waste much time, I was replacing an old bib, and decided to replace all the fittings at a nearby supply branch that is connected to a soak irrigation system.

That branch is a 1/2" copper pipe, with a series of five fittings. It started with the 1/2" copper pipe, then a compression female adapter. Into the 1/2" female adapter is the 1/2" brass nipple, the other end of this nipple is threaded into a 1/2" FIP X 3/4" MIP galvanized fitting, then that galvanized MIP end is threaded into a 3/4" PVC coupling (which is surprising that hasn't cracked being under the sun for years), then a plastic 3/4" MIP X MHT fitting, into which the female end of the soaker hose starts. Whoever did it simply want to connect 1/2" copper to a male hose end and went through so many fittings, copper, galvanized to PVC. I soldered onto the 1/2" copper a male adapter then threaded on a hose bib. That simplified it.

I then tried to take all these fittings apart before they go into the trash, but I was curious how one would take the 1/2" close nipple out because there is no way to grip on it. In the future I may run into that requires me to take it out without destroying it and it would be good to know.
Author: sum (FL)

bernabeu I do have a set of these internal wrenches. I never used them (successfully). I bought them years ago because I had to remove a tub drain strainer with the cross bars rusted out and it won't back out of the drain shoe. I bought that set in the hope that it would friction it out but didn't work that time, since then it has been sitting somewhere (I don't even remember).
Author: NoHub (MA)

Sum, try these. They are the best on the market.


[www.youtube.com]

and this one is great for tub shoes.


[elktonsupply.com]



Edited 1 times.
Author: sum (FL)

NoHub I have the one you showed that does the tub drain. That one worked last time I did it. I also have the set of internal wrenches bernabeu showed but it didn't work for me.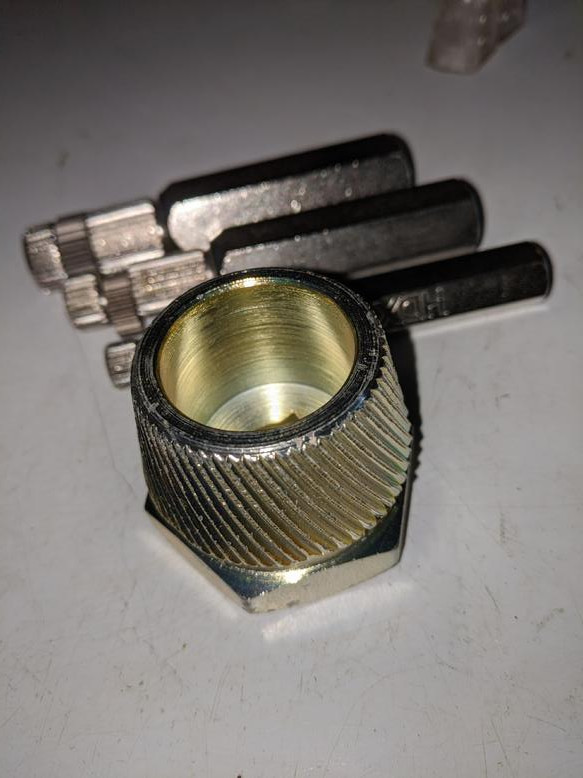 I inserted the wrench inside the 1/2" and it didn't loosen the threads, it scratched the heck out of the inside of the nipple. I didn't try soaking it in something or heating it though.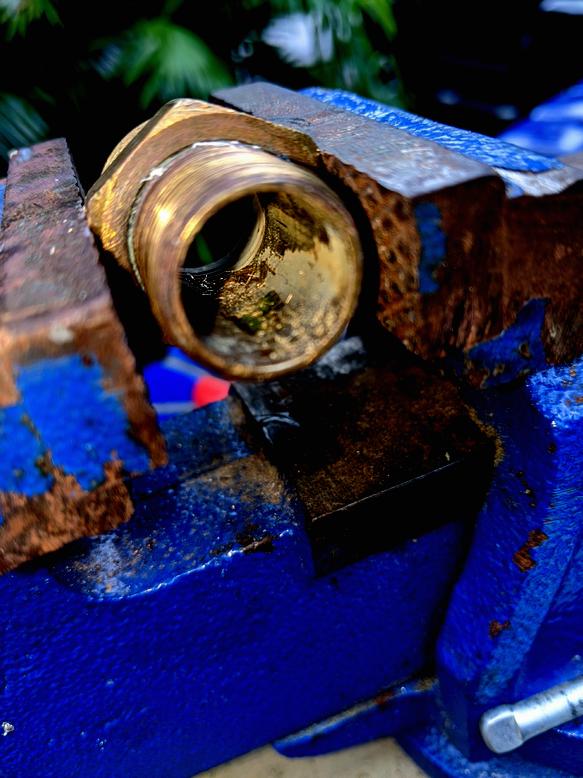 Author: bernabeu (SC)

you can use a GOOD pair of CURVED JAW channel-lock pliers EXACTLY in the MIDDLE of the nipple

the 'cuts' made by the pliers will NOT be within the portion of the nipple which screws into the fitting



for 1/2 (M)NPT the 'make-up' is 1/2 (just a coincindence)



ps. for 3/4 (M)NPT the 'make-up' is also 1/2

1/2 and 3/4 have 14 tpi, are threaded 3/4 long with 11 threads (the last 2-3 of which are imperfect 'starters'), and are fully 'make-up' at 7 turns = 1/2 make-up

there are EXACTLY 7 threads in a fitting's (F)NPT

theoretically

- - - -

Retired U.A. Local 1 & 638
"Measure Twice & Cut Once"
Author: Curly (CA)

I have never had good luck with the swing out style of ez outs - could just be me.

I have great results with what I call internal pipe wrench. Can be used for removing and install nipples - in other words it plays on both sides of the track......

Use for installing polished chrome etc. nipples when you don't want to mess up the finish.

Also great for removing broken shower arms. When elbow is recessed deep in the wall you can use sockets to turn internal pipe wrench to remove broken piece. I have 1/2, 3/4 & 1" sizes and used for old galvanized nipples stuck in fittings.

[www.wheelerrex.com]
Author: steve (CA)

Sum, how about putting the internal wrench in the vise, heating up the bushing to expand it and then use a wrench to turn the bushing. I would do as Bern stated and use narrow channellocks.
---
Please note:
Inappropriate messages or blatant advertising will be deleted. We cannot be held responsible for bad or inadequate advice.
Plbg.com has no control over external content that may be linked to from messages posted here. Please follow external links with caution.
Plbg.com is strictly for the exchange of plumbing related advice and NOT to ask about pricing/costs, nor where to find a product (try Google), nor how to operate or promote a business, nor for ethics (law) and the like questions.
Plbg.com is also not a place to ask radiant heating (try HeatingHelp.com), electrical or even general construction type questions. We are exclusively for plumbing questions.
Search for plumbing parts on our sponsor's site:

---
Special thanks to our sponsor: