Over 675,000 strictly plumbing related posts
Welcome to Plbg.com and PlumbingForum.com. The best online (strictly) PLUMBING advice, help, dyi, and informational plumbing forum. Questions and discussions about toilets, sinks, faucets, drainage, venting, water heating, showers, pumps, water quality, and other exclusively PLUMBING related issues. Please refrain from asking where to purchase a product, or business, pricing, or legal questions, or for contractor referrals, or any questions not related to plumbing. Keep all posts positive and absolutely no advertising. Our site is completely free, without ads or pop-ups. We do not sell your information. We are made possible by:
Author: msream (TX)

I am desperate for help! We have a tankless water heater and city water. The home is 7 years old. About a year ago we noted some decreased water pressure in our master bath and plumbers cleaned out values and things were good for a short while. Post winter freeze in Austin 2021 we have had ongoing significant problems with daily clogging of filter on tankless hot water heater and aerators in the home. The dishwasher is clogged as well.
It seems to affect hot water only. We have flushed the tankless many times with vinegar and pump without benefit. Plumbers have cleaned out shower values and aerators and well and temporary improvement, but accumulates again very quickly. We added a water softener and no change. The sediment is tan and does not dissolve in vinegar. We were told it might be silica. Many neighbors in the area are having the same issue. We do not know where to go from here.

[@#$%&[postimg.cc]]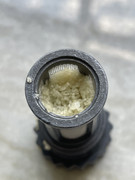 [/url]

[@#$%&[postimg.cc]]
[/url]



Edited 3 times.
Author: bernabeu (SC)

"how to show images"

[www.plbg.com]

- - - -

Retired U.A. Local 1 & 638
"Measure Twice & Cut Once"
Author: Lorensr (CA)

There may have been a break in the water line in the street upstream from your home that has allowed sand to enter the system for you and your neighbors. When making the repair the guys allowed sand to enter the pipe and you are getting the results of that fault. It will take some time to flush all of the sand out of the system. Until then keep cleaning filters and aerators.
Author: bernabeu (SC)

Install a 'whole house' filter with a 20 micron element.

You will have only ONE thing to clean until the sand (or whatever 'grit' you are getting goes away.

THEN

You can leave the 'cannister' empty if desired 'until next time' it is needed.

- - - -

Retired U.A. Local 1 & 638
"Measure Twice & Cut Once"
Author: LI Guy (IN)

In our last home we had a hi efficiency combi boiler installed that had an integral tankless water heater rated at 3 gallons per minute (GPM), and the plumber who did the install did exactly what Bernabeu recommends---installed a 30 micron whole house filter. In our case we were on city water but even though the piping to the house was copper we got significant iron/rust in the water. The plumber explained that even though the ater looks clear, the passages in the tankless heater are so fine that anything will clog them.

Good advice here....get everything cleaned once more and get that whole house filter installed.

- - - - - - -

Not a plumber by trade but a fierce DIYer
---
Please note:
Inappropriate messages or blatant advertising will be deleted. We cannot be held responsible for bad or inadequate advice.
Plbg.com has no control over external content that may be linked to from messages posted here. Please follow external links with caution.
Plbg.com is strictly for the exchange of plumbing related advice and NOT to ask about pricing/costs, nor where to find a product (try Google), nor how to operate or promote a business, nor for ethics (law) and the like questions.
Plbg.com is also not a place to ask radiant heating (try HeatingHelp.com), electrical or even general construction type questions. We are exclusively for plumbing questions.
Search for plumbing parts on our sponsor's site:

---
Special thanks to our sponsor: