Over 675,000 strictly plumbing related posts
Welcome to Plbg.com and PlumbingForum.com. The best online (strictly) PLUMBING advice, help, dyi, and informational plumbing forum. Questions and discussions about toilets, sinks, faucets, drainage, venting, water heating, showers, pumps, water quality, and other exclusively PLUMBING related issues. Please refrain from asking where to purchase a product, or business, pricing, or legal questions, or for contractor referrals, or any questions not related to plumbing. Keep all posts positive and absolutely no advertising. Our site is completely free, without ads or pop-ups. We do not sell your information. We are made possible by:
Author: Daniels67 (NY)

Hello, so I've been trying to take off the hot water knob on my shower/tub, Allen head is completely rusted and stripped and cannot get off, tried a vice grip, sprayed with liquid wrench and also tried drilling It it (which I'm not sure if I used the correct bit) Can someone please help, feel like I've wasted to much time on this. Thanks!



Edited 1 times.
Author: packy (MA)

if you turn the hot on another faucet and then feel the outlet from the water heater, is the pipe hot?
Author: hj (AZ)

What does that have to do with a stripped screw?
Author: Daniels67 (NY)

I believe my original post was commented on after I updated it, the hot water is fine now, just impossible to get the two small Allen screws off so I can put on the new knobs, I can send pics if you need me to
Author: bernabeu (SC)

you may be better served by getting a new cartridge, stem/handle adapter (if any), and new handle



? what is your time worth ?



OR



take it all apart so you can 'work on the bench'

drill the allens out

retap the TEENSY TINY holes

find stainless steel allens of EXACTLY the right length

spend another two or three days

THEN

buy the new parts

- - - -

Retired U.A. Local 1 & 638
"Measure Twice & Cut Once"
Author: Daniels67 (NY)

Hey, thanks for your response, I have free time right now if it will save me money, can't imagine paying a lot of money to get this one knob off, as far as your suggestion goes, I'm a little confused, not a plumbing guy that's why joined the site, trying to learn, but if I cannot get the knob off, how can I take it anywhere (just asking, excuse my ignorance) I feel like if I get it off I would just be able to replace it right there, I'm sure I have things to learn, please be patient, also, is this common for it to be this difficult even locking a small vice grip on it? Seems to work for everything else, thanks again!
Author: Lorensr (CA)

They make handle pullers check with big box
Author: hj (AZ)

A picture of the handle might be worth a thousand words.
Author: Daniels67 (NY)

I'm not sure the knob puller would work on this, may cause more harm then help: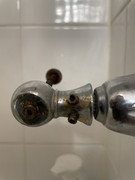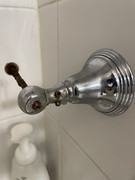 Edited 1 times.
Author: bernabeu (SC)

pic helped alot

you can try a screw extraxtor: [www.bing.com]

A screw extractor is a tool for removing broken or seized screws. There are two types: one has a spiral flute structure, commonly called an easy out after the trademarked name EZ-Out; the other has a straight flute structure. Screw extractors are intentionally made of hard, brittle steel, and, if too much torque is applied, can break off inside the screw that is being removed. Since the extractor is an extremely hard material, and a typical home shop drill bit will not be able to drill into it, a larger element of difficulty is added to the original screw extraction project. One way to avoid this added difficulty is to drill a hole completely through the screw. Thus, if the fastener breaks, a punch can be used to drive out the easy out from the screw, via the back, or end, of the fastener.

example:





OR

cut the splined stem off behind the handle and simply replace the stem after you "save" the handle on the bench




- - - -

Retired U.A. Local 1 & 638
"Measure Twice & Cut Once"
Author: Daniels67 (NY)

Thanks for the advice, also, I wouldn't be saving the handle/knob because that is what I am trying to replace, so maybe cutting the stem and putting a new one might be the way to go, looked it up, doesn't seem that difficult, I will keep you updated. Take care



Edited 1 times.
Author: Lorensr (CA)

Bern, another excellent post Thanks for your time and clarity.
---
Please note:
Inappropriate messages or blatant advertising will be deleted. We cannot be held responsible for bad or inadequate advice.
Plbg.com has no control over external content that may be linked to from messages posted here. Please follow external links with caution.
Plbg.com is strictly for the exchange of plumbing related advice and NOT to ask about pricing/costs, nor where to find a product (try Google), nor how to operate or promote a business, nor for ethics (law) and the like questions.
Plbg.com is also not a place to ask radiant heating (try HeatingHelp.com), electrical or even general construction type questions. We are exclusively for plumbing questions.
Search for plumbing parts on our sponsor's site:

---
Special thanks to our sponsor: