Over 675,000 strictly plumbing related posts
Welcome to Plbg.com and PlumbingForum.com. The best online (strictly) PLUMBING advice, help, dyi, and informational plumbing forum. Questions and discussions about toilets, sinks, faucets, drainage, venting, water heating, showers, pumps, water quality, and other exclusively PLUMBING related issues. Please refrain from asking where to purchase a product, or business, pricing, or legal questions, or for contractor referrals, or any questions not related to plumbing. Keep all posts positive and absolutely no advertising. Our site is completely free, without ads or pop-ups. We do not sell your information. We are made possible by:
Author: buffbodychick (CA)

I am researching an issue in my townhome.

ONLY when running the kitchen sink, we have a intermittent "sewer-ish" smell that blows out of the nearby AC venting. I can reproduce the issue exactly, every single time. The smell is very similar to what sometimes happens to my bathtub overflow drain -- sometimes it gets gunked up, smells terrible, I clean it the smell goes away. I mention that because of the similarity in smell -- gunky water somewhere causing the issue -- and do not actually think it is a true "sewer" leak/issue. Also, no smell when the HEAT is on, only the A/C.

I recently had my HVAC unit professionally inspected -- the unit is on the ROOF of my townhome (not easily accessible by myself). Indeed, they did find that my condensation drain from the unit is draining directly onto the rooftop (bad, very bad I know) and my coils are filthy (my bad, total bad), and I am now in the process of getting ready to replace the entire HVAC unit and drainage configuration on the roof. I asked my Plumber/HVAC guy (he does both) -- "So what does this have to do with the smell when I run the kitchen sink?" ... and he does not have an answer. The response so far has been "Let's replace the entire unit and see what happens."

But here is the part I am concerned with -- the smell NEVER occurs when the air is running by itself without the kitchen sink running -- ONLY when we run the kitchen sink -- so I have a hard time believing that is JUST the HVAC unit/configuration itself. We have built our household routine around not doing both at the same time to prevent the smell from blowing out the AC vent. So, what is the connection between the kitchen sink plumbing, the HVAC condensation drain and the AC vent? What do I need to better understand?

What if I replace everything on the roof and correctly configure the rooftop condensation drain ($$$), but the smell STILL occurs when running the kitchen sink? Is there a vent pipe or something that my plumber/HVAC guy should also be looking at as a potential cause or contributor to this issue? Should I have all of the kitchen plumbing/garbage disposal, etc. taken apart, cleaned, put back together to make sure it is clear of "gunk"?

Let's add one more clue to this puzzle. My neighbor in the unit directly across (NOT connected) to my townhome, are ALSO experiencing the same intermittent "sewer-ish" smell from their AC vent. They have had everything checked AND their rooftop HVAC unit is practically brand NEW, with pristine maintenance, and with that said, I can only assume that their condensation drain IS properly configured. I've had my neighbor do the "running sink water" test, and they "think"? maybe that they also notice the smell under that same circumstance.

Looking for clues, insights, help ... anything to give me another path to explore ... HELP!

(PS -- I am a data analyst for a living, so gathering facts is key to solving this problem.)
Author: bernabeu (SC)

? (failed) AAV for sink ?

- - - -

Retired U.A. Local 1 & 638
"Measure Twice & Cut Once"
Author: jblanche (WI)

How is your kitchen sink vented: Is there a pipe going thru the roof or is there, as already suggested, an AAV somewhere?

If there is an AAV, (Air Admittance Valve), where is it?

If your rooftop unit condensate line is not connected to plumbing, I agree, no connection between conditions on roof and this.

Some speculation:

If there were a construction error, for example the kitchen vent pipe terminating inside an air duct, this could plausibly cause this symptom.

Another possibility is that there was a primary condensate drain run into the vent pipe on the roof, which has been partially occluded by debris, and the secondary drain overflows onto the roof. The primary drain might still have enough room to pass air, for example, the blockage is only on the bottom 1/2 of the drain line. So water flows to the secondary drain, which has a higher inlet, but air can flow back.

In order to troubleshoot, need photos of what's on the roof, and what's under the sink, for starters.

If you have access to the roof vents, you could consider a peppermint test to help confirm the source. I don't think it would do much good to pour peppermint extract down the sink because you'd smell that as well as what's coming from the HVAC duct.

*******************************
Links to the State of Wisconsin Plumbing Code:
[docs.legis.wisconsin.gov]
*******************************
I am not a plumber.
*******************************
Author: buffbodychick (CA)

Didn't know what an "AAV" was so I Googled pics -- don't think I have one, nothing looking like a terminating AAC under my kitchen sink -- I took a picture but for the life of me, can't find a place to attach it in this reply?

I have a double-sink, with a garbage disposal. Based on pictures of what an AAV looks like, I don't think I have one? Am I supposed to ?

There is an Air Gap vent on the right-hand side of the sink -- it has a Y-connector that runs a hose to the garbage disposal and to the dishwasher. Don't think that is the same thing as an AAV though, right?

I don't know the answers about the venting pipe and where it terminates, but that gives me something to continue my line of questioning. The AC guy gave me a picture only of the condensation line spilling water out onto my roof. There is another line under my bathroom sink that runs from the wall into the drain that supposedly comes from the roof (I think it was meant for the AC runoff), but the AC guy says nothing is connected to it -- it is dry as a bone. I agree I need to better understand the existing "primary" and "secondary" drain run-off currently coming from the unit, and I think I need some pictures of my rooftop and how things are configured up there.

Next action (before new HVAC is installed) is to replace my now obsolete garbage disposal (it's old anyway and has something rattling around in it), and to clean out all of the connected piping. At least that will eliminate any questions about that being the culprit.

... this problem keeps me up at night.



Edited 1 times.
Author: bernabeu (SC)

the line connecting to your bathroom drain is SUPPOSED to be the PRIMARY condensate drain (see: to approved drain)

the line 'dumping' on the roof is the SECONDARY 'overflow' for when the primary is clogged (see: overflow drain) and should NOT be dripping unless there is an issue with a 'back-up' in the primary drain

you need to have the primary drain PROPERLY serviced by someone who is COMPETENT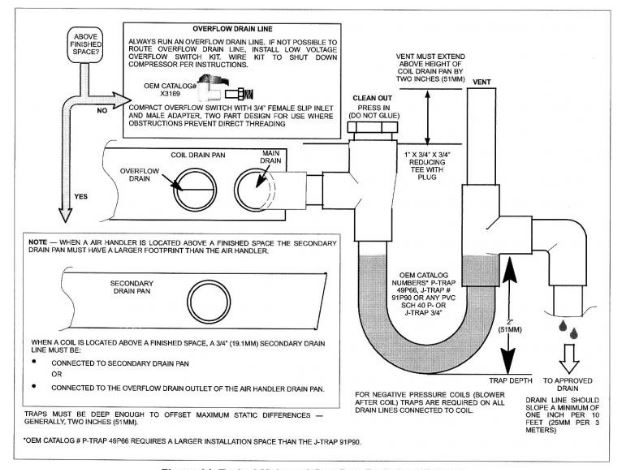 you may have simply lost the water seal in the condensate trap on the roof

you may have an improperly built condensate trap on the roof

you may have an 'overly restrictive' air filter installed

you may have been 'saving money' by using lowest cost vendors for 'service' as opposed to 'factory authorized' vendors


BEST OF LUCK

- - - -

Retired U.A. Local 1 & 638
"Measure Twice & Cut Once"



Edited 1 times.
Author: buffbodychick (CA)

Very helpful advice -- thank you for taking the time to reply to my post -- appreciated.




Edited 1 times.
---
Please note:
Inappropriate messages or blatant advertising will be deleted. We cannot be held responsible for bad or inadequate advice.
Plbg.com has no control over external content that may be linked to from messages posted here. Please follow external links with caution.
Plbg.com is strictly for the exchange of plumbing related advice and NOT to ask about pricing/costs, nor where to find a product (try Google), nor how to operate or promote a business, nor for ethics (law) and the like questions.
Plbg.com is also not a place to ask radiant heating (try HeatingHelp.com), electrical or even general construction type questions. We are exclusively for plumbing questions.
Search for plumbing parts on our sponsor's site:

---
Special thanks to our sponsor: