Over 675,000 strictly plumbing related posts
Welcome to Plbg.com and PlumbingForum.com. The best online (strictly) PLUMBING advice, help, dyi, and informational plumbing forum. Questions and discussions about toilets, sinks, faucets, drainage, venting, water heating, showers, pumps, water quality, and other exclusively PLUMBING related issues. Please refrain from asking where to purchase a product, or business, pricing, or legal questions, or for contractor referrals, or any questions not related to plumbing. Keep all posts positive and absolutely no advertising. Our site is completely free, without ads or pop-ups. We do not sell your information. We are made possible by:
Author: Bmillz2281 (IL)

I'm remodeling 2 bathrooms that have back to back toilets. The house was built 50 years ago or so. The two bowls have a sanitary Tee branching off to them. The tee is horizontal though. So can I just replace it with a 45' wye and call it a day? Or do I need to make them both individually hook up into the line?
Author: bernabeu (SC)

back to back toilets SHOULD have been connected with a Double 'Y'

so, if it fits, you are good to go





- - - -

Retired U.A. Local 1 & 638
"Measure Twice & Cut Once"



Edited 1 times.
Author: sum (FL)

bernabeu I understand for B2B toilets that are stack vented they have a special fitting for it called a DOUBLE FIXTURE FITTING or FIGURE 5 FITTING which is kind of between a sanitary cross and a double TY/combo. It still serves the purpose for venting like a sanitary tee but does not have the issue of sanitary tee allowing a snake from shooting across to the opposing fixture. Although I have never seen such a fitting in person.




[forms.iapmo.org]



Edited 1 times.
Author: bernabeu (SC)

a double fixture fitting will NOT 'pass muster'

B2B requires a double 'combo Y' or a double Y AND two 1/8 bends

both the 'flow' and a snake MUST be directed 'downstream'


back in the old days we called 'em 'batwings'



double Y & 1/8 bend (combo) fitting
as opposed to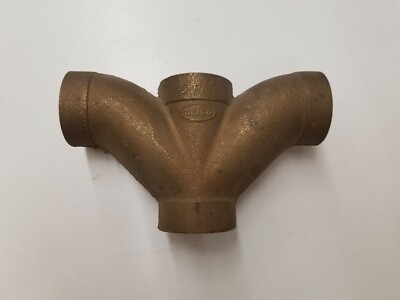 double sanitary T fitting


of course, back then, we also had 2X6 'wet walls'


see:

- - - -

Retired U.A. Local 1 & 638
"Measure Twice & Cut Once"
---
Please note:
Inappropriate messages or blatant advertising will be deleted. We cannot be held responsible for bad or inadequate advice.
Plbg.com has no control over external content that may be linked to from messages posted here. Please follow external links with caution.
Plbg.com is strictly for the exchange of plumbing related advice and NOT to ask about pricing/costs, nor where to find a product (try Google), nor how to operate or promote a business, nor for ethics (law) and the like questions.
Plbg.com is also not a place to ask radiant heating (try HeatingHelp.com), electrical or even general construction type questions. We are exclusively for plumbing questions.
Search for plumbing parts on our sponsor's site:

---
Special thanks to our sponsor: