Over 675,000 strictly plumbing related posts
Welcome to Plbg.com and PlumbingForum.com. The best online (strictly) PLUMBING advice, help, dyi, and informational plumbing forum. Questions and discussions about toilets, sinks, faucets, drainage, venting, water heating, showers, pumps, water quality, and other exclusively PLUMBING related issues. Please refrain from asking where to purchase a product, or business, pricing, or legal questions, or for contractor referrals, or any questions not related to plumbing. Keep all posts positive and absolutely no advertising. Our site is completely free, without ads or pop-ups. We do not sell your information. We are made possible by:
Author: LI Guy (IN)

As many of you know we sold the old 1917 four square on Long Island and now live in Noblesville, IN and are back to dealing with well water and septic tanks. We just bought this house in May so I'm still exploring all the moving parts. The basement is finished with a suspended ceiling, and I was exploring the other day and found this beauty.

The 2 upstairs baths were "refreshed" not too long ago, meaning minor cosmetic improvements. For example in the master bath, they added a 36x48 fiberglas shower enclosure with a tile border, but left the original 1980 Delta single handle shower valve.

Underneath the shower pan, the drain lined up directly with the 2x10 floor joist, so obviously the joist had to go....hoping this was NOT the work of a licensed plumber....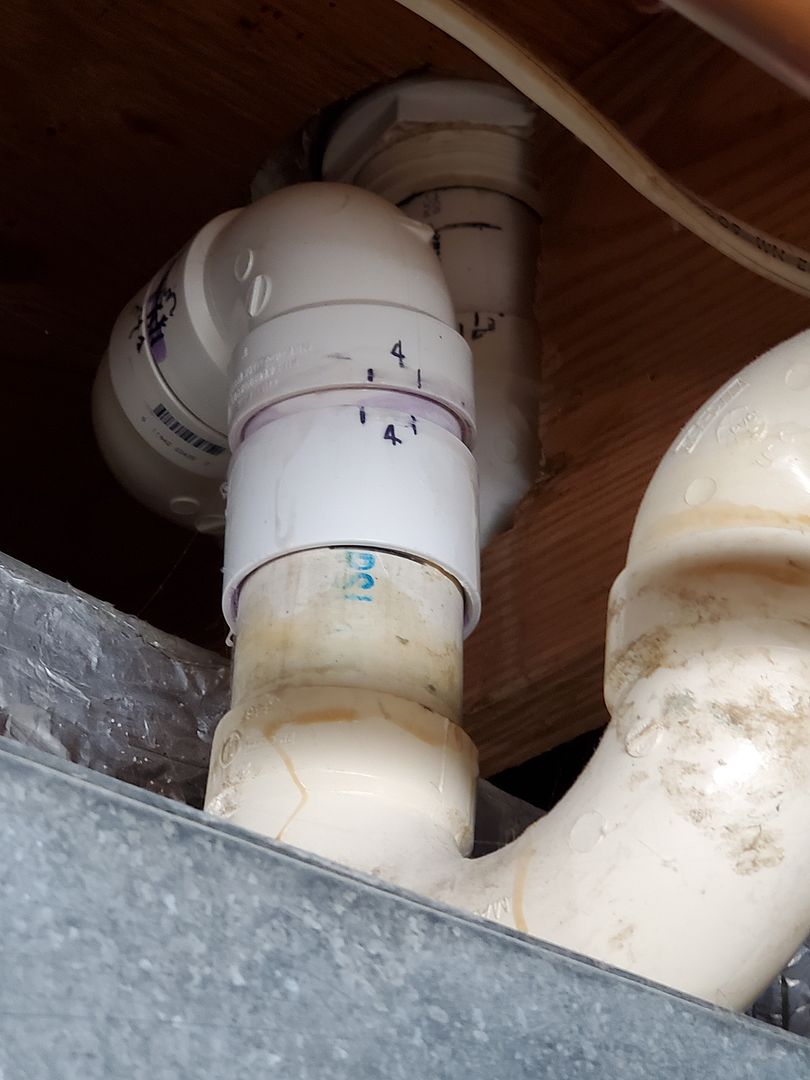 - - - - - - -

Not a plumber by trade but a fierce DIYer
Author: packy (MA)

a piece of plywood glued and screwed to the other side of that joist along with this offset drain and you should be OK.

Author: sum (FL)

definitely not the work of a licensed plumber. You can see he numbered his fittings 1, 2, 3, 4 and measured and marked on the fittings with a sharpie to help with alignment. That's the kind of things I do, a pro has no time for that LOL.
Author: LI Guy (IN)

I know, I do the same thing LOL

- - - - - - -

Not a plumber by trade but a fierce DIYer
Author: bernabeu (SC)

a pro DOES have the time BUT the marks are done with grease pencil much smaller then wiped off

- - - -

Retired U.A. Local 1 & 638
"Measure Twice & Cut Once"
---
Please note:
Inappropriate messages or blatant advertising will be deleted. We cannot be held responsible for bad or inadequate advice.
Plbg.com has no control over external content that may be linked to from messages posted here. Please follow external links with caution.
Plbg.com is strictly for the exchange of plumbing related advice and NOT to ask about pricing/costs, nor where to find a product (try Google), nor how to operate or promote a business, nor for ethics (law) and the like questions.
Plbg.com is also not a place to ask radiant heating (try HeatingHelp.com), electrical or even general construction type questions. We are exclusively for plumbing questions.
Search for plumbing parts on our sponsor's site:

---
Special thanks to our sponsor: