Over 675,000 strictly plumbing related posts
Welcome to Plbg.com and PlumbingForum.com. The best online (strictly) PLUMBING advice, help, dyi, and informational plumbing forum. Questions and discussions about toilets, sinks, faucets, drainage, venting, water heating, showers, pumps, water quality, and other exclusively PLUMBING related issues. Please refrain from asking where to purchase a product, or business, pricing, or legal questions, or for contractor referrals, or any questions not related to plumbing. Keep all posts positive and absolutely no advertising. Our site is completely free, without ads or pop-ups. We do not sell your information. We are made possible by:
Author: bernabeu (SC)

you may be interested:

[pvcbendit.com]

- - - -

Retired U.A. Local 1 & 638
"Measure Twice & Cut Once"
Author: sum (FL)

bernabeu, thanks! I have bent electrical PVC conduits before, to provide an offset that is too small for two elbows, but those were 3/4" or 1" PVC SCH 80 conduits.

I don't think I want to attempt a 4" SCH 40 pipe bend, I don't it will be successfully because of my lack of skill or experience.



Edited 1 times.
Author: bernabeu (SC)

understood

but

you (most times) only need a tiny bend, not an actual 'fitting' bend which can be as little as 11.5 degrees

said smidgeon may oft be obtained using a heat gun and some patience


OR


Spears 4" PVC Sch. 40 11.25° Elbow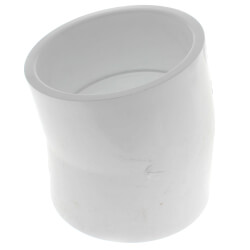 - - - -

Retired U.A. Local 1 & 638
"Measure Twice & Cut Once"
Author: sum (FL)

the thing is, after I measured it, I am off by like 5 to 6 degrees only.

as you said previously, I should be able to get that angle by "flexing" the long run after the 45. I am already getting the alignment properly by inserting that tiny piece of pipe, so it can be aligned with some persuasion.
Author: bernabeu (SC)

!!!!!!!!!!!!!!!!!!!!!!!!!!!!!

- - - -

Retired U.A. Local 1 & 638
"Measure Twice & Cut Once"
Author: hi (TX)

Some to fix the root problem, cut back the roots on your trench all the way, then when you fell over the repaired pipe with sand, mixes and with some copper sulfate,. After the sand is packed into place play some tar paper over that so that the copper sulfate will not be washed out
[www.amazon.com]
Author: bernabeu (SC)

ABSOLUTELY POITIVELY DO NOT, REPEAT NOT, PUT SAID PRODUCT DIRECTLY INTO TRENCH

It is not a 'directed use' and therefor a violation of Federal Statute re: hazardous/toxic materials.

This product is a DEADLY and CAUSTIC poison requiring PROPER handling.

ESPECIALLY for Florida with the high water table.

It is HIGHLY soluble and WILL leach into the ground water QUICKLY.


It is designed to treat septic systems.

- - - -

Retired U.A. Local 1 & 638
"Measure Twice & Cut Once"
---
Please note:
Inappropriate messages or blatant advertising will be deleted. We cannot be held responsible for bad or inadequate advice.
Plbg.com has no control over external content that may be linked to from messages posted here. Please follow external links with caution.
Plbg.com is strictly for the exchange of plumbing related advice and NOT to ask about pricing/costs, nor where to find a product (try Google), nor how to operate or promote a business, nor for ethics (law) and the like questions.
Plbg.com is also not a place to ask radiant heating (try HeatingHelp.com), electrical or even general construction type questions. We are exclusively for plumbing questions.
Search for plumbing parts on our sponsor's site:

---
Special thanks to our sponsor: