Over 640,000 strictly plumbing related posts
The best online PLUMBING help, advice and information forum. Questions and discussions about toilets, sinks, faucets, drainage, venting, water heating, showers, pumps, water quality, and other exclusively PLUMBING related issues. Please refrain from asking where to purchase a product, or business, pricing, or legal questions, or for contractor referrals, or any questions not related to plumbing. Keep all posts positive and absolutely no advertising. This site is free, ad free, pop-up free and made possible by:
Author: regaldozer (NY)

The set screw in my Delta Tub faucet apprears to be stripped. I need to remove the handle to replace the cartridge. What to do?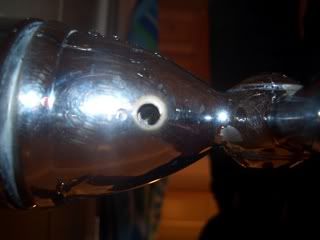 Author: redwood (CT)

I would try a new, good quality allen wrench the proper size before giving up. If that will not work it will have to be drilled out. The allen screw will be of a hardened material and I would recommend a cobalt bit. You will need a new handle!
Author: Wheelchair (IL)

You could be using the wrong size wrench or it could be a metric set screw. When all else fails, a drill with a steady hand. After the handle is removed you replace the cartridge and set screw.

Best Wishes
Author: regaldozer (NY)

tried metric and std. was told by Delta it should be a 1/8 standard. That gripped nothing.

Looks like i'll be drilling. how big of a bit if the set screw was supposed to be 1/8"

and I'll be buying a new handle for sure....
Author: redwood (CT)

Big enough to remove the screw. Whatever that size would be.
Author: dlh (TX)

the screw is larger than 1/8" since that is the size allen wrench you should have been able to use.

- - - - - - -

PLUMBERS "Protecting The Health Of The Nation"
Author: packy (MA)

put some grease on the new screw before you tighten it in.
Author: jimmy-o (CA)

Easier if you drill a small hole...maybe 1/16", the follow that with whatever size will take out the meat.
---
Please note:
Inappropriate messages or blatant advertising will be deleted. We cannot be held responsible for bad or inadequate advice.
Plbg.com has no control over external content that may be linked to from messages posted here. Please follow external links with caution.
Plbg.com is strictly for the exchange of plumbing related advice and NOT to ask about pricing/costs, nor where to find a product (try Google), nor how to operate or promote a business, nor for ethics (law) and the like questions.
Plbg.com is also not a place to ask radiant heating (try HeatingHelp.com), electrical or even general construction type questions. We are exclusively for plumbing questions.
Search for plumbing parts on our sponsor's site:

---
Special thanks to our sponsor: