Over 687,000 strictly plumbing related posts
Welcome to Plbg.com the PlumbingForum.com. We are the best online (strictly) PLUMBING advice, help, dyi, educational, and informational plumbing forum. Questions and discussions about toilets, sinks, faucets, drainage, venting, water heating, showers, pumps, and other exclusively PLUMBING related issues. Please refrain from asking or discussing legal questions, pricing, where to purchase a product, or any business issues, or for contractor referrals, or any other questions or issues not specifically related to plumbing. Keep all posts positive and absolutely no advertising. Our site is completely free, without ads or pop-ups. We do not sell your information. We are made possible by:
Author: Cheaper2DIY? (ID)

Are you supposed to wait for plumbers putty to dry or cure? IF so how long?



Edited 1 times.
Author: steve (CA)

If you wait for it to dry, you'll be waiting maybe 10/15 years. It doesn't "dry", but it will "dry out". You can use the fixture immediately after installation with putty.



Edited 1 times.
Author: redwood (CT)

The thing with plumbers putty is many people use way too much and then cannot get the drain tightened enough. Plumbers putty should be put on the upper drain flange in the right amount to seal between the flange and the sink with only a small amount oozing out as you tighten the drain. Stainless steel kitchen sinks use very little and a cast iron sink would use considerably more.

If your basket strainer assemby flange is sitting 1/8" above the sink and you cannot tighten it any more because you used too much putty you will have to pull it apart and redo it after cleaning off the excess. The putty will never dry and when used that thick will leak!

If you are installing a kitchen sink basket strainer assy. I would recommend using a double cup basket strainer. In my experience the other type with the large dia. nut is seldom installed correctly and I see many of them leaking. The large dia. nut has too much surface area which makes it difficult to tighten due to friction. Also the nut goes on in close proximity to the area sealed with putty and if it gets into the threads it will not tighten enough. The double cup type is much more forgiving as it tightens with a smaller nut with less surface area and friction. The nut is also well away from where putty is used so contamination of the threads is not an issue.

double cup basket strainer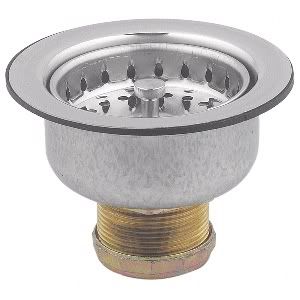 - - - - - - - - - - - - - - - - - - - -

Since 1995 (3 years before Google started) PlumbingSupply.com has been THE best plumbing supplier on the web. Please visit our sponsor [www.PlumbingSupply.com]
---
Please note:
Inappropriate messages or blatant advertising will be deleted. We cannot be held responsible for bad or inadequate advice.
Plbg.com has no control over external content that may be linked to from messages posted here. Please follow external links with caution.
Plbg.com is strictly for the exchange of plumbing related advice and NOT to ask about pricing/costs, nor where to find a product (try Google), nor how to operate or promote a business, nor for ethics (law) and the like questions.
Plbg.com is also not a place to ask radiant heating (try HeatingHelp.com), electrical or even general construction type questions. We are exclusively for plumbing questions.
Search for plumbing parts on our sponsor's site:

---
Special thanks to our sponsor: