Over 600,000 posts related to plumbing
Welcome to Plbg.com (aka: PlumbingForum.com) we are the most popular plumbing information sharing, advice, DIY and educational forum on the Web. Ask any toilet, sink, faucet, pump, water quality, and plumbing related questions. Please refrain from asking where to purchase a product, business, pricing, or legal questions, for contractor referrals, or any questions not related to plumbing. Keep all posts positive and no advertising. This site is free and made possible by:
Author: sum (FL)

I am changing out a toilet valve from an old rusted multi-turn to a quarter turn. After removing the old one I noticed the 1/2" copper pipe stubout is not long enough to accommodate a standard escutcheon and the compression angle valve. The old valve didn't have an escutcheon and now I know why.

Not knowing what else to do and needed to make a quick decision I used a rubber mullet and "collapsed" the escutcheon in the middle to finish the install.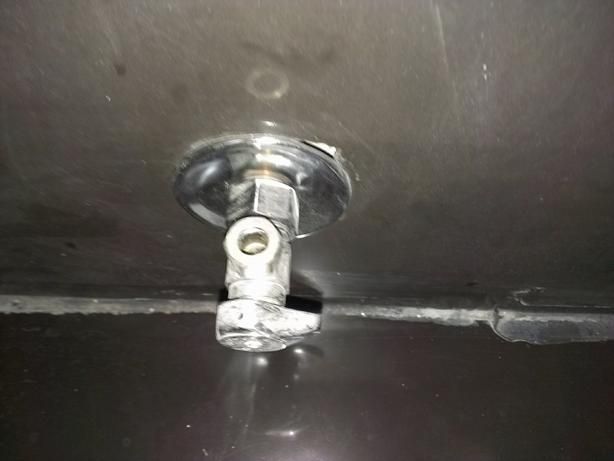 I am not really too happy with this.

Is there another option?

Are there really skinny escutcheon available?

or, should I solder on a short piece with a coupling, and use a deep escutcheon...which I don't know if I did that if the valve would stick out too much and interfere with whatever toilet which has yet to be purchased.
Author: packy (MA)

how are your soldering skills?
we always used these years ago.
the flange slides over the chrome extension.
you will need a comression sleeve remover tool to get the old nut and sleeve off.


Author: sum (FL)

I don't know if they would do it. I doubt it. I had almost no room. I was hoping someone would tell me so and so makes an escutcheon that has a round recess in the middle for the nut to sit in. Or may be just a thin round "disc" with a hole in the middle.

Of course I have to bottom out the pipe into the compression sleeve.
Author: sum (FL)

Packy my soldering skill is OK if I don't have to use water based flux. If I am allowed to use NoCorrode I am fine.

I have never soldered chrome pieces though.
Author: packy (MA)

as long as you don't drink the water from your toilet, no-corrode is fine.
the extension can be cut shorter if you want to. leave about 1/2 inch space between the end and the wall. the flange will easily cover that. remove the nut and stem from the end to make soldering it easy. heat very slowly and add a fairly generous amount of solder.
P/S, if you have any 50/50 solder, use it. it melts at a lower temperature so the chance of discoloring the chrome extension will be much less.
Author: sum (FL)

Packy does the end of the chrome tube fit inside a copper pipe or identical to the copper pipe? Is there a coupling involved? The flange has to be put on before soldering so wouldn't the flange be in the way while soldering unless the tube is cut real long?
Author: packy (MA)

the chrome end is 5/8 ID so it fits exactly over the tubing. you can usually take a couple of inches off the extension and still have room to slide the flange on and solder comfortably.
the extension is copper so when you make the cut you will need to ream the inside to get the burr out.
remember, low flame or the chrome will discolor.
post a picture of the finish product so we can either compliment you or have a good laugh..
---
Please note:
Inappropriate messages or blatant advertising will be deleted. We cannot be held responsible for bad or inadequate advice.
Plbg.com has no control over external content that may be linked to from messages posted here. Please follow external links with caution.
Plbg.com is strictly for the exchange of plumbing related advice and NOT to ask about pricing/costs, nor where to find a product (try Google), nor how to operate or promote a business, nor for ethics (law) and the like questions.
Plbg.com is also not a place to ask radiant heating (try HeatingHelp.com), electrical or even general construction type questions. We are exclusively for plumbing questions.
Search for plumbing parts on our sponsor's site:

---
Special thanks to our sponsor: