Over 605,000 posts related to plumbing
Welcome to Plbg.com (aka: PlumbingForum.com) we are the most popular plumbing information sharing, advice, DIY and educational forum on the Web. Ask any toilet, sink, faucet, pump, water quality, and plumbing related questions. Please refrain from asking where to purchase a product, business, pricing, or legal questions, for contractor referrals, or any questions not related to plumbing. Keep all posts positive and no advertising. This site is free and made possible by:
Author: jewely66 (CA)

Hi all. I just bought a 1980 mobile home and am changing out the bathroom faucets. It appears that the drain pipe is 1 3/4 in black pvc. But I cant find a store that carries it. I really don't want to cut it all out and replace it if I can avoid it. Any help?
Author: stuckinlodi (MO)

Are you sure it isn't poly pipe?
Author: jewely66 (CA)

I just left home depot and they said it is too big for 1 1/2 and too small for 2 inch so that is why I said 1 3/4 inch
Author: stuckinlodi (MO)

Can you take out the drain trap and take it to the store, show them what you have, tell them what you need? If you are changing the faucets why are you also changing the drain? Are you measuring the 1 3/4 inches across the outside of the pipe or across the inside dimension?



Edited 2 times.
Author: Paul48 (CT)

Take it to a plumbing supply house. That will save you from the folks at the big box store giving you the wrong information.
Author: jewely66 (CA)

I am going to try to post a pic of the drain. I had to loosen it to install the new drain pipe that came with the faucets.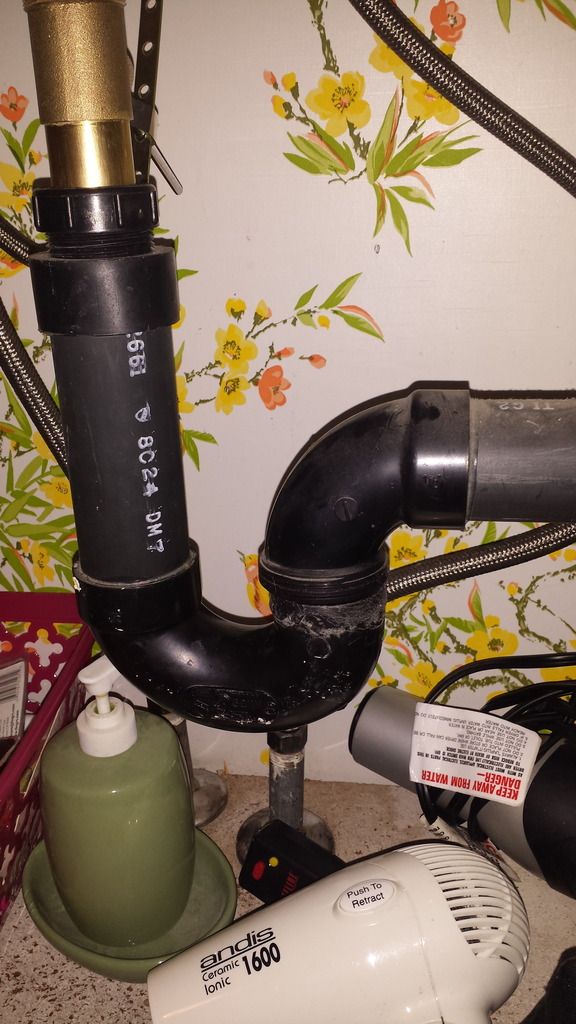 Edited 2 times.
Author: jewely66 (CA)

Ok I uploaded a pic from photo bucket hope it works.
Author: jewely66 (CA)

Well I really want to thank all who posted help. Yes I will take the pipe down there with me and see what they say. You all are great for taking your time to help us wanna be plumbers. lol Take care and thanks again.




Edited 1 times.
Author: North Carolina Plumber (NC)

Appears to be standard 1 1/2" ABS pipe. Looks like the union is missing from the trap. I'd cut that trap off, glue a trap adapter on the stub and use a 1 1/2" tubular p-trap in it's place.
Author: jewely66 (CA)

Thank you for replying. I thought it was 1 1/2 too but went to home depot and bought a 1 1/2 ring to screw the pipe together and it was too small so I bought a 2 in and it is too big. So that is where my first post of 1 3/4 in came from.
Author: jewely66 (CA)

But yes all I need is the ring to attach the two together. It was either glued on or something so we cut it off. The rest of the P trap is fine but just the threaded ring is no good.
Author: steve (CA)

Are you looking for a nut to connect the u-bend to the trap arm(red box)? That nut is not a standard size and is not replaceable. You would need to cut out the trap assembly and replace it.

---
Please note:
Inappropriate messages or blatant advertising will be deleted. We cannot be held responsible for bad or inadequate advice.
Plbg.com has no control over external content that may be linked to from messages posted here. Please follow external links with caution.
Plbg.com is strictly for the exchange of plumbing related advice and NOT to ask about pricing/costs, nor where to find a product (try Google), nor how to operate or promote a business, nor for ethics (law) and the like questions.
Plbg.com is also not a place to ask radiant heating (try HeatingHelp.com), electrical or even general construction type questions. We are exclusively for plumbing questions.
Search for plumbing parts on our sponsor's site:

---
Special thanks to our sponsor: