Over 600,000 posts related to plumbing
Welcome to Plbg.com (aka: PlumbingForum.com) we are the most popular plumbing information sharing, advice, DIY and educational forum on the Web. Ask any toilet, sink, faucet, pump, water quality, and plumbing related questions. Please refrain from asking where to purchase a product, business, pricing, or legal questions, for contractor referrals, or any questions not related to plumbing. Keep all posts positive and no advertising. This site is free and made possible by:
Author: Murphyme (MD)

My house was built in the 50s. My bathroom sink is wall hung, so all the plumbing below is exposed. I would like a plumber to run chrome all the way from the sink drain to the wall, but the (galvanized?) waste pipe coming out of the wall is so old it appears the threading is gone. The last plumber used a fernco adapter, but that's ugly. Is what I want possible?
Author: m & m (MD)

Sure it's possible and what the original plumber should have done. The nipple will have to be removed. After that, everything can be done in chrome from the wall out, drain and water.
Author: packy (MA)

with a big enough wrench, anything is possible.
the plumber may grab the nipple with a 24 inch pipe wrench and with some force get it to unscrew.
otherwise it will need to be cut out, which may or may not necessitate opening the wall.
you don't know 'till you try..
Author: North Carolina Plumber (NC)

I'd plan on removing the sink, opening up the wall and replacing at least part of the piping. If the nipple is so old that the threads have rotted off I'm betting that it's not going to unscrew, the 90 would probably break off first.
Author: Murphyme (MD)

Thanks so much folks for responding so quickly. I don't want to open the wall because the tile is original to the house and in great shape. I uploaded a picture to photobucket. First time I've tried this so I hope it works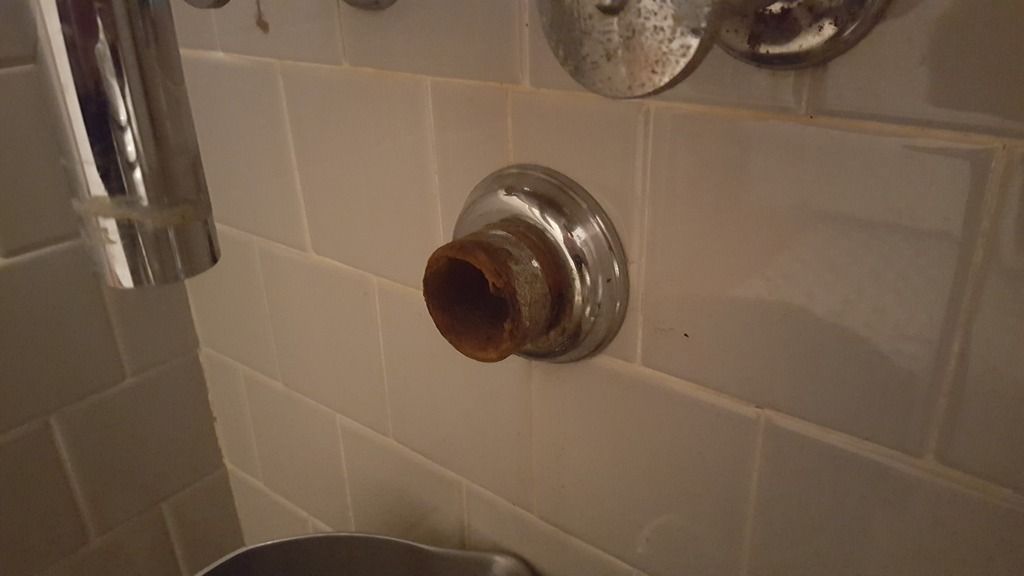 Edited 5 times.
Author: stuckinlodi (MO)

I wasn't able to view your photo, the link didn't work for me.

How about opening the wall on the other side and coming thru that way? Get into the wall, cut the pipe at a good place and pull the old work out. Then add new pipe connected to the old where you made the cut and run the new pipe back out to the sink. Not as convenient but if it works you can avoid tearing up the tile you want to leave undisturbed. Or use the method that was there (compression fitting with stainless clamps) and cover it up with some type of attractive framed enclosure.



Edited 2 times.
Author: Murphyme (MD)

Thanks Stuck. Can't come in from the other side, it's the cinder block firewall separating me from the townhouse next door.
Author: steve (CA)

Are there threads showing on the room side of the escutcheon? Maybe it's a short nipple and can be removed without opening the wall.
Author: stuckinlodi (MO)

Remove the chrome trim, shine a light back into wall and see if you can see if it is a stub that is screwed into an elbow or other fitting back in there. If so squirt a bunch of PB Blaster or other good penetrating oil on the threads or joint back there in the wall. Come back a day or two later and put a wrench on it, use a protective sheet to cover the tile with something like a scrap piece of Formica that's thin but tough and slowly turn the pipe to see if it will loosen. It's ok to alternate between loosening and tightening as you coax it out. Take your time and use some finesse, may the force be with you.

If this doesn't work then rent the townhouse next door while the owner is on vacation, or volunteer to water their plants while they are gone,,, tear into the wall from their side, fix your drain and repair their wall as best you can.



Edited 4 times.
Author: packy (MA)

depending on how far behind the wall the threads are... heating with a torch may help. remove the chrome flange first...
now, again depending on how far back the fitting is will make a difference as to how you go about the replacement.
so, once you have the old nipple removed, get us another picture so we can come up with a replacement strategy.
P/S, the replacement will be easy. it is just that we all (after going thru this) want a finish that looks professional.
---
Please note:
Inappropriate messages or blatant advertising will be deleted. We cannot be held responsible for bad or inadequate advice.
Plbg.com has no control over external content that may be linked to from messages posted here. Please follow external links with caution.
Plbg.com is strictly for the exchange of plumbing related advice and NOT to ask about pricing/costs, nor where to find a product (try Google), nor how to operate or promote a business, nor for ethics (law) and the like questions.
Plbg.com is also not a place to ask radiant heating (try HeatingHelp.com), electrical or even general construction type questions. We are exclusively for plumbing questions.
Search for plumbing parts on our sponsor's site:

---
Special thanks to our sponsor: