Over 600,000 posts related to plumbing
Welcome to Plbg.com (aka: PlumbingForum.com) we are the most popular plumbing information sharing, advice, DIY and educational forum on the Web. Ask any toilet, sink, faucet, pump, water quality, and plumbing related questions. Please refrain from asking where to purchase a product, business, pricing, or legal questions, for contractor referrals, or any questions not related to plumbing. Keep all posts positive and no advertising. This site is free and made possible by:
Author: sum (FL)

I have a bath tub with a couple of issues.

Firstly, the lever on the overflow when I flip it up, will slow the draining of the water but not stop it. It behaves more like reducing the draining to 50%. I assume the link and rod behind the overflow hole is working but something is broken. Is it worth to try and fix it? Or better just to open it and remove the entire link rod assembly and change the drain to a "lift and turn"?




Secondly, the drain flange is damaged. I think there used to be a cross bar but there is nothing there now.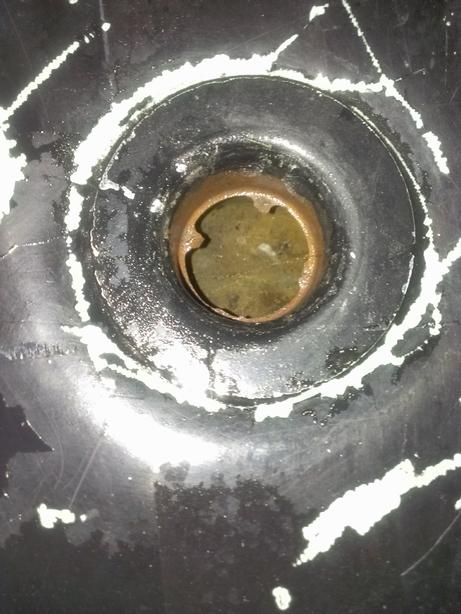 I think the only way I can fix this is to remove this metal strainer assembly right? This should be threaded to a brass drain shoe? The only tool I can use to remove this is something like this right?




If not I am looking at using a sawzall to do vertical slices to remove the flange one piece at a time? or a dremel with two fingers crossed?

Yes, I know the tub badly need a refinishing.




Edited 1 times.
Author: PlumberLoren (CA)

After you clean the tub you should remove the chrome drain flange and replace it with a new one. There is a tool designed to fit the new flange drain that allows you to grab the cross structure for removal and installation tightening. Next you must should remove the screws to take out the linkage that will set the height of the plunger so it will stop water from draining out when you want to use the tub. You may have to adjust it a few times to find the sweet spot that allows for closing off the drain and opening it for drainage. Most linkage has a threaded rod with a nut that allows for the above adjustments. Don't be afraid to purchase a new overflow kit for your tub. Be careful to not allow the plunger to dislodge from the linkage or you will have a problem retrieving the plunger from the overflow. Good luck.



Edited 1 times.
Author: North Carolina Plumber (NC)

If you have access from underneath the tub, or behind it I would replace that assembly with a Watco 901 lift and turn. Even with that tool I'd be surprised if you can get that shoe to unscrew. I'd notch it and peel it out. That one looks pretty thin, it would probably take 3 minutes to cut and peel it out.



Edited 1 times.
Author: sum (FL)

I have tried that tool once before and no luck.

This one has a little tabs left may be...I don't know.

This looks like brass so it should be kind of soft?
Author: sum (FL)

North Carolina Plumber I have no access below. Tub sits on a concrete slab, the sides are exterior concrete block walls.

I tried one of those friction fit tub wrench, no luck.

Next I will drill a dimple on the flange to give me a spot I can use a screwdriver and hammer to tap it and see if I can get the threads to loosen up. If all else fail then its either cutting it out, or I think there is a retrofit strainer that can be epoxied over/inside the existing strainer.
Author: sum (FL)

Will plumber's putty that's 50 year old soften with a heat gun to the tub strainer basket? If so it should make it easier to come apart or no?
---
Please note:
Inappropriate messages or blatant advertising will be deleted. We cannot be held responsible for bad or inadequate advice.
Plbg.com has no control over external content that may be linked to from messages posted here. Please follow external links with caution.
Plbg.com is strictly for the exchange of plumbing related advice and NOT to ask about pricing/costs, nor where to find a product (try Google), nor how to operate or promote a business, nor for ethics (law) and the like questions.
Plbg.com is also not a place to ask radiant heating (try HeatingHelp.com), electrical or even general construction type questions. We are exclusively for plumbing questions.
Search for plumbing parts on our sponsor's site:

---
Special thanks to our sponsor: