Over 605,000 posts related to plumbing
Welcome to Plbg.com (aka: PlumbingForum.com) we are the most popular plumbing information sharing, advice, DIY and educational forum on the Web. Ask any toilet, sink, faucet, pump, water quality, and plumbing related questions. Please refrain from asking where to purchase a product, business, pricing, or legal questions, for contractor referrals, or any questions not related to plumbing. Keep all posts positive and no advertising. This site is free and made possible by:
Author: Mark Bolton (TX)

Working on an old bathroom remodel, I have removed the concreted and fill around the plumbing in a bathroom. Because of other obstructions, the plumber who installed the the main 3" drain had to heat the PVC up with a torch and bend the pipe to connect to the sanitary tee. I need to replace most of this but I will still need to reconnect to the drain line. The issue I have is how to connect back to the original drain line considering the angle difference. The obstructions the original plumber went over was other DWV lines from the main house.

Can I use a flexible coupling like this one at Home Depot [www.homedepot.com], or should I do something else?

Here are some pics to help shed some light:

[@#$%&[s50.photobucket.com]]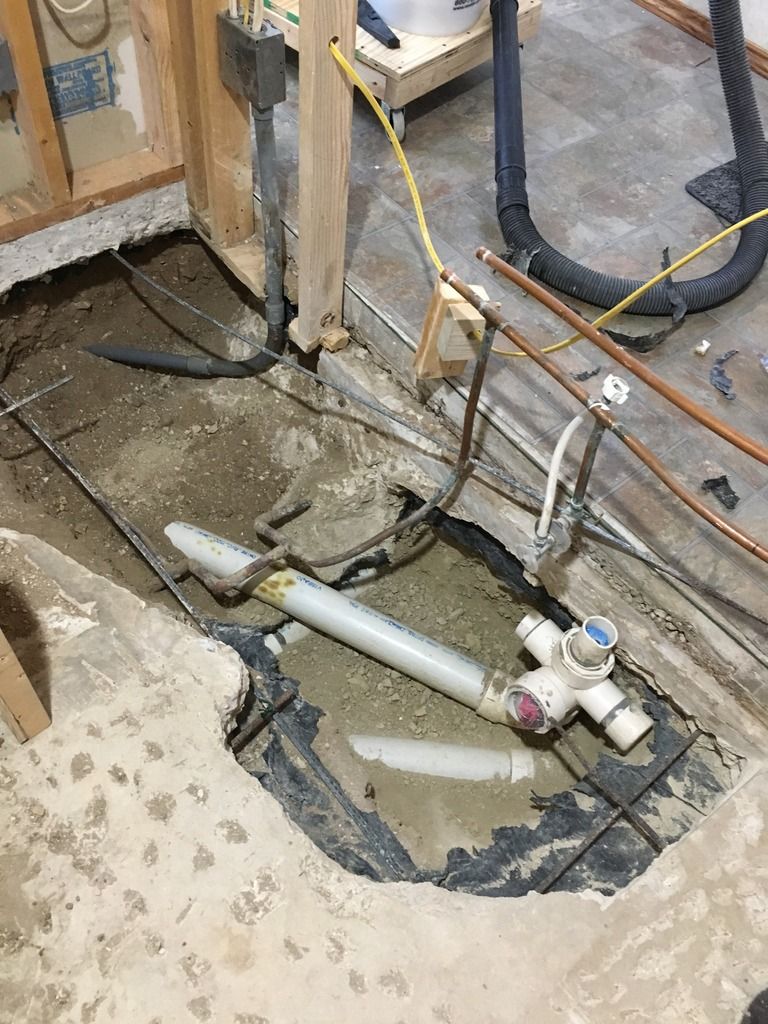 [@#$%&[s50.photobucket.com]]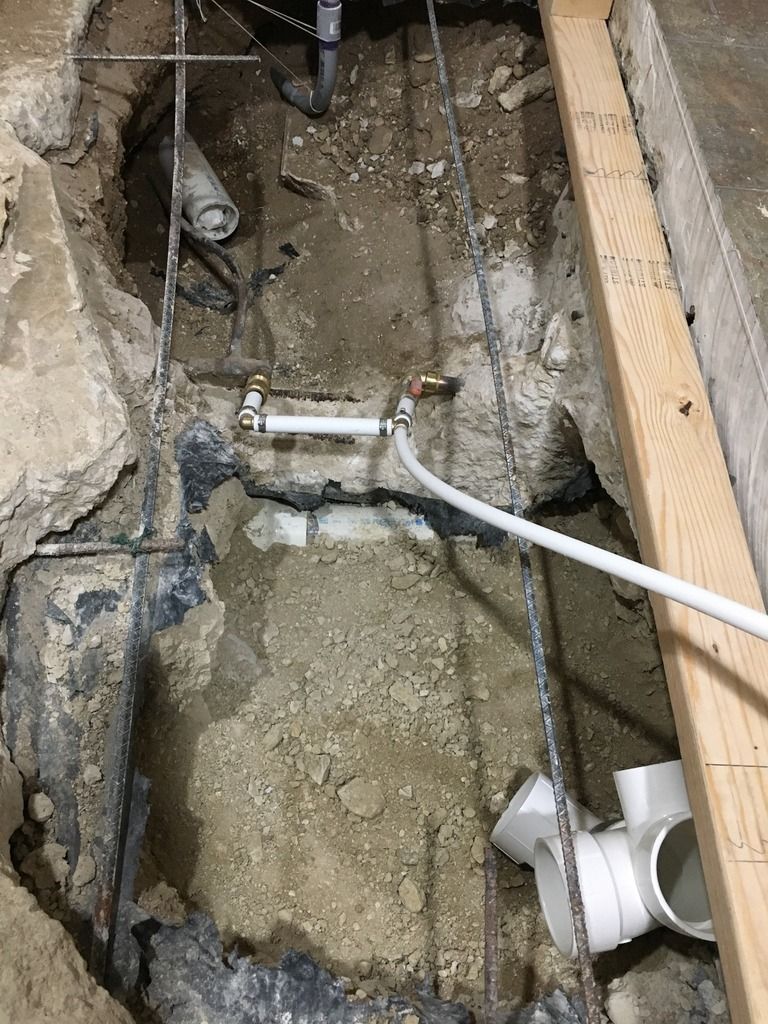 [@#$%&[s50.photobucket.com]]


Thanks in advance.

Mark
Author: exapprentice30 (MA)

Non shielded coupling s are not legal to use inside the house in most states. The 90 under the sanitary tee should be a long sweep 90 but you may not have the room. A full size clean out tee would be a good idea above the sanitary tee too. You could try a couple of 22 1/2 elbow s.



Edited 2 times.
Author: packy (MA)

it's hard to say without being there and playing with a couple of fittings to get it to line up. maybe a 22 will get the old line to come to 90 deg in respect to 90 below the san tee.
what i don't like is sharkbites buried in cement. also there is a ball valve that is going to be buried in cement ??
Author: hj (AZ)

I would have "worked" the 3" and THEN put the water line back together around it.
Author: Mark Bolton (TX)

Haha! No, the water line will go back as copper and valve will come out, those are just temporary. I played with 22.5's last night and they just come up too high, unfortunately.

I am not in any city limits so I am not too concerned with code, just what will work. My concern with a flexible fitting is that I wouldn't use it conventionally, either, I would have one pipe seated and one cocked at the angle, which appears to be at 10 degrees.
Author: Mark Bolton (TX)

Agreed HJ, what you are seeing is exactly that from the original install. The problem was what is now 1/2" PEX that comes off used to be copper from a 3/4 x 3/4 x 1/2 reduction tee, and the line was so badly crimped originally it folded and the entire line was so deformed a 1/2" copper cap leaked twice. I cut it all out and put Sharkbites back just to restore water. I will replace it back with copper after done "working" the 3".
Author: hj (AZ)

I do NOT know the configuration of the new fixtures, but IF POSSIBLE, I would install the sanitary tee BEFORE it gets to the water line, then angle the closet bend and other connections into it.
Author: Mark Bolton (TX)

It's angling in to that connection that is my question. The original pipe was heated with a torch to bend over the concrete and other DWV drain. My question was can I use a flexible coupling for this? If not, is there something else that would work? 22's are a bit high when put together to create a rise.

Ideally, there would be retrofit flexible conduit made for just this purpose that would be ok to bury. I'm no plumber by any stretch of the imagination so I came here to get some ideas.

I still have the torched conduit, I guess putting it back with a coupling may be my only choice.
Author: sum (FL)

I think I have seen 11-1/4" SCH40 PVC elbows. Don't remember if it's pressure or DWV though.
Author: Mark Bolton (TX)

Thanks, sum, indeed you are correct, I wasn't aware that existed! It doesn't appear to be a normally stocked item for the box stores but I bet a plumbing supply house here would have it. I have to believe that a combination of a 22.5 street ell and the 11-1/4 (or two 11's) would get me down to where I want to be. It's close with 22.5's and I came across the 22.5 street ell last night which I think will get me closer. That 11.25 should be the answer.

Is there a difference between pressure and DWV? If it is pressure, what would be the harm, if any?

Thanks!



Edited 1 times.
Author: stuckinlodi (MO)

I think one of the differences between DWV and pressure pvc is the depth of insertion on the fittings, you can insert the pipe further into a pressure fitting. I would think it is fine to use a pressure fitting in a drain line.



Edited 1 times.
Author: sum (FL)

My understanding is the DWV fittings are "hubbed" to endure the pipe and fitting when connected properly provides a continuous internal surface without any lips or bumps that may impedes gravity flow. The pressure fittings do not have this requirement.
---
Please note:
Inappropriate messages or blatant advertising will be deleted. We cannot be held responsible for bad or inadequate advice.
Plbg.com has no control over external content that may be linked to from messages posted here. Please follow external links with caution.
Plbg.com is strictly for the exchange of plumbing related advice and NOT to ask about pricing/costs, nor where to find a product (try Google), nor how to operate or promote a business, nor for ethics (law) and the like questions.
Plbg.com is also not a place to ask radiant heating (try HeatingHelp.com), electrical or even general construction type questions. We are exclusively for plumbing questions.
Search for plumbing parts on our sponsor's site:

---
Special thanks to our sponsor: