Over 600,000 posts related to plumbing
Welcome to Plbg.com (aka: PlumbingForum.com) we are the most popular plumbing information sharing, advice, DIY and educational forum on the Web. Ask any toilet, sink, faucet, pump, water quality, and plumbing related questions. Please refrain from asking where to purchase a product, business, pricing, or legal questions, for contractor referrals, or any questions not related to plumbing. Keep all posts positive and no advertising. This site is free and made possible by:
Author: Hackalot (SC)

I am trying to install recessed medicine cabinet. Can I reroute vent pipe (hand drawn white line) to accomodate recess?

[@#$%&[s1079.photobucket.com]]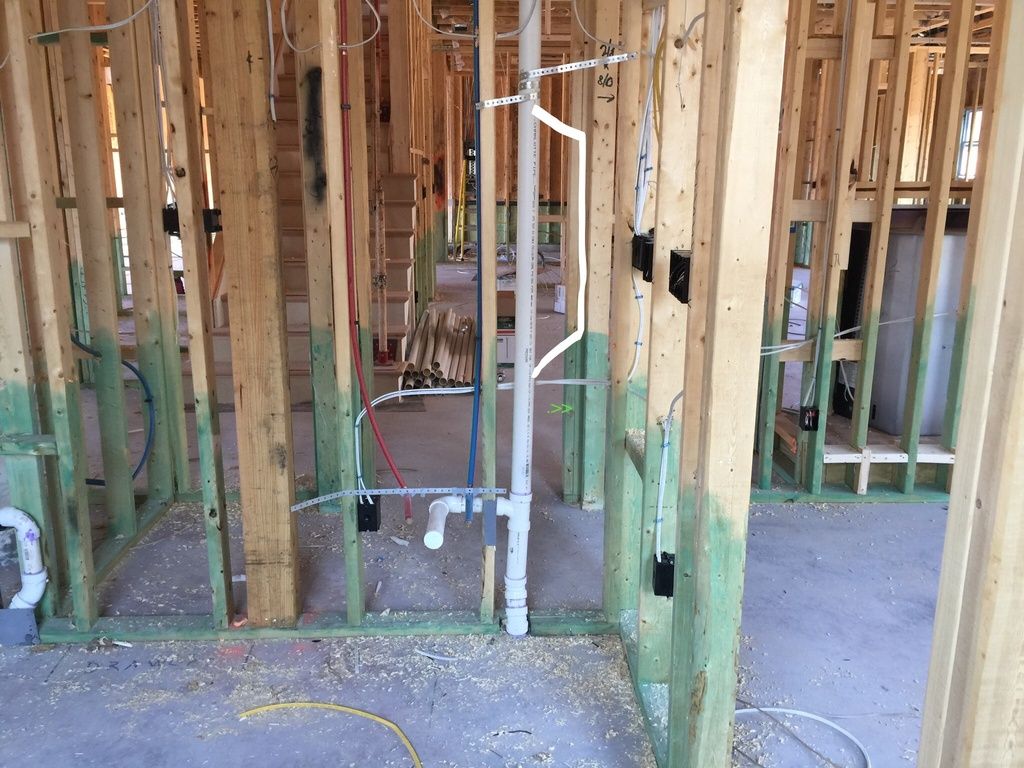 [/URL]
Author: packy (MA)

you can cut it and use 90's as long as the offset starts above the flood rim of the sink. so cut it at about 40 inchs off the floor and slope the pipe slightly.
if you want to cut it lower then you need to use 45's..
Author: Hackalot (SC)

hj and packy, thank you!.. I am not a handyman much less a plumber. Just trying to understand what is feasible.



Edited 1 times.
Author: PlumberLoren (CA)

Use 4 each PVC 45s so you can snake from the roof if needed or better consider installing a clean out tee below the san tee and above any kick plate in the cabinet if one is installed. Consider turning the clean out to the opposite side of the wall if it makes it easier to access. What is in the room on the other side of the wall? Looks like it could be a hallway.



Edited 1 times.
Author: hj (AZ)

Whether it needs one or not depends on what is under the floor. Four 45s will be more difficult to install than two 45s and two 90s, or four 90s.
Author: PlumberLoren (CA)

HJ (AZ) What is so difficult about installing 4 45s. If he installs a 2" clean out tee 12" above the slab he should be good to go.
Author: hj (AZ)

To install four 45s he has to be able to lift the riser to fit them in.
---
Please note:
Inappropriate messages or blatant advertising will be deleted. We cannot be held responsible for bad or inadequate advice.
Plbg.com has no control over external content that may be linked to from messages posted here. Please follow external links with caution.
Plbg.com is strictly for the exchange of plumbing related advice and NOT to ask about pricing/costs, nor where to find a product (try Google), nor how to operate or promote a business, nor for ethics (law) and the like questions.
Plbg.com is also not a place to ask radiant heating (try HeatingHelp.com), electrical or even general construction type questions. We are exclusively for plumbing questions.
Search for plumbing parts on our sponsor's site:

---
Special thanks to our sponsor: