Over 600,000 posts related to plumbing
Welcome to Plbg.com (aka: PlumbingForum.com) we are the most popular plumbing information sharing, advice, DIY and educational forum on the Web. Ask any toilet, sink, faucet, pump, water quality, and plumbing related questions. Please refrain from asking where to purchase a product, business, pricing, or legal questions, for contractor referrals, or any questions not related to plumbing. Keep all posts positive and no advertising. This site is free and made possible by:
Author: TdrakeHI01 (HI)

So, I just finished dropping in a new fiberglass tub and forgot to tighten the drain line connections down below the slab level. The connections are just barely within arm's reach and so have been able to get them hand tightened, but the connections are still leaking. The tub will not move as the plaster support has already hardened, and using a pair plumbing pliers has been problematic, as there is not enough room for the handle of the pliers to swing, not to mention getting everything lined up and in place with one hand and then moving to get better leverage...So is there any tool that you might recommend to get the job done? The drain line is 1-1/2, so the nuts are probably 2".
Author: steve (CA)

Maybe a basin wrench?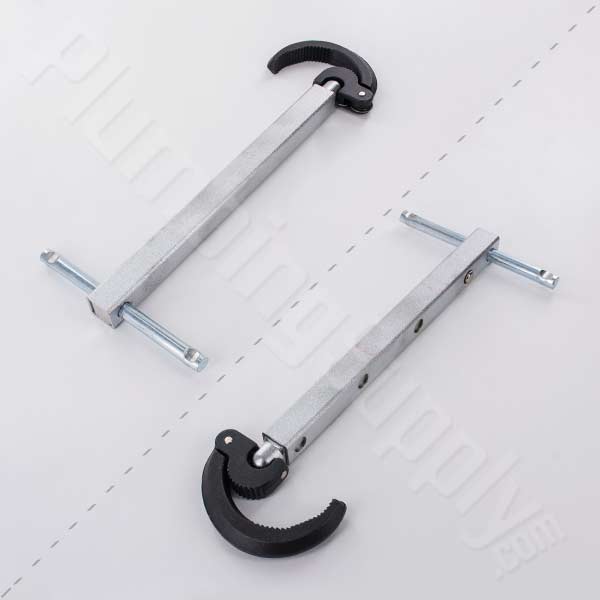 Author: PlumberLoren (CA)

You might consider removing it and using PVC or ABS dry fit it so you are sure it will line up when you finally place the tail piece in the trap. That would mean that you would only have the tail piece nut to tighten. Would that work for you? If you could remove the trap and dry fit another trap PVC or ABS and then only have to glue in the trap and the tail piece and eliminate the nuts all together. Or you could hang out at Home Depot and try to find someone with long arms, or you could turn it over to a pro plumber. Good luck.
Author: packy (MA)

can you loosen the nut enough to slide it back a little ?
if so you can slide it back and lather everything up with a good grade pipe dope. then tighten as much as you can by hand. (might just do it)
Author: bernabeu (SC)

a LARGE basin wrench




= = = = = = = = = = = = = = = = = = = = = = = = = = =

Retired U.A. Local 1 & 638 ~ Measure Twice & Cut Once
Author: EndangeredSpecies (FL)

An 1 1/2" pedestal wrench like Pasco - 43915 might work well
---
Please note:
Inappropriate messages or blatant advertising will be deleted. We cannot be held responsible for bad or inadequate advice.
Plbg.com has no control over external content that may be linked to from messages posted here. Please follow external links with caution.
Plbg.com is strictly for the exchange of plumbing related advice and NOT to ask about pricing/costs, nor where to find a product (try Google), nor how to operate or promote a business, nor for ethics (law) and the like questions.
Plbg.com is also not a place to ask radiant heating (try HeatingHelp.com), electrical or even general construction type questions. We are exclusively for plumbing questions.
Search for plumbing parts on our sponsor's site:

---
Special thanks to our sponsor: