Over 600,000 posts related to plumbing
Welcome to Plbg.com (aka: PlumbingForum.com) we are the most popular plumbing information sharing, advice, DIY and educational forum on the Web. Ask any toilet, sink, faucet, pump, water quality, and plumbing related questions. Please refrain from asking where to purchase a product, business, pricing, or legal questions, for contractor referrals, or any questions not related to plumbing. Keep all posts positive and no advertising. This site is free and made possible by:
Author: sum (FL)

If I have a copper pipe manifold at point A with three 1/2" pipes going down into the concrete slab, and at point B a single pipe comes up that is about 12' away from the point A manifold, and I suspect the pipe at point B came from one of the three at point A, is there a way to find out:

(1) Does the line at B came from one of the pipes at A?
(2) If so, which one of the three is it?

WITHOUT cutting or taking apart the manifold at A?



Edited 1 times.
Author: North Carolina Plumber (NC)

Could you possibly backflush with hot water ? Then you could tell instantly if it's tied into manifold A and at what position.
Author: PlumberLoren (CA)

What is the purpose of learning which pipe goes to Point A or Point B? Do you intend to add to the pipe at some point and for what? We need to know what your intentions are in order to better help you.
Author: hj (AZ)

We did NOT install those pipes so there is no way we can answer any of your questions, because without testing them the original installer is the only one who could do it, assuming he would still remember.
Author: sum (FL)

The purposes of determining where the pipes go vary.

Sometimes it's just when you open up the wall and wanted to do a general "recon" in terms of planning things.

For example last month I converted a bathroom into regular living space and had to delete two supply lines that came up through the slab. In order to avoid "dead-ending" those two pipes, I extended them further through an exterior wall to the outside and made them hose bibs, although I don't really need hose bibs at that location (especially a hot water one). Now if I could figure where the upstream points of those two lines I would have cut and capped them there instead. So if I see nearby manifolds then one of the branches of one of the manifolds could be what I am looking for...however, the only sure way I can think of is to cut the branches of the manifold one at a time and use a wet vac on the other end and see if I feel "suction", but I could end up cutting all three pipes and that's not even the right manifold and having to go through the trouble of soldering them back together.

North Carolina Plumber's suggestion of back flushing with hot water may be possible.

I have already tried using sound, like hitting the pipe with a metal spoon at point B and trying to hear if I can feel anything at point A.
Author: steve (CA)

Possibly connecting a voltage source(battery charger?), one lead at the manifold the other at the pipe in question, with a light bulb connected in series to limit the current, a clamp-on ammeter should be able detect which pipe at the manifold has the current flowing through it.
Author: sum (FL)

steve, I don't think the current or voltage test would work because these pipes are soldered together so the current would be through all of them.

As an example here is a picture, not the actual one but just one I have laying around.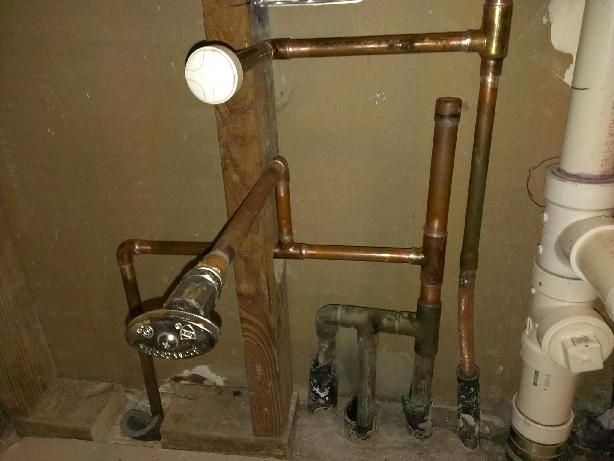 You can see there are actually four cold water lines coming up through the slab and connected. The one to the far right is 3/4" so that's a clue. The one to the far left is newer and not "original" from the color, and one may wonder if that "newer" pipe look too straight to be soft copper, it may be hard copper pipe and that means soldered joints below grade which is another story. So there are some things you can deduct from appearance, size, direction of slightly bent pipes to get some idea.

I do have an electrical tone generator tool. That is a tool where you can put an alligator clip to a metal pipe, conduit, wire whatever, and then you have a tone detector to find the other end of this metal. I use it to trace wires and conduits in old houses, but the wire cannot be connected to other wires or metal or else the tone would propagate and all you know is the other end is connected directly or indirectly to the other end, and could be multiple junction boxes in between. I thought of using the tone generator on copper pipe at one time, and it would have worked except these pipes on the manifold end are connected so every pipe will get the tone.

So far the only idea I have is if the distance is not too long, and if these are soft copper pipes with gentle bends, after using a wet vac to suck out as much water as possible at point B, one might be able to push in a solid #12 conductor or a flexible electrical fish tape with a metal tip into the pipe at point B, and keep pushing until it stops. Then have someone continuous shaking, pushing, rattling at point B, and theoretically someone at point A's manifold should hear the metal to metal rattling (if the wire or fish tape can make it all the way), that would possibly tell me if that's the right manifold. It won't tell me which pipe though.
Author: steve (CA)

Sum, by putting one wire on the pipe in question(different room?) and one on the manifold, current would be flowing on the piping between the two wire connection points(path of least resistance). You shouldn't be detecting much, if any, current on piping outside of the loop.



Edited 1 times.
Author: hj (AZ)

You can't input AC because the copper is at ground potential and would short it out. A battery charger would input DC current and a clamp on ammeter only detects AC.
---
Please note:
Inappropriate messages or blatant advertising will be deleted. We cannot be held responsible for bad or inadequate advice.
Plbg.com has no control over external content that may be linked to from messages posted here. Please follow external links with caution.
Plbg.com is strictly for the exchange of plumbing related advice and NOT to ask about pricing/costs, nor where to find a product (try Google), nor how to operate or promote a business, nor for ethics (law) and the like questions.
Plbg.com is also not a place to ask radiant heating (try HeatingHelp.com), electrical or even general construction type questions. We are exclusively for plumbing questions.
Search for plumbing parts on our sponsor's site:

---
Special thanks to our sponsor: