Over 600,000 posts related to plumbing
Welcome to Plbg.com (aka: PlumbingForum.com) we are the most popular plumbing information sharing, advice, DIY and educational forum on the Web. Ask any toilet, sink, faucet, pump, water quality, and plumbing related questions. Please refrain from asking where to purchase a product, business, pricing, or legal questions, for contractor referrals, or any questions not related to plumbing. Keep all posts positive and no advertising. This site is free and made possible by:
Author: BookerTWashington (VA)

Hopefully final planning challenge in a convoluted 150 year old log house, and hopefully this verbal description makes sense. I have a 3 inch main waste line that originates from 2nd floor carrying waste from a toilet only, with closet bend, 14" to vertical drop 10' to a crawlspace from there it has a long sweep 90 where it is projected to run directly (and I mean directly, as in it looks like i measured it to be exactly on center...) beneath a planned 1st floor toilet (within 5 feet of the aforementioned sweep 90.) The 3" main line runs straight parallel along a wall and then exits in foundation. I assume the flange into a combo directly into the main 3" is a no-no. Although I have been encouraged to do it, despite sweep of combo it seems problematic to me...maybe I'm making that up?

Originally toilets planned placement was across room which I had planned to used 4x3 to to a combo in main line with a sink 2" wet vent providing some needed air....wife said no to toilet placement and wants new location, and now I'm a little stumped and space/drop is at a premium in crawl area. Do I need to get creative with some 1/8 bends to try and swing 1st floor toilet waste out from above line, capture sink line before tying in down stream?

I guess alternatively I could also try and shift the main line with some 1/8 bends away and the tie 1st floor toilet/sink?

Thanks for all the advice, thoughts and experience you all share!



Edited 1 times.
Author: packy (MA)

i believe you have the concept correct.
a 3 x 2 wye between the toilet flange and the tie in point. this wye will accept the sink drain and also act as a wet vent for the toilet. that 2 inch must not be reduced. the san tee for the sink can be a 2 x 2 x 1 1/2.
simply ignor anything on the top floor that is flushing by the new 3 inch wye. the 3 x 2 wye you are installing will eliminate any chance of syphoning taking place.
Author: BookerTWashington (VA)

Thanks for the reply...Im not sure I 100% follow (I hope I do). Drew a quick sketch of what I hope you meant, though I have a feeling it may not be...:

Note - Wet vent sink (not pictured) will use 2" for wet portion before 1.5" above San T which will rise straight up to second floor before tying to main vent above 4' above floor.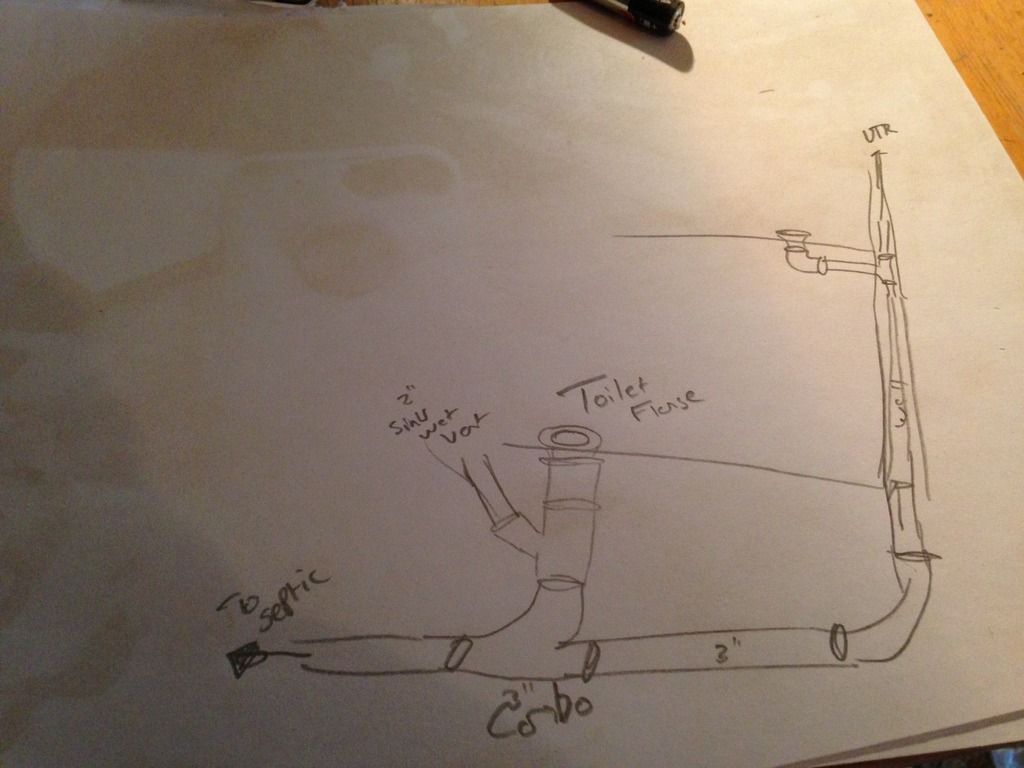 Edited 1 times.
Author: packy (MA)

the wet vent and its extension to the vent stack must remain undiminished in size.
translation... the portion above the san tee must remain 2 inch. the horizontal arm picking up the sink trap may be 1 1/2 inch. that horizontal arm may be up to 5 feet from the san tee to the sink trap.. (MA code).
Author: exapprentice30 (MA)

What are you installing for clean outs? There should be one at the base of the 2nd floor stack.
Author: BookerTWashington (VA)

Understood, I had misinterpreted that 2" was required only for actual wet vented portion and not all they way to stack/roof. Thanks for pointing that out, and plan adjusted accordingly. In terms of the 3x2 wye (with wet vent) to 3" combo in main line, is it acceptable to twist the combo and offset if there isn't sufficient vertical space between the 1st floor toilet flange and the height of 3" pipe. I haven't taken measures to ensure those two fitting could fit perfectly vertically.

Thanks for the question exapprentice30 I didn't draw in cleanouts in that bad sketch, but I have one already installed before 3" exits house (I also added one outside the house after a long 90 in septic line when it was done. I had planned to have a c/o on the 3" line you referenced immediately after the 90 sweep in my drawing, but "does base of stack" mean BEFORE the 90 sweep in my diagram - ie on first floor. The distance between the 90 sweep and point of exit of crawl is 12 feet. Should a clean out be added after the 1st floor toilet, or is that overkill considering the very short length between the the two aforementioned cleanouts? I have other c/o for branch with washmachine, tub/shower and a distant lavatory as well.

Once again thanks for insight and advice, it is most welcomed, particularly coming from folks from MA (I lived in Newton and then Malden for some years before fleeing south!)



Edited 1 times.
Author: packy (MA)

i was born and raised in malden... maplewood section. MHS 1961..
Author: exapprentice30 (MA)

A clean out at the base of the stack would go in the end of a combo or a wye and 45 if you have the room or you could use a clean out tee after the sweep rolled up.
---
Please note:
Inappropriate messages or blatant advertising will be deleted. We cannot be held responsible for bad or inadequate advice.
Plbg.com has no control over external content that may be linked to from messages posted here. Please follow external links with caution.
Plbg.com is strictly for the exchange of plumbing related advice and NOT to ask about pricing/costs, nor where to find a product (try Google), nor how to operate or promote a business, nor for ethics (law) and the like questions.
Plbg.com is also not a place to ask radiant heating (try HeatingHelp.com), electrical or even general construction type questions. We are exclusively for plumbing questions.
Search for plumbing parts on our sponsor's site:

---
Special thanks to our sponsor: