Over 600,000 posts related to plumbing
Welcome to Plbg.com (aka: PlumbingForum.com) we are the most popular plumbing information sharing, advice, DIY and educational forum on the Web. Ask any toilet, sink, faucet, pump, water quality, and plumbing related questions. Please refrain from asking where to purchase a product, business, pricing, or legal questions, for contractor referrals, or any questions not related to plumbing. Keep all posts positive and no advertising. This site is free and made possible by:
Author: sum (FL)

I have what appears to be a slow leak in the kitchen faucet.

It is not leaking below in the sink cabinet. I put my hand up there on the underside and felt the hot and cold hoses, valves, and everywhere it's bone dry.

But water is seeping out at the base of the faucet where it meets the granite countertop.

It is not leaking from up top at the single handle either.

Yet water is seeping out slowly at that base.

Here are two pictures of the faucet. I have no idea what brand or model it is. I know the bathroom and kitchen remodel were done at the same time (2010) there is a high likely hood the kitchen faucet is made by Price Pfister because the shower valve and trim were also made by Price Pfister model "Hanover" in oil rubbed bronze. But looking through the PP website I don't see a faucet that matches the look.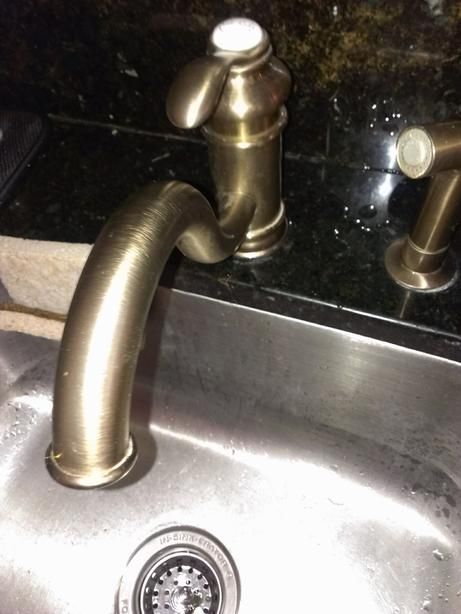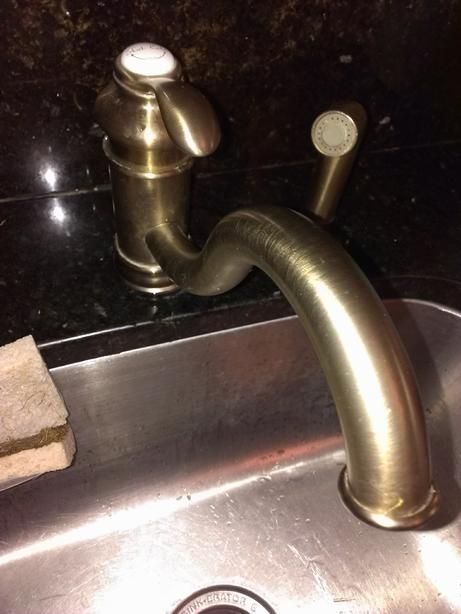 What moving or connecting is there at the base of the faucet on the top side could be leaking? Any suggestion? I don't want to try and loosen that stubborn nut from below and remove the faucet if the issue is solvable from up top.
Author: sum (FL)

If it's leaking at the spout (you mean where the aerator screws into?) why would it leak at the base of the faucet where it meets the countertop? I felt it with my hand the water wasn't running down from the spout.
Author: george 7941

Because the spout swivels, there are O-rings at the top and bottom of the body of the spout sealing against water leakage. The leak is at the o-rings, and nowhere near the aerator.

Take the spout off, clean up the grooves where the o-rings sit and lubricate well the new o-rings.
Author: sum (FL)

can the spout assembly be removed from up top or do I need to get out my unreliable basin wrench?
Author: Curly (CA)

Looks like a Kohler k-12176 faucet. Spout comes off from the top. Go to their website for parts breakdown etc.. Kohler customer service is usually pretty good and you can most likely get parts covered under warranty.
Author: sum (FL)

Curly are right it does look like the Kohler you mentioned. I looked up the parts diagram and there is this "bottom seal part # 86828" is probably what I need?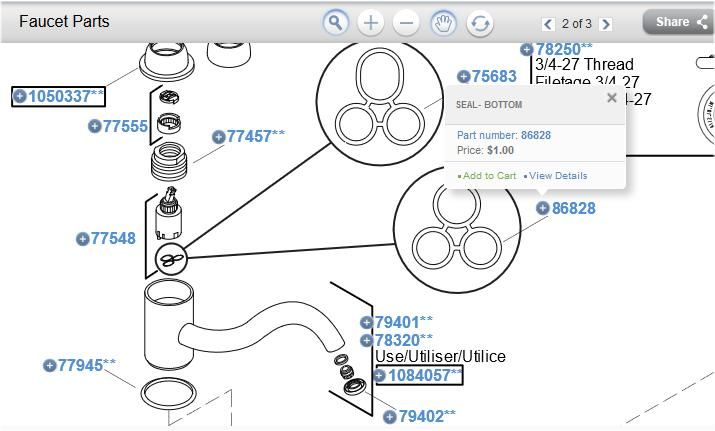 I don't see a "top seal" though. It does show an o-ring in the diverter assembly that runs to the spout or the hand spray. Would that o-ring be a suspect too?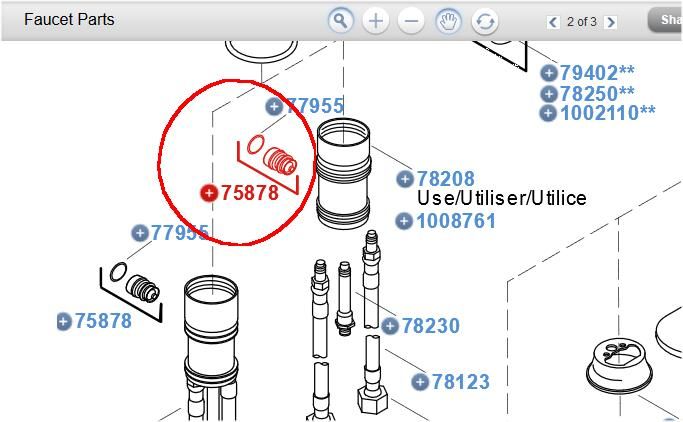 Thanks!
Author: Curly (CA)

I don't think that is correct part - most likely you would only need that gasket if it leaked 24/7.

I looked at parts breakdown on Kohler's site - I find breakdown a little hard to follow. As NC Plumber & George mentioned and I agree, you need O-rings/seals that spout swivels on - If I read breakdown correctly you need 2 - 71118 & 2 - 71117.

I would call Kohler and confirm. They may even send you parts at no charge.
Author: sum (FL)

Thanks I will do that.

This is the parts you mentioned.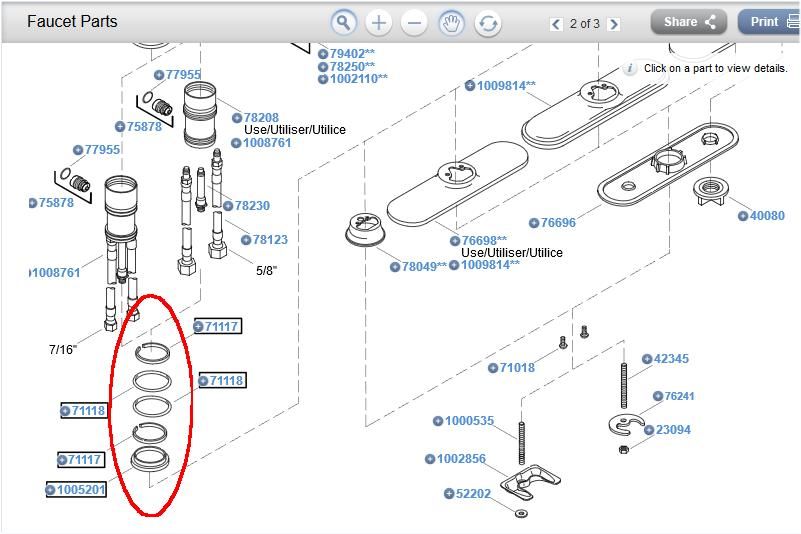 I think if I am going to take all that apart I probably should go ahead and replace all the seals, o-rings parts in one shot.

Strange that it shows two of the "seal kit" and two o-rings right on top of each other. May be I am reading it wrong. Perhaps it means one pair goes above the base escutcheon and one pair goes below? If so I probably would have to remove the entire faucet from below. These diagrams are hard to read with the variations and dotted lines. Here is the direct link to the parts diagram.

[www.us.kohler.com]
Author: sum (FL)

Don't know if its just my luck or what but I have called Kohler customer care ab6 times today between 9am and now and each and every time I got a voice message saying they have an "elevated call volume" and can't answer, instead they referred me to the web site to look for answers get product info or use the contact me link and they would reply within 2 days. Each time the message was immediate no choice to keep holding.

Do they really have a human option or this is how they handle all calls?
Author: North Carolina Plumber (NC)

If it were me I'd remove that O-ring and take it to a hardware or plumbing supply store and find a match.



Edited 1 times.
---
Please note:
Inappropriate messages or blatant advertising will be deleted. We cannot be held responsible for bad or inadequate advice.
Plbg.com has no control over external content that may be linked to from messages posted here. Please follow external links with caution.
Plbg.com is strictly for the exchange of plumbing related advice and NOT to ask about pricing/costs, nor where to find a product (try Google), nor how to operate or promote a business, nor for ethics (law) and the like questions.
Plbg.com is also not a place to ask radiant heating (try HeatingHelp.com), electrical or even general construction type questions. We are exclusively for plumbing questions.
Search for plumbing parts on our sponsor's site:

---
Special thanks to our sponsor: