Over 605,000 posts related to plumbing
Welcome to Plbg.com (aka: PlumbingForum.com) we are the most popular plumbing information sharing, advice, DIY and educational forum on the Web. Ask any toilet, sink, faucet, pump, water quality, and plumbing related questions. Please refrain from asking where to purchase a product, business, pricing, or legal questions, for contractor referrals, or any questions not related to plumbing. Keep all posts positive and no advertising. This site is free and made possible by:
Author: sum (FL)

Trying to take apart the supply lines to run the pipe outside the wall where I already had the holes drilled as shown in the pic.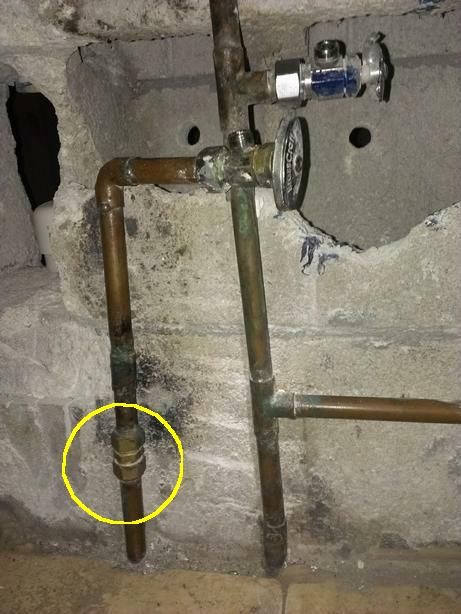 not sure what type of fitting on the lower left. Looks like a compression coupling?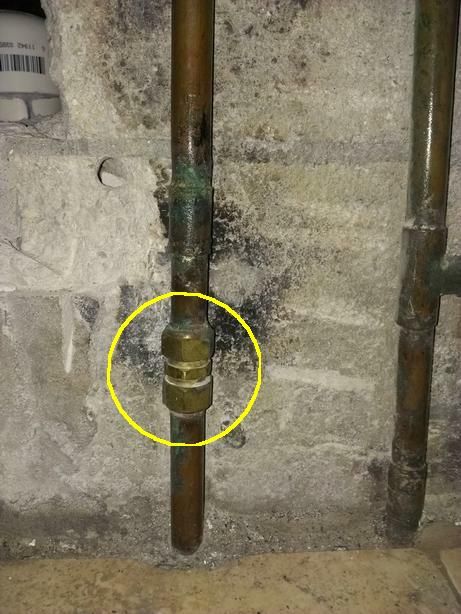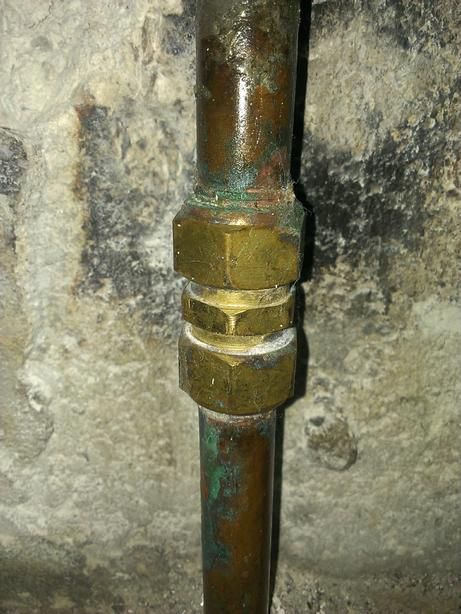 I am inclined to take that apart and replace it with a regular coupling. But all the joints are soldered except this one makes me wonder if there is a good reason this fitting is used here? There is green stain above and below it is this from flux?



Edited 1 times.
Author: packy (MA)

that's a compression fitting the same as the shut off has.
possibly the water didn't shut off all the way so the plumber used one of those.
a soldered coupling would be the best for that. unscrew it with 2 wrenches to determine if there is a shut off not holding. if you replace the fitting it is ok to leave the bottom nut and ferule there. just grease it up and tighten on a new compression union.
or, cut the pipe below it, shop vac out the water and solder on a coupling. if you have real trouble just use a new compression union.
Author: sum (FL)

Packy I have already replaced the old stuck rusted shutoff with a new full port ball valve so I know it will shutoff.

I will try a solder a coupling there. I am worried the pipe is out of round and there is a very short piece to work with.
Author: packy (MA)

if it were out of round, the compression union would not have sealed.
Author: sum (FL)

well I took the compression coupling apart but the pipe was "strangled" by the ferrule so I had to cut it off. I finished the rerouting to the outside and put together the bibs.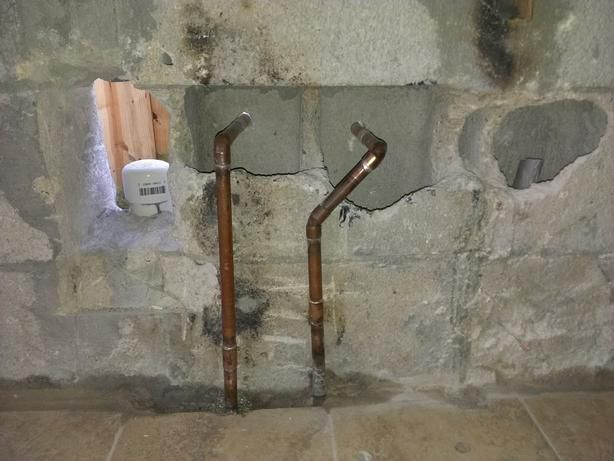 However, in an adjacent area I am running into a bit of a problem, potential problem. The hot and cold here are also going to be "dead ended", so I will run them to the outside.

However, after taking apart all the tees and elbows and soldered on a coupling, I noticed there is a "dent" in the existing 3/4" copper pipe right under the new coupling I put on. I didn't see it initially because there was paint/grout smear over it, it's not until I sanded it clean to prep it for soldering that I noticed it.

It's not leaking. But it looks like a hole. May be someone tried to drive a nail through it when installing baseboards?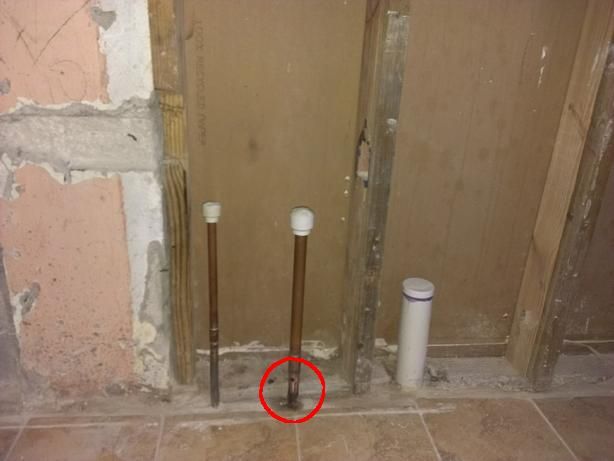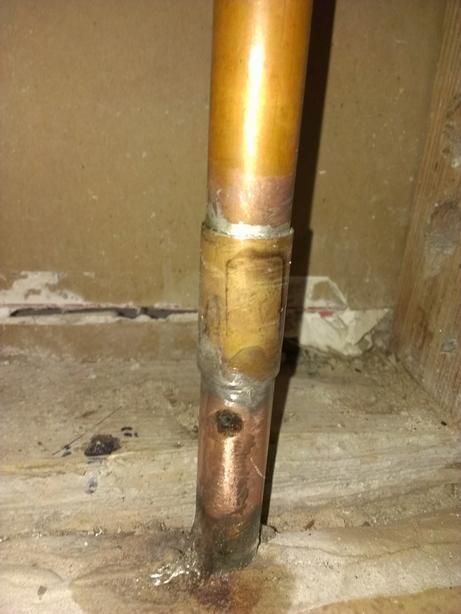 Should I leave it alone or should I take the coupling off, cut the pipe lower and remake that joint? I am always a bit worried when it comes to cutting soft copper pipe too close to the slab where it may be a bit curved and tricky to solder.



Edited 1 times.
Author: steve (CA)

If you remove the existing coupling, you could sweat a slip coupling over the dent and then resweat the removed pieces.
Author: packy (MA)

or, you could cut the copper at the bottom of that dent, use a swaging tool to make the male end of the copper into a female end, clean the inside of that female end really, really well, flux it up and insert a piece of tubing into it. you will have a nice upright joint to solder...



Edited 1 times.
---
Please note:
Inappropriate messages or blatant advertising will be deleted. We cannot be held responsible for bad or inadequate advice.
Plbg.com has no control over external content that may be linked to from messages posted here. Please follow external links with caution.
Plbg.com is strictly for the exchange of plumbing related advice and NOT to ask about pricing/costs, nor where to find a product (try Google), nor how to operate or promote a business, nor for ethics (law) and the like questions.
Plbg.com is also not a place to ask radiant heating (try HeatingHelp.com), electrical or even general construction type questions. We are exclusively for plumbing questions.
Search for plumbing parts on our sponsor's site:

---
Special thanks to our sponsor: