- over 500,000 plumbing related posts
- The popular plumbing tips and advice forum and blog. Ask any toilet, sink, faucet, pump, water quality and plumbing related questions.
Author: sum (FL)

Here is an old tub and I understand the way to fix it is to back out the drain and thread in a new one like a lift and turn?

I have always seen people use this tool that turns the "cross" in the middle of the drain, but this one is broken. So any idea how to remove the drain?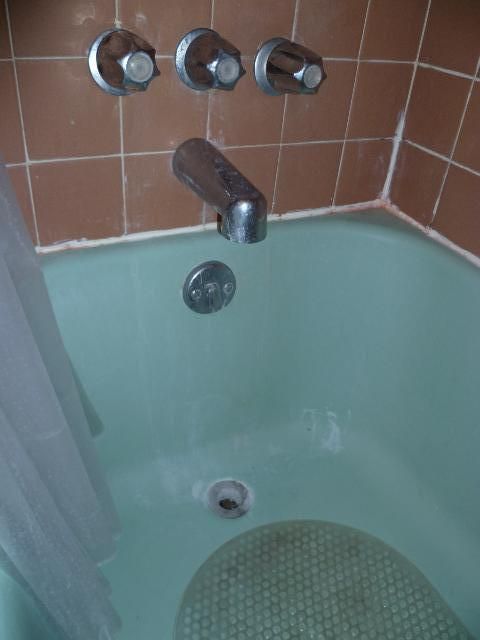 Author: Fixitangel (NC)

Quote: So any idea how to remove the drain?

Alot of work for a funky tub. If it's possible, I'd fix the linkage for the trip lever drain, and drop in a small drain screen to catch the loose hair. My 2 cents worth.
Author: jimmy-o (CA)
Author: packy

search google videos.
Author: waukeshaplumbing (WI)

even if the cross were intact it most likely would work on such an old drain...the only way to get it off is a sawzall

if you can get under it---cut horizontally through the rubber seal between the tub and the drain....if you cant get under it, then get behind it and cut the drain where you can...then go inside the tub and make pie cuts to the drain...be careful not to cut into the tub and be careful of kickback if the sawzall blade binds...after a 3-4 pie cuts take a screw driver and pound the bottom of the drain off

or call a plumber...its not the easiest job
Author: sum (FL)

I cannot get under it.

I would like to try it myself first. If I end up messing up or bang up that drain it doesn't make it worse, right?

The hardest part is getting it off it seems.



Edited 1 times.
Author: bernabeu (SC)

as per jimmy-o (above);




- - - - - - -

Measure twice, cut once.

Retired Plumbers Local Union #1
Author: hj

You do NOT want to get under it anyway, because that would leave you with a thread in the drain which would then require that you change the "shoe", but it is NOT generic and you might not find a new one with the same dimensions. That is a thin stamped drain so it would not likely unscrew no matter what kind of tool you used. Cut it out. If you "screw up", you will damage the TUB, not the drain.
Author: sum (FL)

Will a cheaper tool like this one from Lowes work?

[www.lowes.com]

I suppose the putty between the flange and drain hole is what will be the most stubborn?

Anything I can do to loosen up the putty? Can I plug the hole with a rubber stopper then pour something that will sit there for an hour to soften the putty? WD-40? Acetone? Just thinking out loud...



Edited 2 times.
Author: sum (FL)

If I cannot disengage it using the tool and need to cut it, you mean using a sawzall and cut if in the direction of the hole? Wouldn't that damage the threads of whatever it is screwed into?

If this is an oldd size item from the civil war era and no replacement is available I should leave it alone?
Author: jerco (MD)

Sum, I, and I'm sure a lot of other plumbers here, have had lots of practice doing this when we are removing a tub to haul to the dump so it didn't matter if we damaged the tub. That practice made it possible to attempt the same thing on tubs that are staying. But here goes ...

Use a sawzall and cut 2 vertical slits in the chrome portion of the drain fitting about 1/4" apart. Only cut far enough to reach the threads but not further. Then cut the horizontal portion as far as you can without hitting the tub. Then you will be able to pry that piece out with a screw driver and the soft brass will break at the areas that you couldn't cut through completely.

When that 1/4" piece is removed you will be able to collapse the fitting in on itself with a few careful taps against the side of the chrome (close to the slits you cut). The piece will then be very loose for you to unscrew or just pull it out.

If you cut into the threads a little too far it's okay because the the leak proof seal happens at the rubber washer, not the threads. But try not to go to far.

Good luck.

P.S. If that's a steel tub I wouldn't even attempt it. Cast Iron ... go for it at your own risk.



Edited 2 times.
Author: sum (FL)

Hmmm...you are making me nervous.

I don't want to ruin the tub at all. I have no idea if this is steel or cast. I will find out tomorrow.

I can hire a plumber. He or she might have a better chance then I do due to skills and experience. However, from my past experience they may run into the same problems. If as hj said this is an odd size drain then I am not likely going to find a replacement even if I get the old one out?

I feel pretty good making the vertical cuts as suggested. I remember doing it once before cutting out a stuck brass cleanout.

I have no idea how to make the "horizontal" cut, seems like it's impossible without damaging the tub finish. Don't know if a dremel cutting wheel might work in that case.

Or do I just use a rubber stopper with a chain and forget it?
Author: hj

Corrosion between the plug and shoe will be the problem, NOT the putty. You do not have a crossbar for that tool to engage, and it would probably break the bars if you did have them.
Author: hj

The threads do absolutely nothing to prevent leaks. That is done by the gasket between the shoe and the bottom of the tub. The putty also does not prevent leaks, other than to keep the water in the tub when the plug is closed.
Author: sum (FL)

I just checked this house was built in 1955. So we are talking about 57 years and these tubs look original.

What is the success rate in removing 57 year old tub drain stopper?

Is the drain shoe in brass if installed during that era?

The more I think about this the more I suspect the reason the cross bars are gone, is because the previous owner(s) have already tried a drain remover tool or a plier and broke it in the process. So this thing is going to be stubborn.



Edited 1 times.
Author: jerco (MD)

1955? It's almost certainly a cast Iron tub. And there is no reason why you wouldn't be able to get a new drain fitting with the correct thread pattern. But why? Is it for the looks? Have you tried to repair the original stopper/plunger/trip lever?
Author: sum (FL)

Jerco, there seems to be no loose part at the bottom of the drain that I can see or hear. I have two tubs like this in this apartment. One with a trip lever on the round plate higher up on the tub that does nothing, the other one doesn't even have a trip lever there anymore.

I am just trying to get them into functional state.

It's an investment property I am getting ready for rental.
Author: hj

It is brass, and the entire drain basket is a thin metal which is why the crossbars broke, for whatever reason.
Author: sum (FL)

Was going to attempt this today but got side tracked.

Will try tomorrow.

I will try a long nose plier spread wide open first, and see if I can tease it to rotate.

If not, then I am going to use a sawzall or dremel. Probably dremel as it gives a better control.

Is there a possibility the drain shoe is corroded to the point it disintegrates as I pull the drain out? If that happens what do I do?
Author: jerco (MD)

Sum, the shoe is much heavier brass so there is very little chance that it's corroded. The rubber gasket is most certainly very dry and brittle. You don't want that or the shoe to move AT ALL or you will have opened the proverbial can of worms.

If you remove the trip lever you should see something like this ...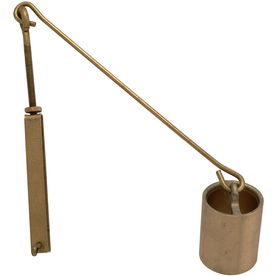 ... do you?



Edited 1 times.
Author: Fixitangel (NC)

"Or do I just use a rubber stopper with a chain and forget it?"

Flat rubber stopper and a little drain screen cup dropped in to catch hair;
You're done.

I have a pop-up stopper in my tub, but have to un-screw it every so often and fish the hair out with needle nose pliers.



Edited 3 times.
Author: hj

quote; Is there a possibility the drain shoe is corroded to the point it disintegrates as I pull the drain out

Of all the possiblities, THAT is the one that is not going to happen, unless you twist the drain using so much force that it snaps the shoe from its tubing. If it did then your job would be a lot easier. Long nosed pliers will NEVER be adequate to turn it.
Author: sum (FL)

Jerco:

One of the tub the lever is not even there. There is nothing behond this cover plate.




The other one has a lever.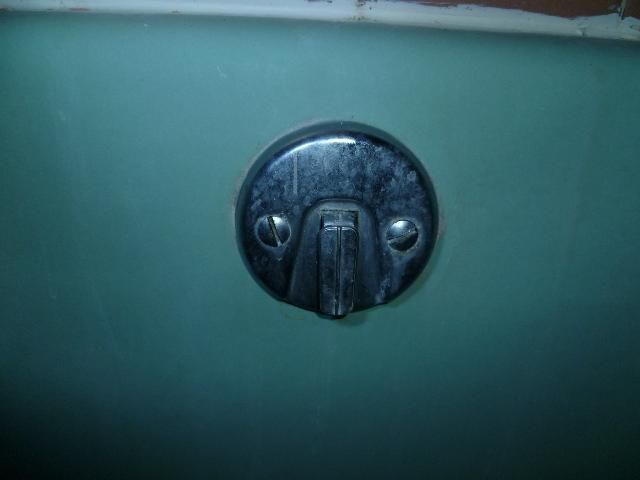 However, there is nothing visible down the drain, I reached in with my pinky finger and didn't feel anything.

Now when I removed the cover plate, I ran into a problem, the two bolts that thread into the brass drain assembly are corroded. I was able to remove one, the other one would not yield. I sprayed some WD-40 and let it soak overnight and see if tomorrow is a better day.

With one bolt removed I was only able to pry open this much, there is something behind it.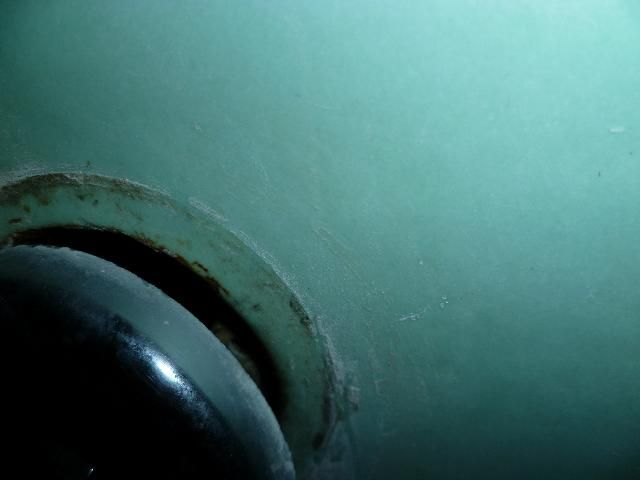 Author: steve_g (CA)

I would not attempt any repairs on it (except for the chain and rubber stopper) w/o being prepared to replace the entire waste & overflow. Anything that old is not going to come apart easily. The original cross-hairs are probably gone from someone else trying to take it out. And if you do manage to get it out, the gasket below will surely be rotten. Anything you manage to move will create a leak at the next joint until you get to hard pipe (and even /that/ isn't guaranteed).

Sorry to be so negative, but I suspect that you'd spend way more time trying to repair that old W&O than you would just replacing it.



Edited 1 times.
Author: sum (FL)

OK I got a little scare today.

I turned the water on in the tub, and for some reason it wouldn't drain at all. It wasn't draining slowly, it wasn't draining at all. I had about 2 inches of water in the tub, and after an hour, it was still two inches left. I got a bit concerned because while I am trying to take the tub drain out, it's clogged!

After waiting another couple of hours, finally the water receded. So I opened the overflow cover and lifted out the guts, and suddenly water drained. I turned on and fill a couple of inches and they went down.

Why would the guts of this cause a clog of the tub drain? This is what's inside. Just as Jerco had predicted.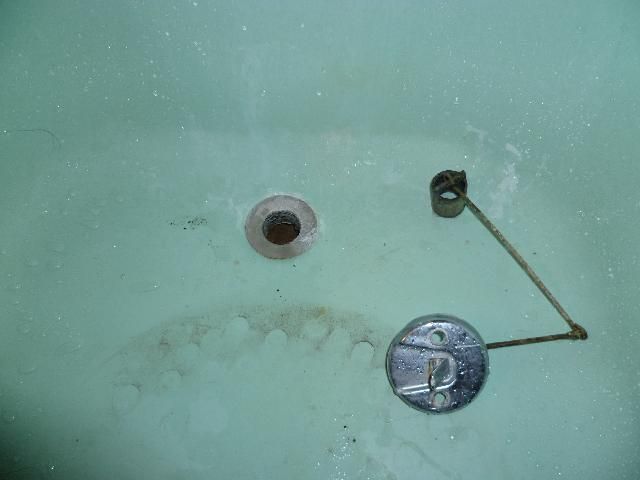 Now, the brass part behind the overflow cover? That seems loose. I can stick a finger in and it would sway left and right a little.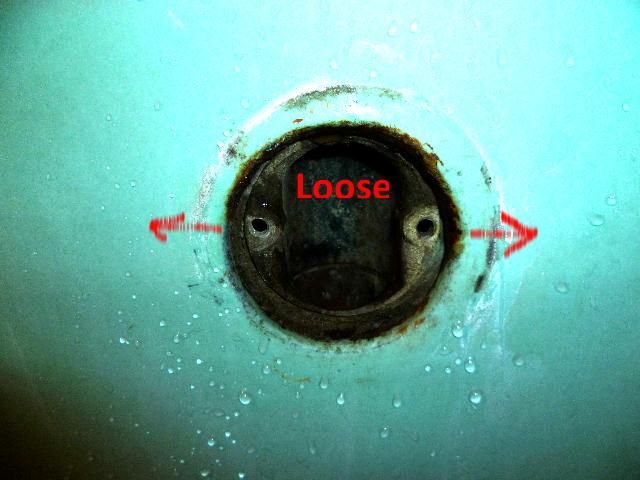 Is this bad? What does that mean?
Author: sum (FL)

In the other bathroom, where I have a pink tub, the drain where the cross wasn't broken, I was able to remove the drain.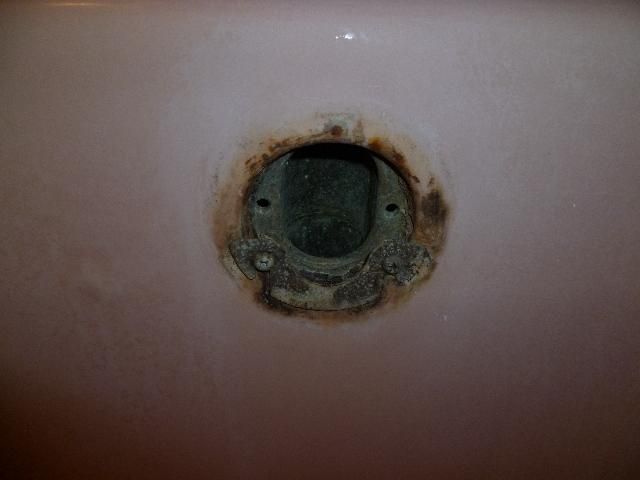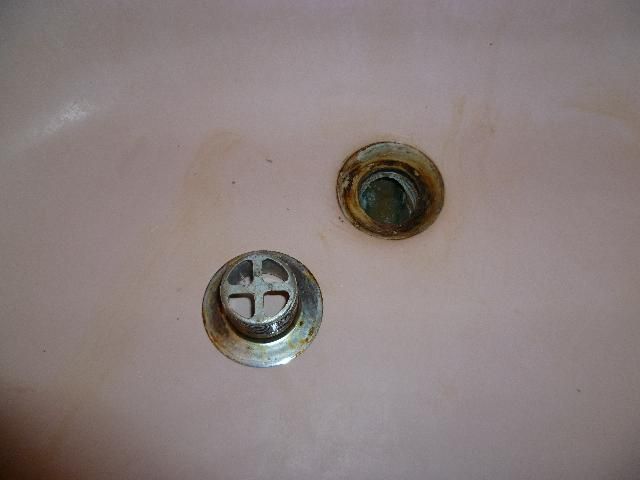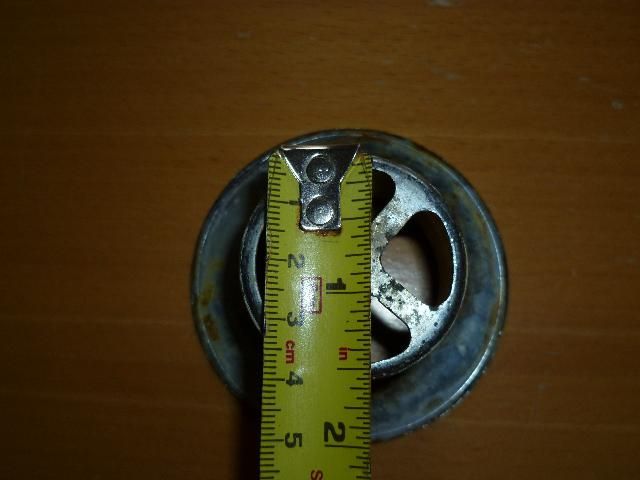 Is that a 1-1/2" drain? I need to get a new lift and turn right? Putty under the flange and screw it back in and I am done?
Author: sum (FL)

steve:

I removed the drain in one bathroom without any problem.

The other one where the "X" at the bottom of the drain is gone, I can't remove it. I have not tried cutting it, as I am scared of denting the tub...may be I will leave that one alone, unless I can borrow a pro grade internal wrench from somewhere.

If I cut it I most likely would ruin the gasket too? can the gasket be replace from above?
Author: steve_g (CA)

I suspect that the gasket has lost that soft supple feeling and would be on the hard and crumbly side. It might be replaceable from above, but it would be difficult to clean the mating surfaces.

If you can't get under the tub, can you get behind it (through a wall)? If there's an acceptable location behind the tub, you might even put in an access panel for future repairs, and save having to patch & paint.
Author: hj

If you cut it, you will not do anything to the gasket, unless you also damage the tub, because it is the size of the hole in the tub.
Author: sum (FL)

Can't get to the waste assembly from behind as it is an exterior concrete block wall.

I read somewhere on youtube that I should use a torch to heat up the drain and that will soften up the putty and expand the brass possibly making it easier to remove. Any truth to that?



Edited 1 times.
Author: sum (FL)

Anyone has comments on the waste pipe being loose at the overflow on the green tub? I can move it left and right a little, does it mean something has come loose below? Anything I should do to fix it being loose?

For the pink tub I got it out, any recommendation of a 1-1/2" drain? I should get a lift and turn and a dummy round plate for the overflow hole?



Edited 1 times.
Author: hj

The putty is not the problem, and heat will expand the "plug" and make it tighter. You cannot heat the shoe so it expands away from the plug. Heat will also probably "pop" the enamel on the tub.
Author: sum (FL)

OK no heating...
Author: sum (FL)

I tried a few other things and can't get it out.

The only thing I haven't tried is to cut it which I am scared of trying for fear of making things worse.

Anyone has experience with this? It seems I can plug this in and be done with it? And it looks a little better than a rubber stopper?

[www.plumbingsupply.com]
Author: hj

quote; Anyone has experience with this?

Most of us would not, because we would just cut the strainer out and replace it, rather than order something online that the customer could do himself and not pay us for the time expended. Once again you are taking an hour job and converting it into a two week process.



Edited 1 times.
Author: johnjh2o (FL)

There has been more effort put into replying to this then it would take to cut it out and replace it.

John
Author: sum (FL)

I know...but it's a tough stubborn strainer.

I am doing other projects, hanging blinds, swapping out toilets, fixing receptacles, landscaping, fixing fence gates, painting at the same time. Well the landscape I hired out, so I am not sitting idle, just one of those I feel uneasy to do the cutting because I know oncew I do there is no turning back...and opinion on here varies. The one I did manage to remove, it's not thin metal it is at least 1/8" thick, and the overflow pipe isn't "wobbling" like this one does.

I tried to find out is part of the reason this one wouldn't come out, if the drain shoe is having some degree of play that could be trouble no? Either something has come off or it is just "flex"? If it's solid brass it shouldn't have flex.



Edited 1 times.
Author: johnjh2o (FL)

There will be some movement in it. There slip joint connections. (the same as you have under your sinks) Use a dremiel tool with a cut off wheel and make two cuts 1/2" apart through the strainer. Then pry out the 1/2" piece. Or better yet do your own landscaping and hire a plumber to take care of your plumbing problems.

John
Author: hj

It is solid brass, but there can be "movement" in the overflow's slip nut, and since it is well above the normal water level in the tub, it probably will not leak, and definitely will not if you put a lift and turn or other stopper that keeps the water in the tub, and not in the tubing.
Author: hj

quote; hire a plumber to take care of your plumbing problems.

You must be new around here. It will be a cold day in FL or AZ when he hires a plumber to do a simple task, i.e., about a one hour job, when he can take days to do it.
Author: johnjh2o (FL)

New around here but been doing plumbing longer then I'm willing to admit to. I guess some people put a zero value on there own time. I have always been of the opinion that your better of working a little more at what you do to make enough money to pay someone to do the things you can't.

John
Author: sum (FL)

hj, you have seen pictures of work done by the plumbers I hired that I end up having to tear up and redo myself. That last one I hired to move a manifold end up completely kinking my soft copper pipe but put a pipe sleeve over it to hide it, and left a 3" cutting head inside my CI pipe, and I end up having to break open the slab to retrieve it myself. Many of my earlier threads here started with "This is what my plumber did, what should I do now?" remember?
Author: hj

Of course, but I also cannot believer that EVERY plumber in your area is that incompetent. If it happened to someone around here, I would susptect he is finding his plumbers in the "Penny Saver" newspaper.



Edited 1 times.
Author: sum (FL)

It may be how I am finding them, I don't know. Craigslist, yellow pages etc...

I have pretty good luck with carpenters, drywall installers, electricians, and many other trades.

But for some reason I had really bad luck with hired demolition folks and plumbers.

I think it is a combination of two things. I think South Florida does have lots of fly by night plumbers, and I think most on this forum are top top people in the trade, therefore your standards are higher and in turn, makes the "regular" plumbers look sub-standard.
Author: sum (FL)

I am going to install a lift and turn on the bath drain that did come out.

Any recommendation of a lift and turn for 1-1/2"? Is the DANCO lift and turn kit satisfactory or there are others I should consider?




Also, can I use the gasket that is there now? It could be tricky to tease out the old gasket and install a new one between the shoe and the tub.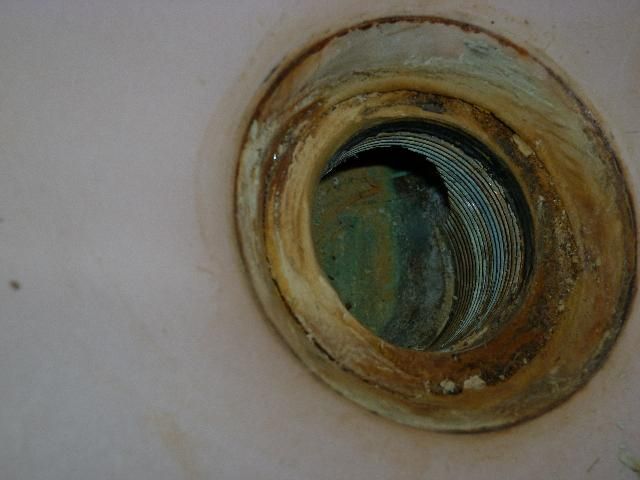 Edited 1 times.