- over 500,000 plumbing related posts
- The popular plumbing tips and advice forum and blog. Ask any toilet, sink, faucet, pump, water quality and plumbing related questions.
Author: johnmsch (GA)

I was having a problem with the new HVAC system I had installed a couple years ago. It is a much larger unit than I previously had and puts out a tremendous amount of condensate. It was so bad last summer that a part of my yard was just a huge mud puddle. I got the idea to divert the condensate to the sewer line.

I ran the extra PVC pipe to the sewer line. Kept the original one and put a shutoff valve on each one. That way, durng the winter, I can open the original one and close the new one. If the long trap I put in dries out, I won't have to worry about sewer gas getting into the unit and the house. Pictures below.

Talking to a friend yesterday, he said that he was pretty sure this was a plumbing code violation. If that is true, what is the reasoning behind it? Doesn't make any sense to me.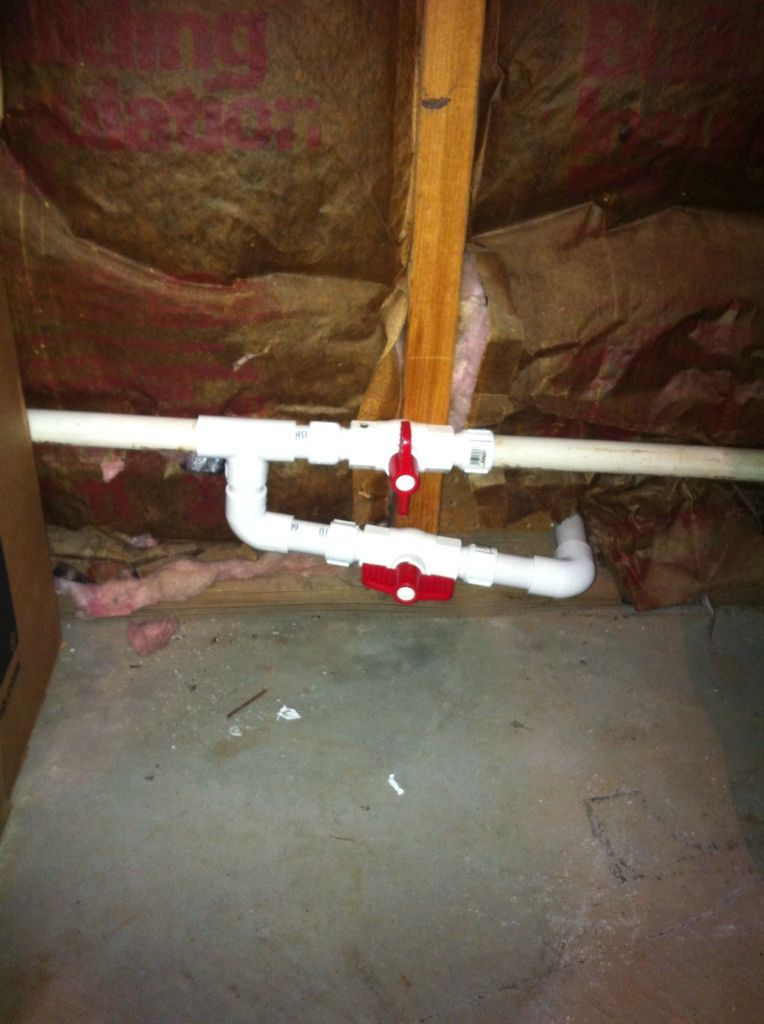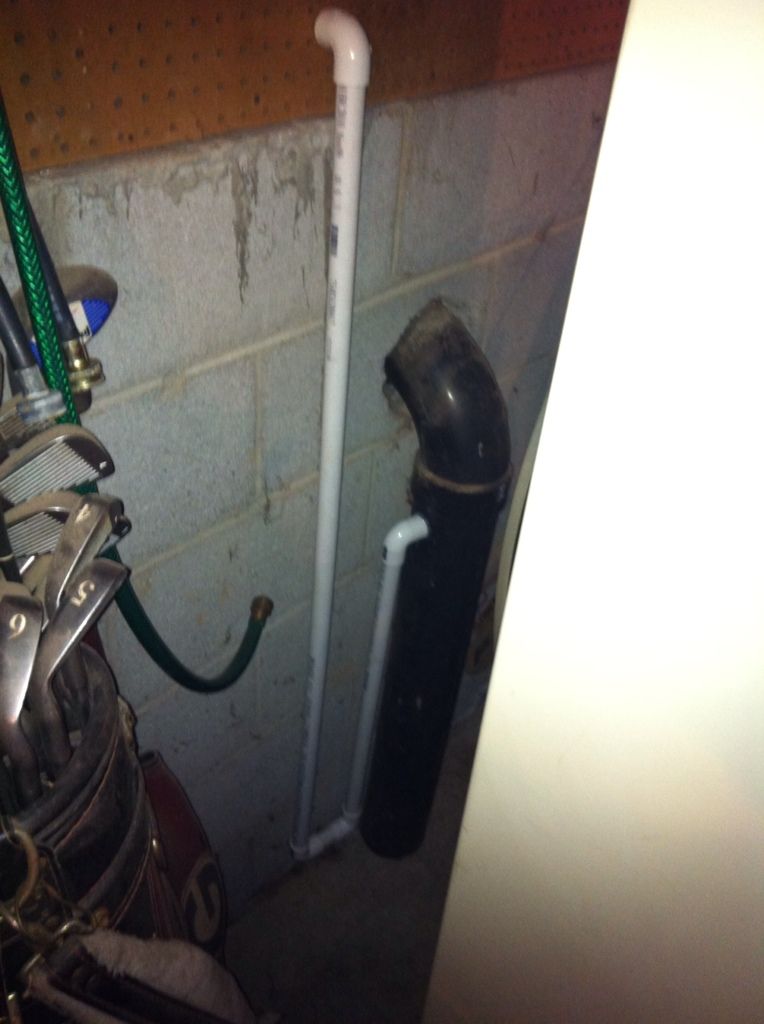 Author: Paul48 (CT)

Sewage costs money to treat. It is probably a city ordinance that you are violating. If everyone did what you have done, and also empties their sump pump into the sewer, the sewage treatment plant would not have the capacity to handle it. Guess who pays to build the larger facility?
Author: johnmsch (GA)

Ok Paul, that makes sense. Never thought of it from that angle before.

Any ideas on what else I can do with all that condensate?
Author: Paul48 (CT)

A drywell, a water garden, or spread it around. The sad part is, you probably have to water the grass in other areas?
Author: hj

Air conditioner condensates lines are REQUIRED to be connected to the sewer system in this area.
Author: jblanche (WI)

The main (black) pipe looks like ABS. Has it been drilled to accept the PVC pipe? Tapped? Is that permitted in this instance? I thought drilling and tapping was generally not permitted under most plumbing codes.

*******************************
Links to the State of Wisconsin Plumbing Code:
[dsps.wi.gov]
*******************************
I am not a plumber.
*******************************
Author: packy

one thing for sure, you won't syphon out that trap.
Author: Paul48 (CT)

Is that abs pipe coming through the wall,under a crawl-space?
Author: bernabeu (SC)

if you have a service / utility sink:

dump it into the sink 1"+ above the 'flood level' / rim

ps. YOU may understand the connection and the danger but the next guy probably won't .... the condensate drain needs to connect with sanitary via an 'air gap' into a trap(ped) / fixture so that a back flow is IMPOSSIBLE w/o a visible flood occurring

- - - - - - -

Measure twice, cut once.

Retired Plumbers Local Union #1
Author: hj

Where is a "backflow" going to go for a stack condensate drain?
Author: bernabeu (SC)

i was referring to the backflow of sewer gasses into the air handler should the (condensate) trap dry out

the air handler (assuming coil on suction side of fan) is under negative pressure (when running) ... the condensate trap's function is to stop inflow of air therefore allowing condensate to drain

before we argue the point .... look it up

- - - - - - -

Measure twice, cut once.

Retired Plumbers Local Union #1



Edited 2 times.
Author: mr leak (CA)

yES THAT LOOKS LIKE abs PIPE. iN THIS SECTION OF THE COUNTRY cALIFORNIA TO BE MORE SPECIFIC THE DRAIN WASTE PIPE IN BOTH RESIDENTIAL AND COMMERCIAL IS abs DRAIN WASTE FOR THE MOST PART
Author: hj

I know all about NOT connecting the air conditioner's condensate directly to ANY drain system, but my original impression was that this was a condensing heater and that is where the condensate was coming from. He must be in a very humid area if there is that much condensate, even with a larger unit.
Author: johnmsch (GA)

Thanks for all the replies. This is a real educational experience!

I believe the black pipe is ABS, and yes I did drill a hole to accept the PVC pipe, and used lots of pipe cement to hold it in place. The piece that goes inside the ABS pipe was cut at a 45 degree angle, with the longer edge on top, to keep any stuff coming down the ABS pipe from getting into the PVC pipe. So, it looks like that's another violation if indeed you are not supposed to tap/drill into them.

The ABS pipe is coming from under the foundation on the second level. This is a two-story split level home. In the second picture above, you are looking at the pipe coming from under the foundation on the basement level, down to the garage level, where it again goes underground.

I did read about the air-gap setup, but since I don't have a utility sink in the garage, that wasn't an option. I had thought about installing one (I've run lots of new water lines througout the house, so I'm comfortable doing that), but then I'm still in the same boat as to where to run the drain from the sink. It would have to go to that same black ABS pipe.

And yes, Georgia is a very humid area!