- over 500,000 plumbing related posts
- The popular plumbing tips and advice forum and blog. Ask any toilet, sink, faucet, pump, water quality and plumbing related questions.
Author: Joistman (SC)

Any one have a suggestion?
Author: vic

The Lenox LT91 with adjustable flame or LT90 with on/off flame both work great upside down. It's self-Igniting, has cast aluminum body and to me a "perfect" torch.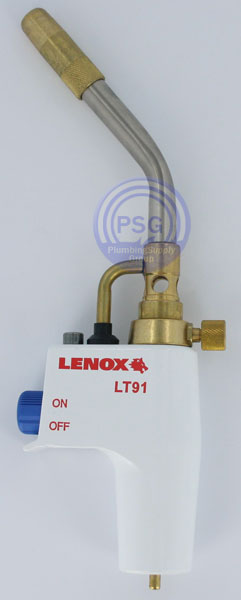 available:

[www.plumbingsupply.com]
Author: hj

A head with a hose to the tank is the only one guaranteed to work upside down. The problem with a conventional torch is that the liquid gas clogs the filter.
Author: vic

I guarantee that the torch that I recommended above works very well upside down and never with any issues and I speak from experience.

How does it do so? I don't know but I can tell you that I've soldered a few entire houses with using it, I have even brazed 1" copper in an upside down position (with side winds of maybe 5 mph - using mapp gas) and now that I'm retired still use it a lot as a fire starter to light my fireplace as well as to start BBQ's, firepits and so on which are almost always in the upside down position. It works both on Mapp and propane and as you know from these many years of being on Plbg.com it is very rare that I personally will recommend anything.
Author: hj

He asked for a recommendation. I gave what the distributor told me. I have always used my TurboTorch when I solder upside down, even yesterday making a brazed joint in a hole in the floor, but it is NOT a recommended procedure.
Author: joe plumber (NE)

Joistman ,since you asked for a suggestion ,I recommend you try the Lenox torch .I have had one for years and I found it to work in any position.I would also recommend or suggest you try their hacksaw blades .
Author: redhawkk (WA)

Just thought I'd ask about brazing. I've got a classic Mustang that's got some old bodywork done by brazing. It needs some more metal work now, and since I'm not a welder, I'm wondering about brazing, which I've also never done...! I'm thinking it might be easier than welding... Of course it's not gonna be as strong as welding, but maybe a lot stronger than bondo or epoxies, which I HAVE done quite a bit of bodywork with.

So how difficult is brazing on autobody sheet metal...? Just seems to me it could be quite difficult to get brass to stick to steel.... Any opinions...?
Author: packy

brass to steel is done all the time. you need a hot flame because the metal must get "cherry" red. the type brazing rod you use must be correct. a welding supply company can help with that.
Author: hj

The correct brazing rod and flux are the key components. But, since the metal is heated "cherry red" you have to be aware of expansion issues, which can cause buckling.
Author: packy

what i remember from my shipyard days was the flux was the same for all our brazing. the solder differed depending on which materials were being brazed. that was in the mid 60's so my memory is a bit fuzzy.
Author: hj

IT was also 50+ years ago. We used SalAmmoniac at that time.