- over 500,000 plumbing related posts
- The popular plumbing tips and advice forum and blog. Ask any toilet, sink, faucet, pump, water quality and plumbing related questions.
Author: davina (IN)

I have been having an issue with the faucet handles on our tub. It is a two handled unit and the handle (both have done this, hot and cold) suddenly stops working in the on position. the handle moves freely but there is no way to shut the water off. My husband has replaced the faucet stem on it 4 times. The guys at the local hardware store identified the part as a Price Pfister 9h-8h/c stem and it seems that the small ceramic disc inside it keeps breaking. We've had it set in the off position and the bath tub has been unusable for months. I finally called in a plumber to see if he could fix it and his answer was that the Price Pfister line is flawed, the stem will continue breaking if we replace it and the only thing I can do as a real solution is rip out the entire system and put in a new one. Being as this is a bath tub backing up to an exterior wall the estimate (not including the cost of a new faucet and retiling what they have to tear out) is $700!! So we're looking at about a $1000 for this!

So my desperate questions are : Have we been doing something wrong while installing the stem? I read somewhere that you have to remove the seat(??) on the stem or it will break but I have no idea what a seat is.

Is there an alternate faucet stem I can use instead of this part?

Is replacing the entire system really our only option? If so, is this something I can attempt myself?

I'd really appreciate any help with this!!!
Thanks in advance
Author: jimmy-o (CA)

Price Pfister is generally a quality and respected brands. With any brand, you will find some plumber who like it and some who don't!

The Danco 9h-8h/c is the Home Depot generic, but it is the pp ceramic shower stem, replacing pp 910-030. In general, if the ceramic is breaking, someone is too rough on it! BUT, it is true that if the faucet is older, and originally was compression stem...pp 910-013, the it IS necessary to remove the seat. Failure to do that will break the ceramic.

You might want to talk to a different plumber who can sort it out for you!
Author: Wheelchair

I agree.

Best Wishes
Author: davina (IN)

Thanks so much for your response. These are fairly new fixtures since the previous home owners replaced many of the plumbing fixtures with price pfister units before selling. They used to be fairly expensive (around $300) and while price does not always equal quality they did work fine for a couple of years so I think the issue may be with the way we are trying to fix it and not with the system. Of course the house itself is over 30 years old and the plumbing seems to be the original system.

Would you recommend trying to use the 910-0130 piece instead so that I don't have to deal with the seat? A quick search shows it being available at sears and amazon so it does not seem totally unavailable.

Thank you so much for the advice.
Author: hj

IF your faucet had ceramci stems originally, and the date would imply that they were, then you do not have provision for a seat and the stem you asked about will not work. Someone is doing something wrong, because I replace the stems and they are basically good for life.
Author: Wheelchair

Have you considered calling Price.... for a set of stems?

Best Wishes
Author: hj

It is just Pfister Faucets now. 1-800-PFAUCET
Author: davina (IN)

HJ, so you mean that the 910-0130 stem will not work? And the Danco 9h-8h/c should be doing ok? We've managed to break 4 of them after we thought we had them installed right! All I could think of was that perhaps the seat was the answer to that.
I'll call around for a plumber and see if any of them even know what I am talking about. Hopefully I can find someone who is willing to fix the thing instead of just wanting to replace the whole kit and kaboodle which I simply cannot afford!
I don't suppose any of you are in the Dallas area?
Author: davina (IN)

I did not think of calling Pfister!



Edited 1 times.
Author: waukeshaplumbing (WI)

i dont think PP is a quality brand at all...its definitely a below average quality brand name...around here plumbing supply houses dont sell it...its considered a Home Deppt brand

i have installed it and used them a few times on jobs...their mixing valves are 1/3rd the weight of a Kohler valve....the trims are cheap and mostly plastic....and their handles often feel like they are ready to fall off due to plastic stems and parts

obviously your finding the quality if poor.....2 choices...replace the faucet or keep replacing handles....buy them 10 at a time to save the trip...maybe just replace them at the beginning of each month

i would not install PP on any of my customers houses
Author: davina (IN)

Actually having opened this one up ourselves I can tell you that there are no plastic parts to the unit. Everything seems to be made of solid metal and brass. The handles are solid metal and it feels and looks like a good quality piece. I have seen cheaper units in the store that looked and felt really flimsy - this appears to not be one of them.

Like I said, it worked fine for a couple of years until the stem broke and then, when we tried to fix it, the stem kept on breaking.
Author: jimmy-o (CA)

Our friends from Wisconsin are naturally biased towards Kohler...as you would rightly expect.
Many plumbers from other regions are up to "here" with Kohler's ridculous parts, and of course price. It's nothing personal...strictly business!

Plumbing preferences can be somewhat regional....PP started in CA and is widely popular in the Southwest. Central Brass was, well, central. Etc. Some cities use mostly PVC, some ABS.

As with most things, bottom line is you get what you pay for.

With faucets, the advent of national chains..hd, etc, tended to give national exposure to certain brand, including PP, Moen, Delta.


Back to your problem... I think you need to take a very close inspection of the interior of the valve body ( flashlight time ) to see if some debris is lodged in there. Then check the new parts very carefully....if they have been DROPPED ON THE FLOOR at the store or whatever, the ceramic can crack. Then assemble the thing very carefully....I think you can get to the bottom of this. And PP...( officially PhisterFaucets now) may send you some genuine stems for free. 1-800-PFAUCET



Edited 1 times.
Author: hj

Call 1-800-PFAUCET and have Pfister send you 2 OEM stems.
Author: hj

They are my preferred brand and around here it is the main brand for supply houses.
Author: bernabeu (SC)

look carefully inside valve 'barrel' and see if you have (may also be a square drive):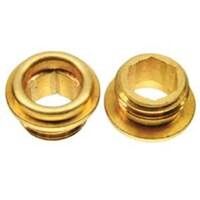 the one on the left would be 'as you're looking', but screwed in

IF, repeat IF, you have renewable seats you will need:





take removed seats to a good PLUMBING SUPPLY and replace and get new 'compression stems' (the kind with washers)

IF NO SEATS (we can't tell for sure on the 'net w/o the actual fixture model #) then you would use the ceramic valve type stems ... get them from Pfister

make SURE SURE SURE the barrels are 'squeaky clean' with no debris

see Pfister site: [www.pfisterfaucets.com]

- - - - - - -

Measure twice, cut once.

Retired Plumbers Local Union #1
Author: davina (IN)

Thanks!
Found the same item on Amazon and the title states : Price Pfister 801-8CMB Chrome/Brass 3 Handle Tub & Shower Faucet
I did find a plumber on Angies list who, after listening to my rambling description over the phone, thinks he can probably fix the problem.
Would you recommend switching over to the compression stems with washers if that is a possibility?
Author: jimmy-o (CA)

I like compression stems..but that is just me and what I am used to. I do have to change the washers and seats about every 3 years. No biggie. Ceramic COULD last for 20 years.

If your valve was ceramic originally, it may not be threaded to accept seats.

I think there is an issue, which you will get to the bottom of, and be fine with the new stems PP will send you.

Again, don't overlook the fact that your item may have fallen off a shelf from 12 feet high at the store, and have latent cracks.
Author: hj

It is probably NOT possible, but even if it were, because a compression type faucet was converted to ceramic, it should not be necessary.