www.PlumbingForum.com
THE Dynamic Plumbing, Kitchen and Bath, Information, Advice and Sharing Forum

Over 535,000 Posts in over 160k Threads
The most popular positive STRICTLY PLUMBING INFORMATION SHARING FORUM board on the Net. Ask any toilet, sink, faucet, pump, water quality and other plumbing related questions here. Plumbing professional and DIY tips, tricks, shortcuts, remodeling, plumbing advice forum and blog. Please refrain from asking where to purchase a product, business, pricing, contractor referrals, legal or any other non strictly plumbing related questions keeping all positive and with no advertising.
Author: surrealiana (NC)

I have a price pfister shower faucet model # 17196-0100G that is a single handle shower/faucet combination and I have unscrewed and removed the pull up knob that makes the diverter come into place and make the water come out of the shower (long story as to why I did this). I'm looking for a diagram for this model so that I can see if I can figure out if I lost a crucial part to make this work. Does anyone know where I can find a diagram like this? I have search the internet and can't find one.
Author: Paul48 (CT)

If it's a tub spout diverter, it's not servicable.What is not working?Newly installed?



Edited 1 times.
Author: hj (AZ)

They are a throw away item, but if you can figure out how it was assembled, before you took it apart, it MIGHT work.
Author: jimmy-o (CA)

These days, you can purchase a generic replacement diverter stem. Works on most tub spouts, you decide if it is worth fiddling with.
Author: Paul48 (CT)

A diverter stem for a tub spout?
Author: jimmy-o (CA)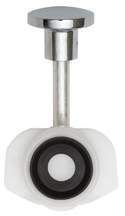 You can buy this at plumbing supply stores these days. Fits many tub spouts.



Edited 1 times.
Author: Paul48 (CT)

I've never seen one before, but I have now....thanks.
Author: hj (AZ)

If it fits "MANY" tub spouts then they are all made by the same company.
Author: jimmy-o (CA)

I have seen it fit old PP, generics such as Danco or ProFlo. Looks like it would fit the old Moens. Strangely enough, it just seems to work.
Author: dlh (TX)

i say it is easier to just replace the spout. i tried repairing one once and i gave up just trying to ge that mechanism back into the spout because the H.O. took it apart

- - - - - - -

PLUMBERS "Protecting The Health Of The Nation"
Author: jimmy-o (CA)

It would not commonly be used by plumbers, but there is an overwhelming demand for it in the apartment/hotel arenas, where drips are not tolerated and labor is not an issue, but $6 to $20 to buy new tub spouts every 6 months IS an issue.
Author: hj (AZ)

quote; $6 to $20 to buy new tub spouts every 6 months IS an issue.

Spend $40.00 and get one that will last for decades.
Author: jimmy-o (CA)

Nothing lasts for decades in low rent apts, or flea bag hotels. Guest often take the tub spout and lav pop up with them! This is not a joke, I hear it all the time.

And better hotels have to undergo flag inspections. At the least sign of grime or mineral deposits, they get nailed. Then the maid crew tends to scour the crome too often with bad stuff, so no matte what kind of spout you use, you are going to replace it often! Same for the rub flange, and the handles.