Over 605,000 posts related to plumbing
Welcome to Plbg.com (aka: PlumbingForum.com) we are the most popular plumbing information sharing, advice, DIY and educational forum on the Web. Ask any toilet, sink, faucet, pump, water quality, and plumbing related questions. Please refrain from asking where to purchase a product, business, pricing, or legal questions, for contractor referrals, or any questions not related to plumbing. Keep all posts positive and no advertising. This site is free and made possible by:
Author: RonP (MD)

I have the Valley single-handle tub/shower faucet diagrammed under the heading "Old Style (before `1993)" here:

[www.plumbingsupply.com]

This unit was installed in 1979 and has worked fine all these years since with periodic replacement of its inner valve components.

The threaded chrome-plated brass "bonnet", which is part 24, is pictured here, except that my bonnet has a knurled circumference to facilitate grabbing it: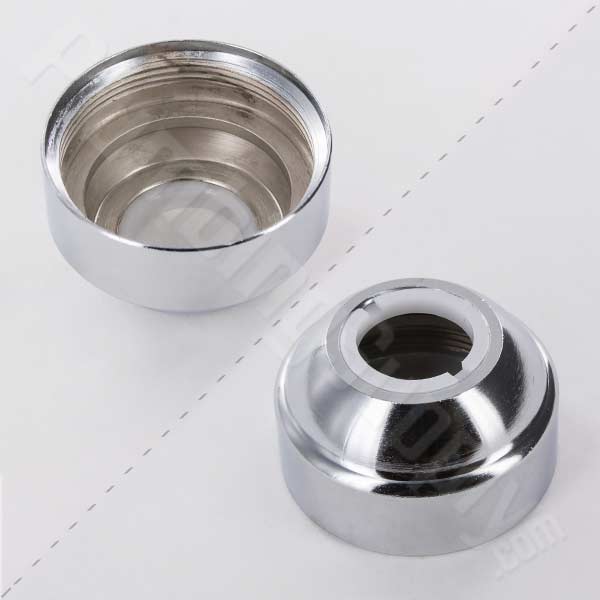 This bonnet must be removed to replace the inner workings of the valve.

Normally, this bonnet unscrews by hand relatively easily. But this time the bonnet is frozen
so tight that I cannot not remove it, even with a wrench. I have tried penetrating oil,
Coca Cola, and CLR as solvents applied around the circumference of the bonnet without
success. I do not believe the bonnet is cross threaded.

Can you offer any suggestions on how to remove the bonnet? For example, is there
another solvent that I should try? Or should I attempt to sacrifice this bonnet by
cutting it off? If cutting is necessary, can you suggest how to proceed with the cutting action?

Thank you for your kind assistance.

RonP
Author: packy (MA)

it is possible that you have distorted the cap slightly trying to loosen it.
try a basin wrench. it may grab the cap well enough. otherwise, cut it ever so carefully
sometimes you can slice down 95% of the way and it will be enough to allow it to turn.
so, cut a little, try to turn. repeat 'till it works.
Author: RonP (MD)

Packy, thank you for the suggestion. Much appreciated.

RonP
Author: hj (AZ)

I heat it with a small torch to "melt" the corrosion holding it in place.
Author: RWP (SD)

Sometimes tapping it gently will loosen the nut or anything else you want to loosen.

- - - - - - - - - -

Retired after 50 years of plumbing and heating.
Author: bernabeu (SC)

use a chain type strap wrench (may scratch the chrome, but WILL unscrew part)



= = = = = = = = = = = = = = = = = = = = = = = = = = =

Retired U.A. Local 1 & 638 ~ Measure Twice & Cut Once
Author: RonP (MD)

hj, RWP, bernabeu,

Thank you for your suggestions. I am considering.

Also, I went back for a very close look at the frozen bonnet, with a large magnifying glass and a bright light, and realize belatedly that there IS a possibility that the bonnet is cross threaded. My apologies to all for not realizing this possibility in my original message.

The force that I have applied to the bonnet with a very large pair of pliers, in several tries to loosen the bonnet, was so high that I was concerned about bending the pipes to which the valve body is soldered. Unfortunately, the valve body is supported only by the connected pipes, since the valve body is not connected to a wooden support, and only light weight, long machine screws hold the valve body to the round cover plate over the round hole in the wall.

One possibility is to cut the bonnet off, making an effort to avoid damaging the threads on the valve body, which may be difficult. Then there is the question of whether a new bonnet, which is available, could be screwed back on after the combined damage done to the threads by (1) the possible cross threading, and (2) the removal of the current bonnet by cutting it off.

Again, all comments are most appreciated.

RonP
Author: NICK (CA)

Heat!!! hj is right. touching it with a torch as needed will loosen it. I even carry a micro torch for more delicate situations where you might have pop metal, aluminum, plastic or o rings involved. The heat loosens and it also slightly expands the female part. Other than that i use mapp gas on steel and rough stuff and it works like a charm every time. I will be surprised if it doesnt work. in this situation i would apply a little at a time.
---
Please note:
Inappropriate messages or blatant advertising will be deleted. We cannot be held responsible for bad or inadequate advice.
Plbg.com has no control over external content that may be linked to from messages posted here. Please follow external links with caution.
Plbg.com is strictly for the exchange of plumbing related advice and NOT to ask about pricing/costs, nor where to find a product (try Google), nor how to operate or promote a business, nor for ethics (law) and the like questions.
Plbg.com is also not a place to ask radiant heating (try HeatingHelp.com), electrical or even general construction type questions. We are exclusively for plumbing questions.
Search for plumbing parts on our sponsor's site:

---
Special thanks to our sponsor: