www.PlumbingForum.com
THE Dynamic Plumbing, Kitchen and Bath, Information, Advice and Sharing Forum

Over 530,000 Posts in over 160k Threads
The most popular positive STRICTLY PLUMBING INFORMATION SHARING FORUM board on the Net. Ask any toilet, sink, faucet, pump, water quality and other plumbing related questions here. Plumbing professional and DIY tips, tricks, shortcuts, remodeling, plumbing advice forum and blog. Please refrain from asking where to purchase a product, business, pricing, contractor referrals, legal or any other non strictly plumbing related questions keeping all positive and with no advertising.
Author: quantumburnz (VA)

Hello everyone!
First off, please pardon my lack of plumbing terminology. I'm by no means a pro but merely a learning DIYer who wants to do things correctly.

I'm redoing a hallway bathroom and I want to convert the old 60" single sink vanity to a new 60" double sink vanity. Picture #1 below shows how the plumbing was centered in the middle of the old vanity and #2 shows what I think the plumbing probably looks like behind the wall. This is similar to how the plumbing for the tub and shower looked. There is a bedroom on the other side of the wall.

Picture #3 is the new vanity I'm looking at, and I think it'll require me to replumb the wall with two sets of pipes coming out of the wall (a drain pipe and two water supply lines for each sink). I've considered installing a splitter on the supply lines and a "Y" fitting from to the two sinks down to the single drain pipe. However, I don't think this configuration would work with these vanities. Please correct me if I'm wrong as I'm sure you'd save me a ton of time.

Final question -- What's the best "correct" way to replumb the wall for this two sink configuration? Thank you in advance for the help!!

#1 - My plumbing



#2 - What I think the plumbing in the wall probably looks like



#3 - A cabinet I'd like to get





Edited 1 times.
Author: hj (AZ)

With an open cabinet like that, doing anything other than changing the piping in the wall will ruin the clean looks. I am sure you have really considered the functionality of that new cabinet, but MOST people would think the two sinks are too close together for "dual use", and also that there is NO counter space to put the things women have on the counter, such as cosmetics and a blow dryer when they want to set it down. The piping MAY BE the way you think it is, but with the toilet that close, the drain line may go horizontally, rather than vertical, and that would COMPLETELY change how the piping has to be run.
Author: quantumburnz (VA)

Thanks for the reply! You're 100% correct about the functionality, and I didn't really consider that. I think I'm going to scratch vanity #4 because of that. So, thanks for pointing that out.

You were correct about a horizontal drain. I cut out some drywall to better see how things are laid out behind the wall. Is it possible to do a T close to the main drain line and then run the drain line further to the left towards the wall? What to do about the two supply lines coming up from the floor? Thanks!

#5 - Drywall removed

Author: hj (AZ)

A professional would NOT just install a tee and extend it to the second sink, nor would an inspector approve it. Teeing the water lines and branching to the two locations is easy, ONCE the drain work is done.
Author: quantumburnz (VA)

Ok, what should be done about the drain? Any ideas how it should be done?
Author: packy (MA)

if you removed that 3 x 1 1/2 sanitary tee from the stack and replaced with a 3 x 2, that would allow you to use a short piece of 2" pipe and a 2 x 1 1/2 x 1 1/2 sanitary tee. the left sink draining would never syphon out the right sink. especially since you will be installing vessel sinks. they are notorius slow draining anyway.
ouch, i can hear hj screaming from here..
Author: quantumburnz (VA)

Thanks for the info packy. I actually scratched the idea of using the vessel sinks. I'm going to go with the traditional sinks in pic #3. Will the sanitary tee you speak of still work? I'm a little worried now after hj chided me!
Author: packy (MA)

you'll have to forgive hj. he hasn't been the same since the arizona diamondbacks' demise.
to answer your question, that is how i would install it.
when we worry about a trap being syphoned, it is because water running by a tee or a wye will pull the seal from a trap. with a 2 x 1 1/2 x 1 1/2 sanitary tee located right next to a 3" vent stack, there will be more that enough air at the junction to prevent syphoning.
Author: quantumburnz (VA)

Thanks for all your help packy, everything you said makes sense. Do you know if there's a standard width drains are usually separated by for double sinks with a 60" vanity? I haven't ordered the vanity yet but I'd like to get everything plumbed up before it gets here. I'm just not sure what distance to run everything.

Also, what's your opinion of how to split the supply lines? The supply lines go further up in the wall for some reason. I'll have to get a 4-way splitter of sorts?
Author: packy (MA)

i"d put the drains 15" off each side of center of cabinet. (30" total apart)
hot and cold would be 6" apart centered on each drain.(3" either side)
i did notice the copper pipes going up behind the wall. could they be air chambers for water hammer?
look up to see if they are capped a foot or so up the wall.
P/S, these measures could be modified if you have drawers in the vanity base???
PP/SS, if i had my druthers, i'd pipe the vanity like this but not necessary for you to do so.
[smg.photobucket.com]
good luck with your project..
Author: North Carolina Plumber (NC)

Heres the way I generally do a double vanity.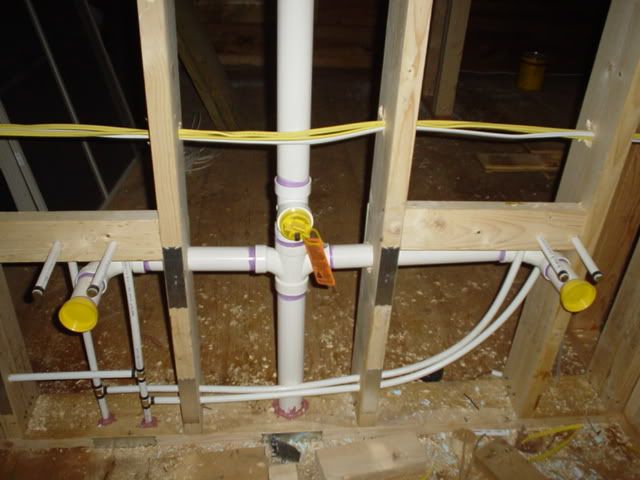 Author: hj (AZ)

How it SHOULD be done is lower the connection to the stack and run a "loop" between the sinks connecting the vent back to the stack. How YOU will do it is something we cannot determine.
Author: hj (AZ)

As I said, I cannot tell how HE will do it. He asked how it SHOULD be done.
Author: hj (AZ)

And that might be the ONE way I would NOT do it. I like the drains to be at the same elevation under both sinks.
Author: hj (AZ)

I use a double fixture fitting and put the cleanout below it. The fixture fitting is REQUIRED and the cleanout location is a personal preference.



Edited 1 times.
Author: quantumburnz (VA)

Hi Everyone,
I'm back for more trouble... Thanks for all the help so far. I'm back to working on the plumbing job this weekend. I want to take out the middle (I assume cast iron) piece, shown in picture #1, and replace it with a PVC piece, shown in picture #2.

I'm having trouble getting the middle piece out, the rubber piece of the no-hub coupling is obviously holding it together. Looking up the wall though, picture #3, I'm concerned the top part of the vent stack may not be supported. What's the best way to remove and replace this center piece?

As usual, any help would be appreciated. Thanks!


Author: dlh (TX)

installing a strap will help. i use "strapping iron" metal tape with holes in it.

to install that particular fitting you will need to cut out more of the cast iron pipe and install a couple short pieces of pipe in the ends of the fitting so you can attach it to the pipe.

why so you want to change that fitting? you can always get a male adapter and go to pvc from there

- - - - - - -

PLUMBERS "Protecting The Health Of The Nation"