www.PlumbingForum.com
THE Dynamic Plumbing, Kitchen and Bath, Information, Advice and Sharing Forum

Over 535,000 Posts in over 160k Threads
The most popular positive STRICTLY PLUMBING INFORMATION SHARING FORUM board on the Net. Ask any toilet, sink, faucet, pump, water quality and other plumbing related questions here. Plumbing professional and DIY tips, tricks, shortcuts, remodeling, plumbing advice forum and blog. Please refrain from asking where to purchase a product, business, pricing, contractor referrals, legal or any other non strictly plumbing related questions keeping all positive and with no advertising.
Author: sum (FL)

On my driveway there were two circles about 4" in diameter.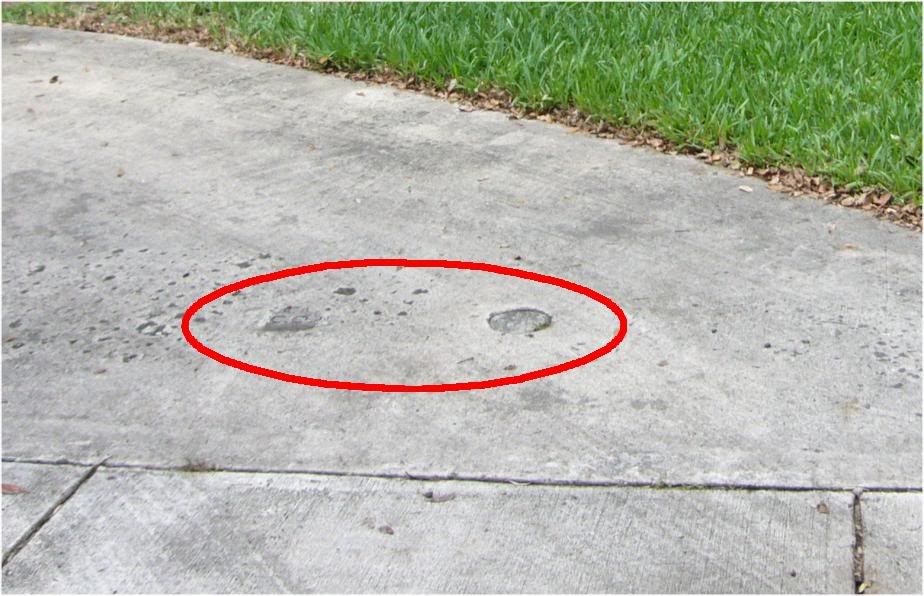 After I drill out the concrete I exposed two cleanout covers spaced 21" apart.




Today I cut open these brass plugs and there are still some threads left. The left side I was able to plug with a 3" PVC plug but the right side is not the same size.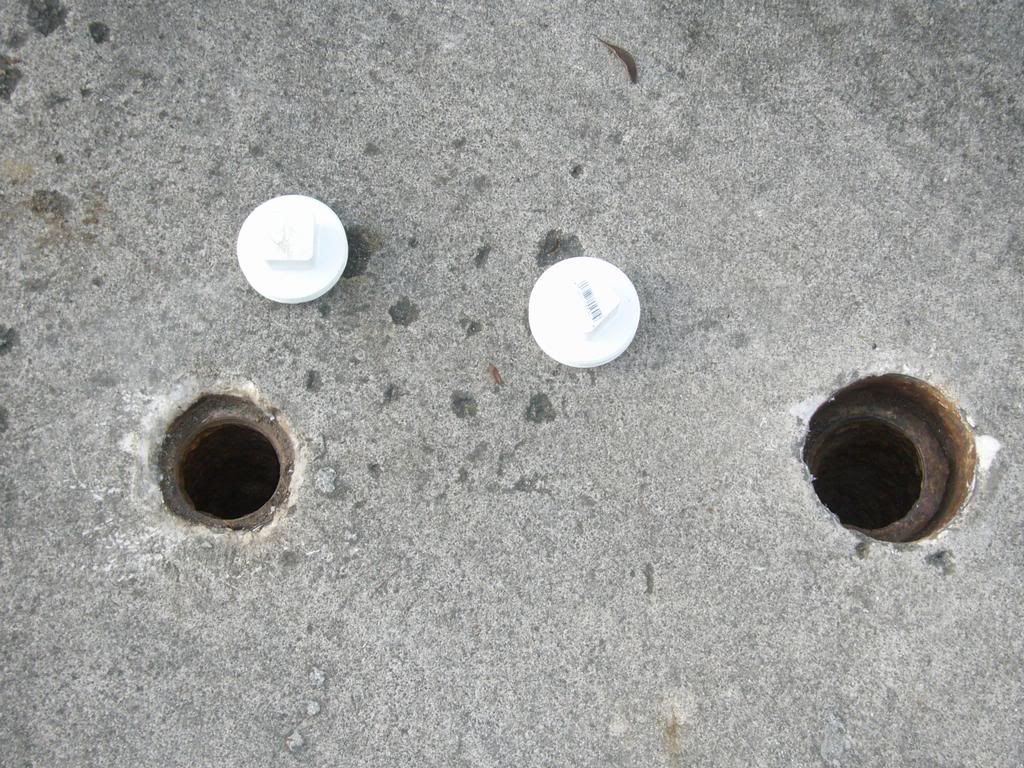 As you can see the hole on the right side is larger. Right now I have a 3" PVC plug for the left side, it sticks out of the driveway surface, so I need to get a recessed 3" plug.

However the right side cover is several inches deeper, and it is not facing straight up, I put the 3" plug in and it goes in but it is too small.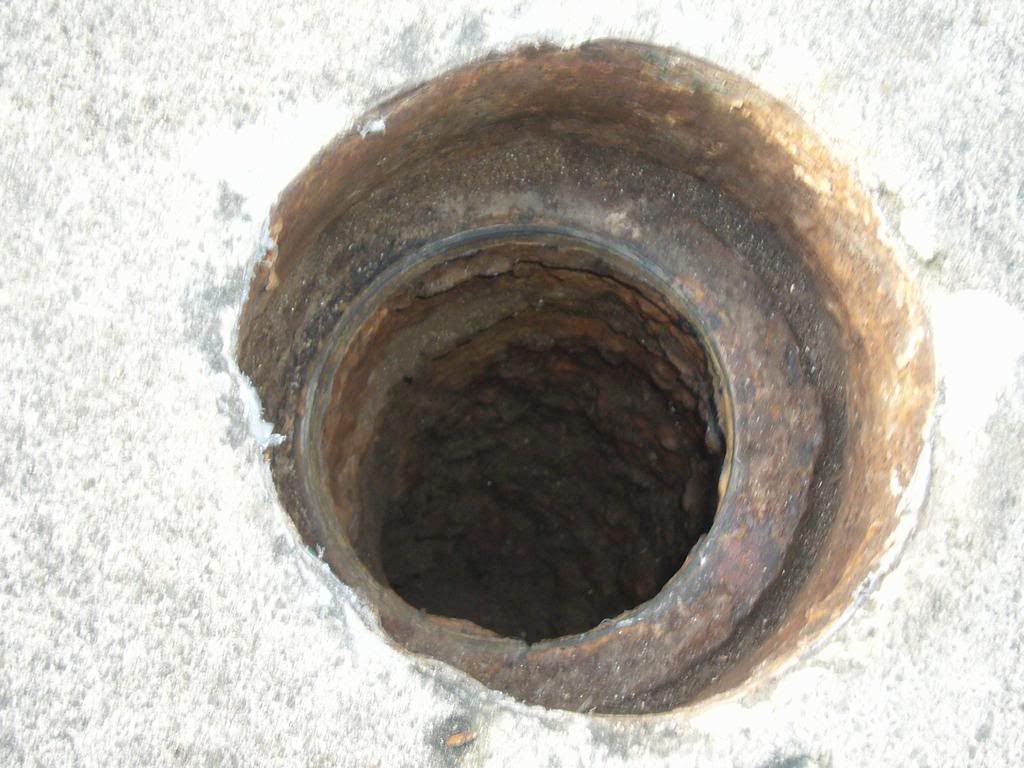 I have a 4" plug it will not go in, a 3" is too small, is there a size that is just a little more than 3"?

Also, what can I do to raise the right side a little higher? Is there a cast or brass fitting that has a male thread on one side and a female on the other side for a 3" (or slightly more than 3") opening and is only 2" or 3" deep?

Also it appears the left drain is very deep, like 24" below, and when I turn on the faucet water flows south on the left side. The right side is very shallow, like only 8" or so, and is dry. The right side opening starts there, goes down 8" and then turns southwest I presume connect to the pipe on the left side. So this is not a two way cleanout.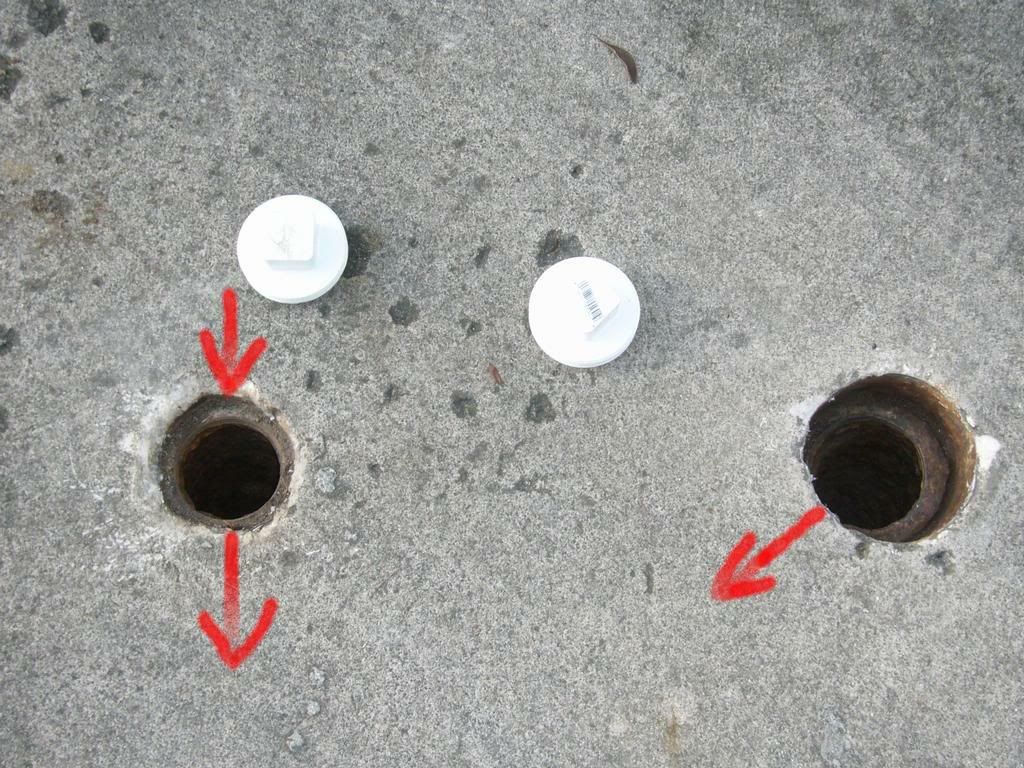 Author: rjones0281 (MO)

oatey
Other Drains – Cleanout Assemblies
•Brass cleanout plugs with raised head
42369 1 1/2" 185 Brass Cleanout Plug 038753-423692 12 1
42370 2" 185 Brass Cleanout Plug 038753-423708 12 2
42371 2 1/2" 185 Brass Cleanout Plug 038753-423715 12 3
42372 3" 185 Brass Cleanout Plug 038753-423722 12 5
42373 3 1/2" 185 Brass Cleanout Plug 038753-423739 12 6
42374 4" 185 Brass Cleanout Plug 038753-423746 12 7 .hope this helps.
Author: dlh (TX)

yes. they make a 3 1/2" plug

- - - - - - -

PLUMBERS "Protecting The Health Of The Nation"
Author: packy (MA)

try turning the 3" plug upsidedown.
there will be a square hole facing upwards. don't screw it in very tightly.
Author: sum (FL)

3-1/2"?

It seems the right side hole is strictly used to clean downstream to the city. It angles 45 degree SW and I bet it connects to the pipe that runs through the left side hole a feet or two down with a wye.

The left CO is only 3".

This puzzles me. If the left CO is 3" and the pipe that runs under it must be 3" right? I mean what is the point of having a 4" pipe but only a 3" riser? So if the pipe under is 3", what is the point of doing a dedicated downstream CO that is 3.5"?

ohhh, unless slghtly south of that 3" CO, there is a change in the pipe size from 3" to 3.5", right before the wye that connects the 3.5" CO? Is this possible?

and what is the purpose of this left side CO on the driveway? It is very deep, more than 24" based on looking down from my flash light, I don't think it would be easily to guide a snake upstream or downstream at this depth.
Author: sum (FL)

Is it possible this is why they did this?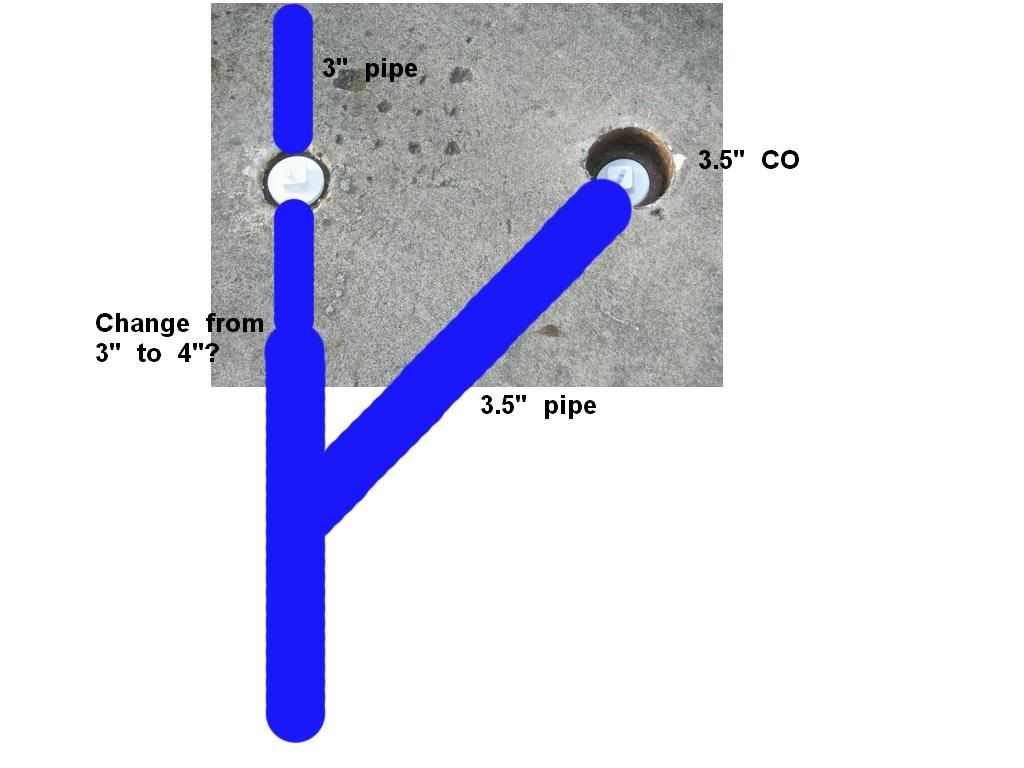 Author: hj (AZ)

Very possible. As for the use of a 3 1/2" plug, the code says the cleanout OPENING shall be the same size as the pipe and a 3 1/2" plug IS 4" in diameter.
Author: hj (AZ)

Why not use a countersunk plug and do it the right way?
Author: sum (FL)

I didn't have one with me at the time. I happen to have two raised one inside the house on existing vents that I removed to use on the driveway. I then taped off the openings in the inside vents for now - house is not inhabited - when I get the countersink ones.

I can get a SS CO cover plate and drill into the plug to close it and flush with the driveway. Right now leaves and dirt get washed into it when it rains.

I don't know what to do with the right side CO. It is not pointing straight up, if I get a 3.5" plug (brass or PVC) do I still get a SS CO cover plate and drill into the plug at a skew?
Author: LemonPlumber (FL)

Looks like you did a pretty neat job removing the cement.how about using two 4"sch 40 females cut down to fit the holes and lush brass plugs.You will be the only one that knows what is under the new finished plugs.
Author: e-plumber (NY)

Probably, but NOT with 3-1/2" pipe.

e-plumber
-----------------------------------------------------------------------------------------------------------------------------------

"The society which scorns excellence in Plumbing as a humble activity and tolerates shoddiness in philosophy because it is an
exalted activity will have neither good Plumbing nor good philosophy: neither its pipes nor its theories will hold water." -
John William Gardner 10/8/1912 - 2/16/2002

Repair your leaking Plumbing fixtures ASAP [www.theplumber.com]
This slow drip will waste 7+ gallons of water per day.

Author: sum (FL)

Lemon the only problem is the right side hole is not facing straight up it is off by 20 degrees makes it hard to cut anything to fit that.
Author: packy (MA)

because he already has a plug that fits. just turn it upside down.
Author: plumb-bobII (VA)

Looks like they used an IBTS ferrul (Iron Body Tap Screw)


Author: hj (AZ)

He is talking about just sticking the female adapters into the holes and cementing them there, not connecting them to the pipes.
Author: hj (AZ)

A plastic one will do that, but the tapered thread on a brass one will NOT deform enough to get it started into a common thread.
Author: sum (FL)

ahhh I see. It may work on the right side.
Author: hj (AZ)

It would be a "handyman" installation because any backup will either come out of the driveway or seep into the ground, given that the plugs are not attached to the pipes. Do it the way you origially planned to, Just drill and tap the retaining bolt vertical.
Author: sum (FL)

The problem with tapping a bolt hole on the right side CO is that the CO opening is skewed like 20 degrees. Therefore if I put a CO cover over it and drill a vertical hole into the plug and fasten the bolt, the next time I open this, I will turn the plug differently and the hole on the plug will face a different direction.

Is there any CO cover that can be mounted flushed with a surface and anchor to the surface directly, and have a middle "ring" I can open to reveal the CO below? That may work better in my case.
Author: hj (AZ)

THere are brass cleanout "boxes" that you cement into the driveway. They have an insert cover held with three bolts that you remove to access the plug. Many companies make them. Josam, JRSmith, Zurn, Wade, AB&A, etc. But as for the bolt, it is unlikely that you would be able to turn the plug further than the initial time, and in any case you just tighten it till the bolt IS vertical.



Edited 1 times.
Author: LemonPlumber (FL)

Sum.what you have is a cluster to low to be considered usable.Buy a sch forty female cut it off just below the threads,at an angle where needed then install flush brass plugs.flush surface with the drive and fill any edge gape with anchor epoxy.This fitting should work as a good cover for the mess you have.You measure how much of the female would level the cast cut at an angle where you need to and it looks like it is a new proper install.And works the same.