www.PlumbingForum.com
THE Dynamic Plumbing, Kitchen and Bath, Information, Advice and Sharing Forum

Over 530,000 Posts in over 160k Threads
The most popular positive STRICTLY PLUMBING INFORMATION SHARING FORUM board on the Net. Ask any toilet, sink, faucet, pump, water quality and other plumbing related questions here. Plumbing professional and DIY tips, tricks, shortcuts, remodeling, plumbing advice forum and blog. Please refrain from asking where to purchase a product, business, pricing, contractor referrals, legal or any other non strictly plumbing related questions keeping all positive and with no advertising.
Author: sum (FL)

I was at my local plumbing store and I asked for a shielded no hub coupling to transition from a 3" cast iron pipe to a 3" PVC pipe. The guy behind the counter told me there is not such a thing and that "transition" means you go from 3" to 4" or 2" to 3" there is no transition going from 3" to 3". I told him yes because the rubber sleeve have different thicknesses that account for the slightly thinner cast iron and thicker PVC. He laughed and told me the thickness of the rubber is the same and what I might have seen was differences in manufacturer's machine dimensional tolerances. He said the metal "bands" when tightened account for any variations.

I went there because I wanted a no hub coupling longer than the PROFLEX they sell at HD. I think I have seen longer (deeper) versions of it with the metal shield having "ridges" on them, but I guess he doesn't have it, so I went back to HD and got the PROFLEX instead.

I looked at the PROFLEX and it clearly says transition from CI to PVC, ABS...and the rubber sleeve definitely have different thicknesses on each end. I don't think they are variations from machine tolerances.
Author: dlh (TX)

the proflex coupling is made by fernco. [www.fernco.com]

your problem is that a no-hub coupling is exactly what the guy said. a proflex is not the same as a regular run of the mill no-hub coupling

- - - - - - -

PLUMBERS "Protecting The Health Of The Nation"
Author: sum (FL)

I want something like a PROFLEX but a longer/deeper version of it (if such a thing exists), so I asked for a "no hub coupling that is shielded to transition a 3" cast iron to a 3" PVC where the rubber sleeve accounts for the thickness differences of the two pipes"...I don't know how to ask for it properly.
Author: packy (MA)

ask for a 4 band coupling. they are longer.
note that the yellow 4 band on the left is longer than the bigger diameter 2 band on the right.


also, the 4 band is alot more forgiving if the OD of the pipes you are connecting is slightly different.
Author: kdog1 (OH)

we use husky no hub bands,1 1/2thru4 , they have 4 clamps and of course are longer.then use a pvc no hub adapter,to transition to cast.
Author: waukeshaplumbing (WI)

you can use a fernco or clampall...you dont need any special thickness for the slight differences in pvc to cast iron...they are basically the same...

now copper to pvc is a different story..for that you need a rubber bushing which goes inside the clamp all or fernco.

if its inside the wall i use a clamp all $10 bucks...if its exposed in a basement i use a fernco $2 bucks....never had a leak from either of them
Author: rjones0281 (MO)
.
why dont you use the fernco p1056-33 it works like a charm.
the rubber is twice as thick as a no hub.
and you can add extra hose clamps if in dought.
and if that isent enouph.
you can pour cement around the fittings just to give you extra pease of mind.
Author: dlh (TX)

waukeshaplumbing, the first time an inspector red tags you for using a regular no-hub to go from cast iron to pvc you start using to correct couplings. there is a large enough difference that it will distort the no-hub coupling and is very easy to see if you know what you are looking at


rjones, those are not even legal to use in my area any more and havent been for at least 10 years.

- - - - - - -

PLUMBERS "Protecting The Health Of The Nation"
Author: hj (AZ)

Either he did not want to sell the item to a non-contractor, or he did not know what his stock was. He also may have wanted to be pedantic so that when you asked for a "No-Hub" transition coupling he took it literally, since there is no such item. I have not seen transition couplings which were longer than the conventional No-Hub/ProFlex ones.
Author: hj (AZ)

Must never have had them inspected either. Not only do we have to use "transition couplings" but the label has to be visible so the inspector can see that you used the correct one.
Author: sum (FL)

I end up using the PROFLEX.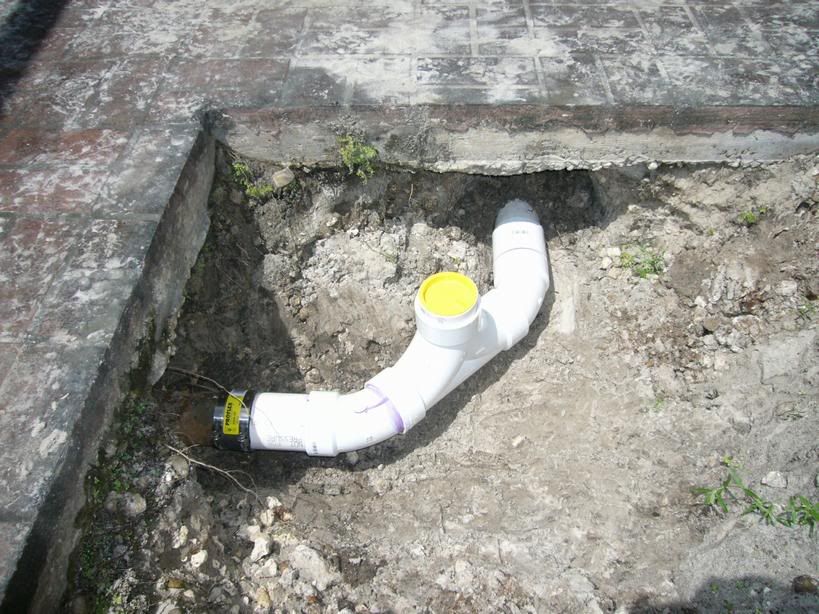 I do have the all rubber ones, but I guess instinctively I feel safer with the metal shield reinforcement, thinking that since there is a two way cleanout there, and I have seen how they push and pull the snake into it I can visualize the joint being disturbed laterally. The good news is I can always dig up the dirt and repair it if needed.

That's why I wanted a longer deeper shielded coupling then the PROFLEX in the first place.
Author: sum (FL)

By the way, do they make 3" test tees in PVC without bells on one end or both ends?

I need to replace a CI test tee that is connected on both ends with no-hub couplings, and all the PVC test tees I see have bells. I want to just replace that test tee and not change anything upstream or downstream, so I don't have room to glue in a short pipe for the no-hub coupling.

Does it mean my choice is to get a new CI test tee to replace it? Since I can't find a PVC one that will fit that same space and have no bells.
Author: dlh (TX)

i have never seen a st. c/o tee in pvc so most likely you will either have to replace it with cast iron or cut the cast iron pipe back a few inches so you can glue in pvc stubs

- - - - - - -

PLUMBERS "Protecting The Health Of The Nation"
Author: rjones0281 (MO)

sum you did a fantastic job.
i love the way you used the two way cleanout thats the tickit.
you should be very proud of your self.
you could use a couple of bags of sackrete mix to strengthen the no hub joint.
all in all it looks great.
Author: dlh (TX)

do not put concrete around that band, there is absolutely no reason for it.

and figures a handyman type person would love a fitting anyone that has ever done drain cleaning hates. might as well just put a c/o(test) tee there

- - - - - - -

PLUMBERS "Protecting The Health Of The Nation"
Author: hj (AZ)

ARGHHH! A "two way cleanout fitting". One of the worst, if not THE WORST, fitting ever invented. At least yours is only a foot down so the plumber will be able to manually guide the snake in the right direction. If it were any deeper you would have created a nightmare if it ever need to be used.
Author: hj (AZ)

And what is wrong with a cast iron test tee? "Do you have a problem with that, Buster?"
Author: sum (FL)

Cast iron test tee?

Nothing wrong other than it is a special order item from the plumbing store and I have to wait a few days, plus I am not too comfortable with CI since they are not as forgiving as PVC given the level of my skill set.
Author: hj (AZ)

What kind of plumbing store has to ORDER a No-Hub cleanout tee, (which by the way, is NOT a two way clean out tee)? IF there were any kind of fitting they should have it would be one of those, but for your other situation, you would use a clean out FERRULE which is a tapped female thread on the end of a No-Hub short, short piece of pipe.